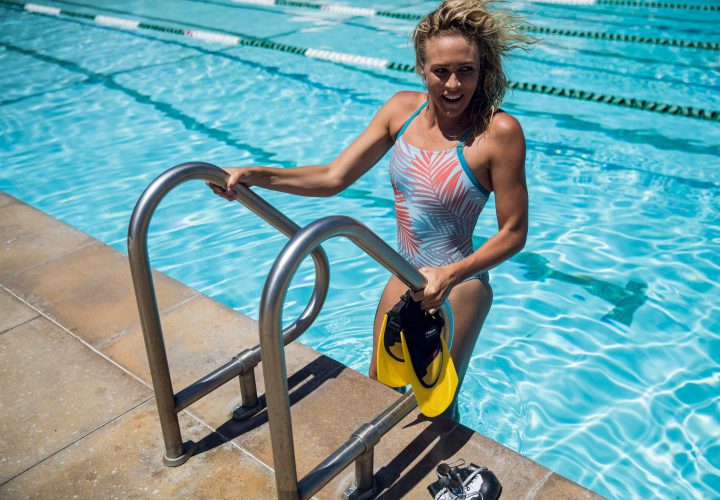 Kaitlin Sandeno.
Photo Courtesy: Matthew Miller
Laguna Fin​ Company, the creator of the innovative adjustable fitness swim fin has teamed up with ​Olympic Gold Medalist Kaitlin Sandeno​. Kaitlin has been brought on to the Laguna Fin team as an owning partner and the face of the company. Laguna Fin Company's "Fitness Fin" is making waves in the swimming community as a highly innovative and extremely effective in both fitness, as well as competitive swim training.
"Laguna Fin is thrilled to partner with Kaitlin who brings her very successful professional history, great attitude, and extremely valuable feedback to the company," said James Wood, CEO of Laguna Fin Company. "We are all very excited about this partnership and look forward to our future together."
"I am beyond thrilled to not only be spokesperson and partner of Laguna Fin, but to bring what I believe is the best fin out there for all four strokes to the swimming community," says Sandeno, a former American Record holder in the 400 I.M. and 4x Olympic medalist. "The fact that this fin is also incredible for breaststroke​ really excites me. The feedback from coaches, swimmers, and swim parents has been electric, and I'm gratified we have a fin that can be utilized and beneficial for all strokes and skill levels."
Says 8x Olympic Coach Mark Schubert, "Laguna Fins are an outstanding and unique training device. They have a very comfortable foot pocket that allows fast kicking movement. ​Kicking breaststroke with these fins is unbelievable!​ They can teach any swimmer with the physiological aptitude to turn their feet out properly. This quality is worth the investment by itself but it is a great tool for developing every stroke."
Sandeno added, "I get such a rush from hearing what a difference Laguna Fins are making for swimmers. Improved technique, best times, elevated swim workouts, great customer service, swimmers excited to put them on – it's so cool! I am proud to be a part of this game changer in the swimming world!"
The SoCal company and California born and bred Sandeno are the perfect fit. "Being from Southern California and living very close to the coast, I am stoked to see the ocean community embrace our fin as well. I love seeing the versatility of Laguna Fin, from the pool to the ocean. I am so excited for our future," says Sandeno.
— This is a press release provided by Laguna Fin.