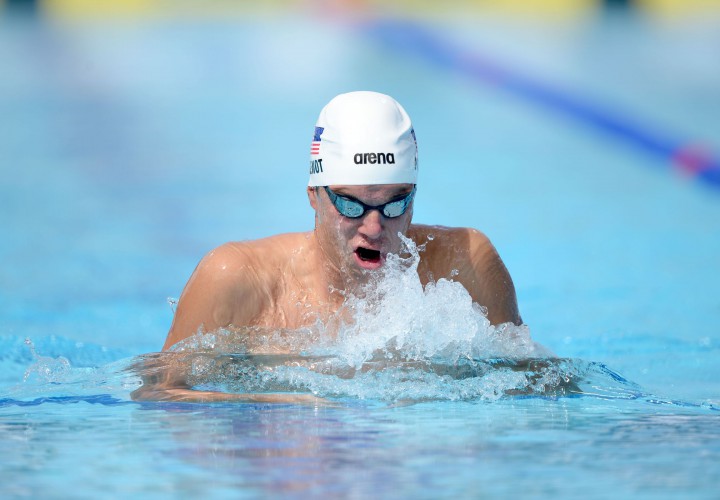 Photo Courtesy: Delly Carr
Editorial content for the 2015 Arena Pro Swim Series Charlotte is sponsored by Arena. For full Swimming World coverage, check out our coverage page.
California's Josh Prenot put up a lifetime best in the men's 200-meter breast at the Arena Pro Swim Series Charlotte.
Prenot threw down a top time of 2:09.30 for the win, cutting a second off his personal best and moving to sixth in the world.
Only Yasuhiro Koseki (2:07.77), Adam Peaty (2:08.34), Andrew Willis (2:0.59), Ross Murdoch (2:08.90) and Ilya Khomenko (2:08.98) have been faster this year.
Badger's Cody Miller, who is ranked 13th in the world with a 2:10.28 from the Orlando stop, took second in 2:11.63.  Nic Fink picked up the bronze medal with a time of 2:11.75.
Meanwhile, Penn Charter 15-year-old Reece Whitley demolished the 15-16 U.S. National Age Group record with a stunning fourth-place time of 2:12.92.
That swim downed the previous record of 2:14.67 set by Matthew Elliott back in 2009.
Whitley now owns the 13-14 100 breast (1:03.23) and 200 breast (2:16.48) long course records, and is battling professional swimmer Michael Andrew (1:01.67) for the final 15-16 breaststroke mark in their age group.
Carlos Claverie (2:14.64), Richard Funk (2:15.87), Thomas Dahlia (2:17.89) and Chase Kalisz (2:18.66) closed out the finale.
Top-ranked Thiago Pereira elected to scratch finals even with a 2:14.58 for the top time.
Jorge Murillo Valdes touched first in the consolation heat with a time of 2:15.35.
SCHEDULED EVENTS
Women's 200 fly
Men's 200 fly
Women's 50 free
Men's 50 free
Women's 100 back
Men's 100 back
Women's 200 breast
Men's 200 breast
Women's 50 fly
Men's 50 fly
Women's 400 free
Men's 400 free