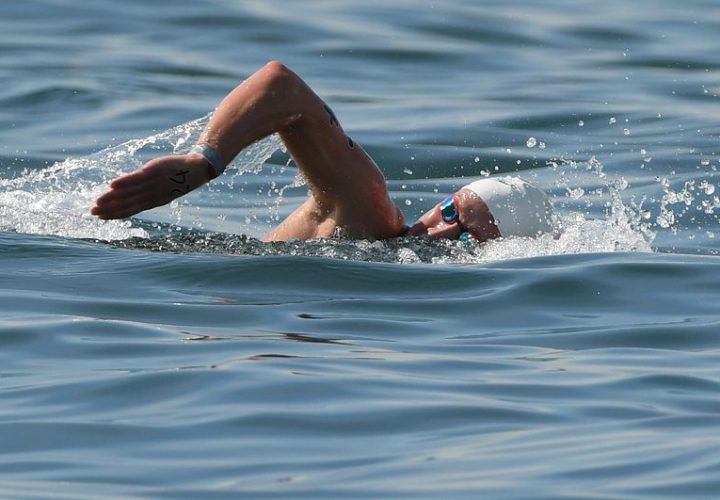 Photo Courtesy: Jack Gruber-USA TODAY Sports
Jordan Wilimovsky has been the top open water swimmer in the United States over the past several years, winning the World title in the men's 10k in 2015 before finishing fifth at the Olympics in Rio. He will defend that World title this summer in Budapest after he pulled away to win the U.S. national title in the event Friday at Castaic Lake.
Wilimovsky, representing Team Santa Monica, took over the lead at the halfway point and pulled away to win by a massive margin of 52 seconds. His final time was 1:57:45.613.
In addition to the 10k, Wilimovsky also swam the 1500 free in Rio, finishing fourth in that event, so he will be looking to add a spot in the pool in Budapest at U.S. Nationals in Indianapolis next month.
Brendan Casey finished second to earn the second spot on the U.S. team in the 10k for Budapest, touching the pad in 1:58:37.383. Australia's Simon Huitenga took third in 1:58:38.743, while Nation's Capital's Andrew Gemmell missed out on a spot in the 10k in Budapest by just a second and a half, finishing in 1:58:38.828.
Gemmell, however, could end up qualifying for Budapest to compete in one of the other races aside from the 10 (the 5k and/or the 25k). That selection will be determined in the coming weeks.
North Carolina Aquatic Club's Chip Peterson took fifth in 1:58:41.469, and he wad followed by FAST's Simon Lamar (1:58:44.540), Canada's Richard Weinberger (1:58:56.728) and Philippe Guertin (1:58:58.583) and the British duo of Caleb Hughes (1:58:59.637) and Toby Robinson (1:59:02.106) to round out the top ten.
Great Britain's Jack Burnell received a red card on the final lap for intentional kicking. Burnell was also disqualified at the Olympic Games in Rio after a physical altercation, losing out on the bronze medal it initially appeared he earned. With Great Britain also using the Castaic Lake race for its World Championship selection, it's unclear if he will be able to go to Budapest in the event.