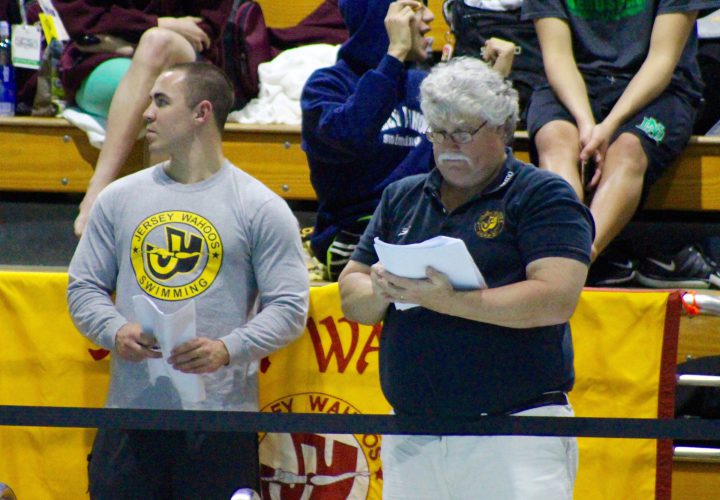 Photo Courtesy: Taylor Brien
John Carroll, long time head coach for Jersey Wahoos, was released from his position for non-coaching related reasons a source close to the situation revealed to Swimming World.
The following was posted on the Club's website:
Today marks the start of a new chapter for the Jersey Wahoos.  The board has initiated a national search for a new Director of Competitive Swimming.  In the interim, Karen Clemens has agreed to serve in this capacity. Over the years Karen has developed a reputation as one of the top age group coaches in the country. Recently she has also served as our coordinator for the Safe Sport program.

The board plans to have a new director in place by the end of the summer. Guidelines have been established and we have begun our search. We are looking for an individual that is enthusiastic, has been involved with a national level squad, and has the ability to develop and coordinate a well-structured program at all levels.

The board would also like to officially announce the hiring of Ed Abele as our Director of Business Development. Ed has been working closely with our staff in recent months.  He is a former Jersey Wahoo (still holds a few team records), a graduate of the University of North Carolina (where he was an All American), and has completed advanced course work at Harvard.  Ed was COO of a large manufacturing company and comes to us ready to implement his deep knowledge and understanding of running a successful company. Ed is committed to the success of Jersey Wahoos and is looking forward to restructuring the business side of Wahoos.  When completed his focus will shift towards fund raising, developing programs to increase the membership, and plans for our long discussed facility expansion.

This is the beginning of an exciting time for Jersey Wahoos. We look forward to upgrading and expanding our program while setting goals that will culminate with one of the top age group/senior teams in the country. The future of Jersey Wahoos shines bright and we look forward to continuing to execute our mission of inspiring and developing athletes to achieve excellence in the pool, the classroom, and the community!
Swimming World reached out to Carroll for comment. He release the following statement:
I would like to thank all of the coaches, parents and swimmers with whom I have had the pleasure of working with over the past 40 years at Jersey Wahoos.  Coaching has never been a job for me – it is my passion.

I am saddened by the way the new Board of Directors released me from coaching our senior swimmers during such a critical time in their long course season. Top priority should have been given to our dedicated athletes.

To be clear, there was no wrong-doing on my part in any non-coaching related reasons which led to my release.

The reason I have coached the National Team at Jersey Wahoos for over 30 years was not only to help coach the best team in South Jersey/Middle Atlantic, but to help create young men and women of good character.  Having received such an outpouring of support, with so many touching messages, in the past three days from coaches, swimmers and alumni – I truly believe this is the case.

I hope to continue pursuing this passion of mine in the very near future.  Stay tuned for the next chapter!

Yours in swimming,

John Carroll Johncarroll806@gmail.com