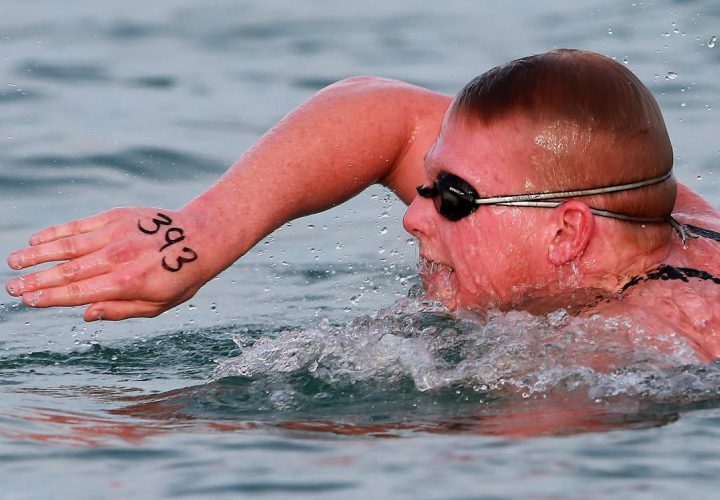 Photo Courtesy: Simon Watts/Open Water Source
Jarrod Poort, the Australian open water swimmer best-known for building and then losing a huge lead in the men's 10k final at the Rio Olympics, has accepted a one-year suspension from the sport as a result of three missed doping tests.
Poort's suspension began earlier this month. It was reported in May that Poort and fellow Aussie Olympians Madeline Groves and Thomas Fraser-Holmes were all facing possible suspensions on account of missing three drug test each.
Fraser-Holmes was handed a one-year suspension in early June, while nothing has been announced regarding Groves. Groves has stated that one of her missed tests occurred when drug testers did not properly seek her out while she was at a training camp in San Diego, Calif., in the United States.
Read the full press release from Swimming Australia announcing Poort's suspension below:
Swimming Australia can confirm that Jarrod Poort has accepted a 12-month anti-doping sanction for Whereabouts breaches. This sanction was imposed on Mr. Poort by Swimming Australia following a recommendation by the ASADA CEO under the terms of the National Anti-Doping scheme. The sanction commenced on 5 September 2017 and concludes on 5 September 2018.

Swimming Australia CEO, Mark Anderson said that Australian swimming had long been a strong and vocal advocate for clean sport, both in Australia and internationally.

"We fully support all anti-doping policies and our athletes understand that the rules in place to ensure that all athletes must be available for testing at their designated location and time are a very important element of anti-doping policies," Mr. Anderson said.

"The Australian Dolphins Swim Team has worked hard to develop a culture of professionalism and respect within the team. Part of that professionalism is ensuring each athlete is accountable and responsible for accurately providing their locations so testers can access them when required and it is extremely disappointing that this has not occurred as it should have.

"Both Swimming Australia and our athletes have been very clear on our position both here in Australia and internationally. Jarrod has taken responsibility for his filing errors and we continue to work with and support Jarrod as best we can to support him through this process. Jarrod has accepted responsibility and understands the impacts of his actions. Whilst clearly this is a very disappointing situation for Jarrod and swimming, we need to reiterate that this is not a positive result and his ownership and acceptance of the situation is admirable."

Under the terms of the Anti-Doping Policy, for the duration of the sanction Jarrod cannot:

compete in any Swimming Australia sanctioned events, nor the events of other organisations that would be considered to be at a similar level, nor other sports.
receive funding from Swimming Australia or the Australian Institute of Sport
train in any Swimming Australia funded programs.
participate in or attend any Swimming Australia training camps
be involved in sport in any type of administrator role (eg coach, volunteer, manager etc).

Poort accepted the sanction and said, "At the end of the day people make mistakes and that's what I did."

"It was remiss of me to neglect a management system that must be shown the full respect it deserves and it is a very embarrassing situation to now be in.

"The Whereabouts system is one of the tools that aids in keeping legitimacy in the sport that myself and so many others love and spend so much time in, and as such it needs to be treated with precision and respect.

"Dealing with, and getting my head around the whole situation that has been ongoing since February has been a very tough period of time for myself. At times, I wasn't myself; however I've had some great friends and family around to help support and navigate me through it all.

"Now, facing one year ineligibility for this, from the sport and a way of life I've dedicated so much to over the past years, it has been a very tough pill to swallow, however I've chose to accept and respect the situation.

"A mentor that I look up to recently said to me – "Simply wanting or yearning for a new way will not produce it, you need to end the old way(s) first."

"So, I am taking this in my stride, learning from it, then putting it behind me and turning the year of ineligibility into a learning tool for becoming 'Jarrod who can also swim' and not just 'Jarrod the swimmer,' and focusing on some of my other life aspirations."