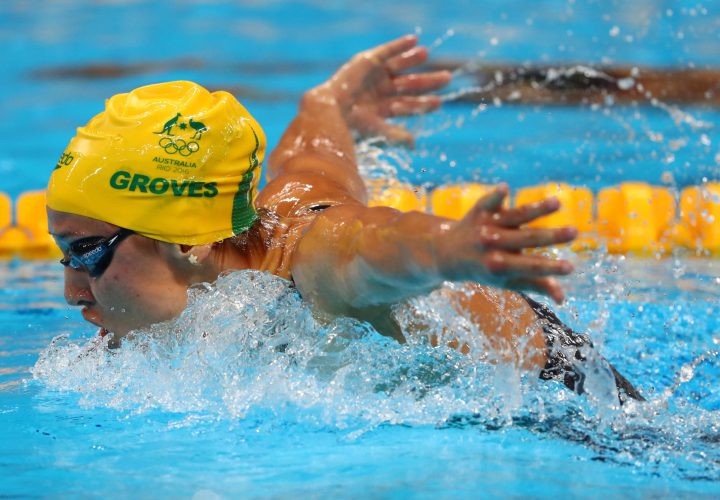 Photo Courtesy: Rob Schumacher-USA TODAY Sports
A trio of Australian Olympians could be forced to serve a two-year ban from competition after missing three out-of-competition random doping tests within a one-year period, according to a report from The Daily Telegraph.
The swimmers implicated in the report include Madeline Groves, Thomas Fraser-Holmes and Jarrod Poort, all Olympians from the Rio Games. Groves won a silver in the women's 200 fly in Rio, while Fraser-Holmes barely missed out on a medal as a member of Australia's 800 free relay team. Poort, meanwhile, swam the 10k open water race and had an enormous lead before fading badly on the last lap.
According to the Telegraph, Groves was cited for her missed test in San Diego, Calif., in the U.S., when drug testers could not find her during the one-hour window in which she said she would be at the facility where she was staying.
Fraser-Holmes explained that he was at his mother's house one night until about 8:55 p.m. when he realized that he had mostly missed his 8-9 p.m. window — during which time drug testers had come to his house.
While Poort has yet to explain his circumstances to the media, both Groves and Fraser-Holmes have hired lawyer Tim Fuller to represent them in fighting against two-year bans. In comments to the Telegraph, Fuller explained that he felt the circumstances surrounding the potential bans were suspicious.
"It's interesting that FINA have targeted two athletes who have never returned a positive test for a prohibited substance," Fuller said. "Seemingly they are going after them for an alleged technical breach."
Read more from the Daily Telegraph by clicking here.