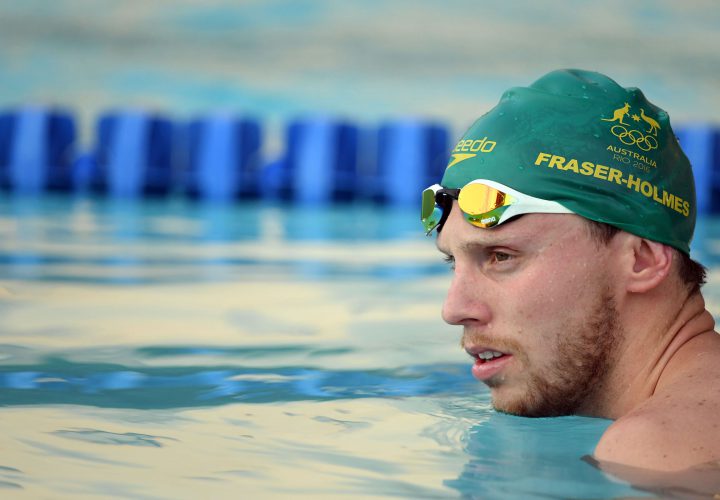 Photo Courtesy: Delly Carr / Swimming Australia Ltd.
After a hearing with FINA on June 7, Australian Olympian Thomas Fraser-Holmes currently faces a 12-month ban from competition after missing three drug tests. This will keep him out of the 2018 Commonwealth Games.
Fraser-Holmes has totaled 5 medals at past Commonwealth Games, and earned a bronze as a member of the 800 free relay at the 2015 World Championships in Kazan. He also competed in the 400 IM, 200 free and 800 free relay at the 2016 Rio Olympic Games.
Fraser-Holmes is one of three Australian Olympians in trouble for missed drug test appearances. Rio silver medalist Madeline Groves and open-water swimmer Jarrod Poort also have three strikes against them. Groves has not yet had her hearing while Poort is out of the pool for two years.
Swimmers at the elite level schedule one-hour time blocks where they need to be where they say they will be in order for drug test administrators to locate them and perform the test. Each time an athlete is missing from their determined location during this time, it counts as one strike.
In Fraser-Holmes' case, his sports lawyer Tim Fuller said there are many reasons why they will fight the ban. He credited this to Fraser-Holmes' clean record and a technical fault in the location system.
"It was acknowledged by a number of authorities that the data recording system that Tom was required to use on a daily basis to log his whereabouts was faulty. A technical fault in the system prevented Tom from updating his whereabouts information. Yet, the FINA panel found that he had been 'negligent' in this particular area," Fuller said.
After missing two tests post-Rio, his third-strike came earlier this year when he missed his window by 10 minutes after having dinner at his mother's house. He said he did not know the drug testers were there until he received an e-mail a few weeks later.
"I'm not running away from anything. I made the mistake of not being home," Fraser-Holmes said. "I'm guilty of a human error, of pretty much just spending some time with my family. Just as normal families do we were just chit-chatting away and it got to five to nine and I realized what time it was."
They will be appealing to the Court Arbitration for Sport immediately and ultimately asking the Court to set aside the FINA Doping Panel decision and reinstate Tom Fraser-Holmes status as a competitive swimmer.
FOX Sports and The Young Witness contributed to this report.