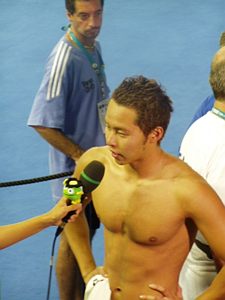 By Hideki Mochizuki
TOKYO, August 10. JAPAN is sending a team of 20 swimmers to Athens — nine men and 11 women — with high expectations.
At last year's World Championships, Japan earned six medals, including two gold — the best results ever since the World Championships were inaugurated in 1973. Team manager, Tsuyoshi Aoki, expressed his goal for the Athens Games as winning five medals. "It will be good if we could have even one gold medal among those five medals," he said. "We definitely should do better than we did in Sydney, where we won four medals (2 silver and 2 bronze)."
I believe this team may do even better in Athens than it did in Barcelona. Seven medals appears to be a distinct possibility.
Swimmers who Aoki sees as having medal potential are:
* Kosuke Kitajima (men's breaststroke),
* Takashi Yamamoto and Takeshi Matsuda (both in the 200m butterfly),
* Sachiko Yamada and Ai Shibata (both in the 400m and 800m freestyle),
* Reiko Nakamura (200m backstroke), and
* Yuko Nakanishi (200m butterfly).
Here is this SwimInfo correspondent's analysis of the Japanese medal hopefuls:
MEN:
Gold: Kosuke Kitajima (200m breaststroke)
Silver: Takeshi Matsuda (200m butterfly)
Bronze: Takashi Yamamoto (200m butterfly)
Kosuke Kitajima (100m breaststroke)
Possible surprise: Tomomi Morita (100m backstroke)
WOMEN
Gold: none
Silver: none
Bronze: Sachiko Yamada (800m freestyle)
Reiko Nakamura (200m backstroke)
Yuko Nakanishi (200m butterfly)
Possible surprise: Ai Shibata (400m and 800m freestyle)
Here is the background on these swimmers:

MEN
Kosuke Kitajima (Gold in 200m breaststroke, Bronze in 100m)
Strength: Streamlined/effective and lower rate in stroke and kick, strong come-from-behind power
Weakness: Has lost last year's Tsunami stream a little. Control of mental status including Japanese media hype around gold medal expectation.
After coming back from Mare Nostrum, Norimasa Hirai, Kitajima's coach, commented that Kitajima will probably focus more on the 200m rather than 100m. Since the Barcelona World Championships, where Kitajima won two breaststroke events with two world records, he has lost a bit of his Tsunami-like momentum in long course races. Particularly, he has not shown his exceptionally strong come-from-behind power in the race. Still, Kitajima's 2.10.70 (split 29.09 1:01.91 1:35.61) from the Japanese Olympic Trials is ranked second globally this year and he is definitely shooting for gold at Athens. Kitajima maintained coolness when Brendan Hansen broke his world record at the US Olympic Trials saying, "I could be the challenger again" mentioning that he had a similar experience short before the Barcelona World Champs when Russia's Dimitri Komornikov broke his 200m world record.
In 100m, I believe that Kitajima was shaken by Hansen's very fast split of 27.93 — 0.7 seconds faster than Kitajima. Coming in the first 50m with mid-28, he knows he could not win, so he is now facing a major change in his race strategy. That was the biggest influence from Hansen's world record. If Kitajima has found another way to beat Hansen, we will know it on August 14 for 100m prelim and semis.

Takashi Yamamoto (bronze 200m butterfly)
Strenth: Stable pacing and strong in latter half of race
Weakness: speed
Yamamoto is the captain of the Japan National Team. This will be the 3rd Olympics for him and he is one of the most consistent performers among the national team members. At the Japanese Trials, he clocked 52.58 in 100m butterfly and 1.56.26 in 200m butterfly.
At the Sydney Games, Yamamoto was 5th in 100m butterfly and could not qualify for the final, being 9th in 200m. Coming back to Japan in 2001, there was Fukuoka World Champs. There, Yamamoto was 4th in 100m and 5th in 200m, breaking the Japanese record in both events. Yamamoto's hope was "first, to get a medal at a major meet, whatever it takes." But, medal tends to slip in his eyes by just a little bit. In recent years, he considered retiring, but because of that feeling, he cherishes competing in each race.
Yamamoto finally obtained the silver medal in last year's World Champs in 200m and that boosted his confidence again. He won his first Japanese Nationals title in 1995 and kept winning since then until he lost to Takeshi Matsuda in 200m butterfly this year.
In his training and private side, Yamamoto moved to Canada in 1999 to train with Bud McAllister, former coach of Janet Evans. Then he got married with former Japanese freestyle ace, Suzu Chiba, in 2002. Chiba retired after Atlanta Games in 1996 but came back to compete under coach McAllister in 1998.

Takeshi Matsuda (200m butterfly)
Strength: Strong in latter half of race
Weakness: Lack in speed
At the Japanese Olympic Trials, in the men's 200m butterfly, Takeshi Matsuda prevented Takashi Yamamoto from winning his 3rd consecutive title. Yamamoto feels that now, both he and Matsuda "are both in high possibility of getting medals, especially 200."
Matsuda's strength is "come-from-behind" strategy, where he can even outswim Yamamoto. Matsuda is famous as a training animal, racking up to 30,000 meters a day during his peak training period.

Tomomi Morita (Surprising medal hopeful in 100m backstroke)
Morita has a clear focus for Athens with his aim to grab a medal. He is a very strong sprinter, a fact that Lenny Krayzelburg commented about during last year's US Open after having several training sessions with Morita, "Morita has dangerous speed. I will keep an eye on him."
At the Japanese Trials, Morita smashed Hajime Itoi's 1992 record (1.59.49) by touching in 1.59.10. Morita's splits were 27.91, 58.10, 1.29.30, showing his endurance has improved too.

WOMEN
Sachiko Yamada (Bronze in 800m freestyle)
Strength: Stable pacing,
Weakness: Mentally weak for major meets, must overcome from mistakes in Barcelona World Championships, lack of experience in head-to-head battles at major international meets.
Yamada had been expected to be a medalist at Barcelona, but she could not even qualify for the final in any of her events — 400m, 800m and 1500m freestyle. "Mentally and physically, I was dead," Yamada recalls. Last minute tapering did not go well.
Coming back to Japan, it took more than a couple of months from that Barcelona shock. She was absolutely devastated and almost felt read to quit swimming. However, last December's US Open was her first international come-back meet, and she won both the 400 and 800m freestyle. This occasion helped her once again to train vigorously. Yamada gives credit for her comeback to Mission Viejo's coach Bill Rose and Chad Carvin, where she visited after World Championships. "It was a great that people took care of me so well. That changed my vicious cycle of thinking."
Yamada set the Asian record of 8.23.68 at the Japanese Trials, which is currently ranked No.1 in the world this year. "I really feel that I would be now ready to compete with world's top racers," she said.
The time is eye-wink close to Hannah Stockbauer (Germany)'s world top-ranked 8.23.66 from the 2003 World Champs. Yamada said, "I was fighting with invisible rival in my inside during race. I decided to go out fast from beginning and strategy was to hang in there from 600m, which was successful tonight. Now, I change my mind to Athens."
Yamada has been showing an impressive record lately, establishing the world short course record in 800m freestyle in 8.13.35 on January 24 this year, continuing to win World Cup (New York) in both 400 and 800 and then winning the 400, 800 and 1500 at the US Spring Nationals in February. Her 800m time was equal to bronze medal in last year's World Champs.
If she swims well on 400m on August 15, her 800m will be different story. Possibility of gold would be within her reach. Relationships of her mental state and physical performance is much closer than other top swimmers'.
If Yamada obtains medal of any color, she will be become the FIRST Japanese woman to medal in a freestyle event in the Olympic Games.

Reiko Nakamura (bronze in 200m backstroke)
Strength: Strong in latter half of the race
Weakness: No clear success in major international meet
Like Yamada, Nakamura got the reputation of being weak in major international competition but Nakamura stresses, "compared to last year, everything around me has changed in a better way" Nakamura said after Japanese Olympic Trial where she won both 100m and 200m backstroke.
In the 100m there were 5 swimmers at 1:01, including Mai Nakamura, the silver medalist in this event from Sydney Games (Nakamura was not selected for national team). "Anyone could win that race but I thought that the competitor who wanted to become No. 1 really badly could get 1st place in that race. I am different competitor now" analyzing her performance.
Nakamura changed her coach and started training with Kitajima's coach, Norimasa Hirai, since October 2003. She feels that it was a huge change in her swimming career. After clocking 2.10.18 at the Japanese Olympic Trials, Nakamura said, "I am much more confident. I used to be unable to focus at a big meet but in Athens I do think I could break 2.10 in 200m"

Ai Shibata (surprise medal hopeful)
Strength: Improving a lot this year
Weakness: Athens is first major international meet
LOwered her PB by 5.36 seconds in 400m freestyle and 10.69 in 800m freestyle at the Japanese Olympic Trial in late April. Shibata is showing amazing improvement since last year. In Mare Nostrum in Rome, Shibata even beat Sachiko Yamada for the first time.
Her comment on being selected for Olympic member was "it was dream-come-true. My first goal at Athens will be making final with further lowering my PB."

Yuko Nakanishi (Bronze, 200m butterfly)
Strength: Come-from-behind pacing
Weakness: Lack of speed
Clocked 2.07.99 at the Japanese Olympic Trials, lowering her previous record of 2.08.08 from the World Championships last year, on her 23rd birthday. Nakanishi's strongest point is her endurance ability. Attained bronze medal in World Champs last year, "Compared to Sydney Games where I just 'participated,' this time, I definitely go for medals."