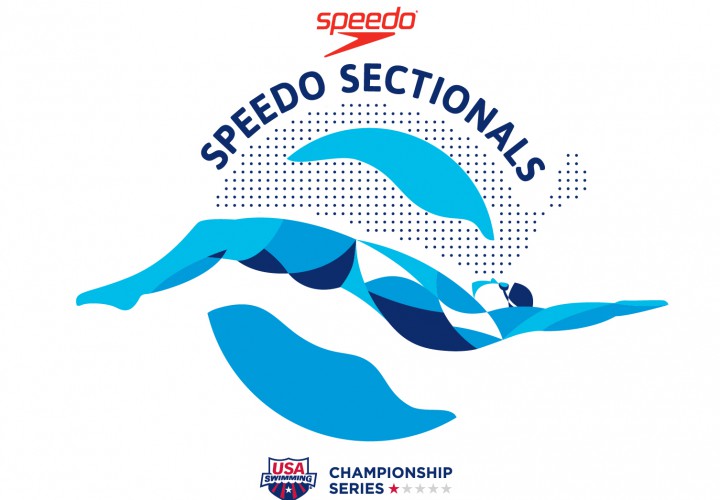 Photo Courtesy: USA Swimming
The second day of the 2015 Speedo Western Section Championship at the Mt. Hood Community College Aquatic Center in Gresham, Oregon saw many new Olympic Trials qualifiers as things heat up with less than a year till the U.S. Olympic Trials.
The evening started out with an exciting win in the women's 100 free, when Jamie Stone got her Olympic Trial cut exactly. She touched first, posting a 56.49. She was followed by Eryn Eddy who touched second in a 57.25, while Savanna Carlson was third in 57.62.
The men's heat saw Kyle Robrock take first in a time of 50.99. He was followed by Ryan McCoy who swam a 51.18 while Luke Williams was third in 51.91.
In the 200 breastroke, Amanda Sanders followed up on her dominating performance from the morning session. After qualifying for Olympic Trials in the preliminary session in a 2:33.50, she followed up the performance with a dominating win at night, finishing just slightly off her morning time in a 2:33.82. Finishing second was Morgan Friesen who swam a 2:35.88, while Jordan Ehly was third in 2:37.48.
In the men's 200 breastroke Timothy Cottam dominated the final with a time of 2:19.12. He was followed by Daniel Roy who finished second in 2:22.61, while Gabriel Rooker swam to third in a time of 2:21.69.
The women's 200 backstroke was perhaps the fastest event of the night, with a slew of women under the Olympic Trials Qualifying standard. Taylor Ruck won the event with a blazing fast 2:13.91. She was followed by Rhyan White who was second in 2:14.54, while Hannah Leach finished third in a time of 2:16.18. All three women were under the Trials Qualifying time.
The men's 200 backstroke had a similarly fast heat. After achieving an Olympic Trials Qualifying time in the prelim session, Anton Loncar dropped another three seconds to win the event in a 2:00.64. He was followed by Daniel Carr who touched in 2:01.73, which was also a Trials Qualifying time. Brandon Shreeve grabbed third, finishing in 2:05.34.
In the last individual event of the night, Michelle Cefal won the women's 200 butterfly in a time of 2:15.42. She was followed closely by Kelly Huffer who finished in 2:15.52. Grace Sommerville was third with a final time of 2:18.27.
Kyle Ewoldt dominated the men's 200 butterfly with a win in a time of 2:04.40. He was followed by Scott Bergstrom who was second in a time of 2:05.13. Third place went to Kacy Johnson who was third with a time of 2:05.97.
The women's 200 medley relay saw a close race between Scottsdale Aquatic Club and Missoula Aquatic club with Scottsdale eventually cinching the win with the team of  Taylor Ruck (30.29), Alyson Yancy (34.49), Hannah Holman (28.16) and Samantha Fazio (26.78) putting together a 1:59.72 MAC followed by 6 one-hundreths of a second with the team of Hannah Leach (31.90), Katherine Berkoff (32.37) Jadyn Stroh (29.28) and Kate Zimmer (26.23) finishing in a time of 1:59.78. The Hillsboro Swim Team's group of Anna Heller (29.70) Hailey Cablao (36.36) Ellie Thornbrue (28.16) and Logan Neal (26.81) came together for third in a time of 2:01.03.
The University of Denver Hilltoppers swam away with the men's title in the 200 medley relay with the team of Kyle Robrock (26.89) Timothy Cottam (29.18) Lane Bretschneider (26.26) and Dylan Bunch (24.83) coming together for a final time of 1:47.16. They were followed by Phoenix Swim Club's team of Jared Norton (29.20) Patrick Schramm (30.13) Ryan McCoy (25.23) and Angus Hannan (23.51) for a second place title and a time of 1:48.07. Cinching third was the Scottsdale Aquatic Club's team of Kaleb Gould (28.48) Marcello Quarante (30.93) Sebastian Gutierrez (25.22) and Bradley Dorsey (23.77) who touched in a time of 1:48.40.