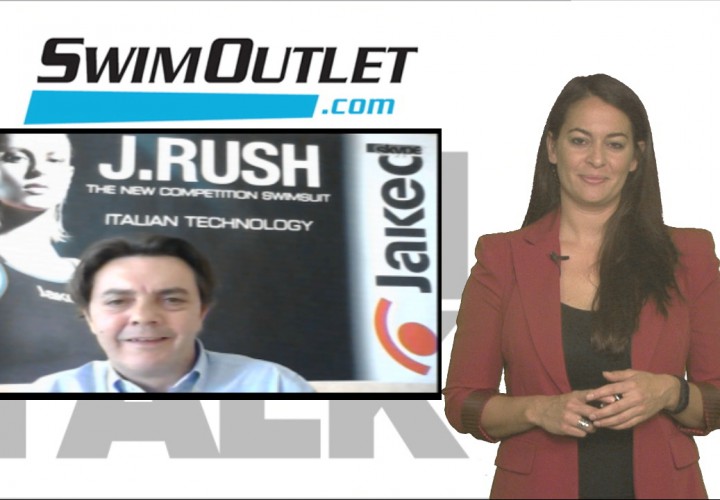 PHOENIX, May 12, 2015 – SWIMMINGWORLD.TV brings you another episode of SwimOutlet.com Tech Talk devoted to educating consumers on cutting-edge products in aquatics.
In this episode, Tiffany Elias is joined by Francois Bertonazzi, the Export Manager for Jaked to discuss their newest technical suit to hit the market.
Jaked is a young Italian company based in northern Italy that was created in 2008. Four gentleman had the great intuition to use the polyurethane and a new manufacturing process to construct full body racing suits.
Shortly after the launch of the company in 2009, numerous swimmers competed in the J01 Jaked racing suit at the World Championships in Roma. There were 17 world records set and a combined 37 medals won from athletes competing in Jaked.
Jaked strives to provide products of excellent quality for the proper price ratio with key emphasis on comfort and compression. The JRUSH if the newest technology that maximizes these two factors. The suit is not geared towards a particular stroke but it is meant for upper level athletes.
The light weight fabric uses a revolutionary back system to provide comfort. The back of the suit utilizes a FlexStripes strap compensation system. Comfort is also updated wiht a SilicStop band that offers maximum freedom of movement without the risk of the fabric slipping.
The JRUSH is available in grey, acid red and grey and acid green. Jaked is working on a limited edition for next season.
To learn more about the Jaked JRUSH tech suit, watch this week's episode.

Visit SwimOutlet.com to learn even more about Jaked
SwimOutlet.com Tech Talk is a regular show hosted by Tiffany Elias. Each time, Elias will bring a new guest onto the show to discuss important technical features about various training and competition products. The show is designed to inform coaches, athletes and parents as only Swimming World can do!