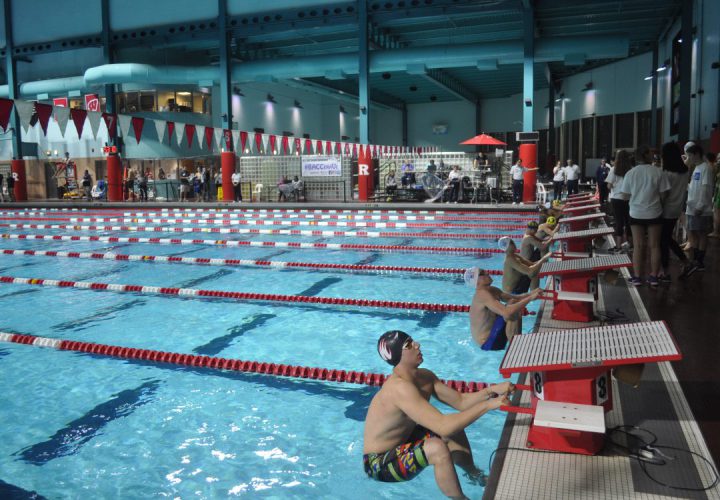 Photo Courtesy: Maria Sullivan
Harry Homans gave him a strong push on both occasions, but no one could stop Jake Johnson in either the 200 back or 200 fly on the final night of competition at the CeraVe Invitational in Piscataway, N.J.
Johnson, who had already won both the 100 fly and 100 back at the meet while representing Delaware Swim Team, finished first in the 200 back in 2:05.54, just touching out Bluefish's Homans. Almost dead even at each turn. Johnson finished in 2:05.54, to Homans' 2:05.70.
A few events later, Johnson pulled away from Homans down the stretch to win the men's 200 fly in 2:05.89. Homans was second in 2:07.21.
Elsewhere, Long Island's Jason Louser completed the men's breaststroke sweep, dominating the 200-meter event in 2:14.57. Delaware's Olivia Paoletti was aiming for the same accomplishment, but she ended up finishing just behind Badger's Carly Cummings at the touch, 2:35.50 to 2:35.70.
Already with wins in the 50, 200 and 400 free in her pocket, North Baltimore's Easop Lee won the women's 200 fly in 2:15.41. Suburban Seahawks' Alex Sumner posted a dominant effort in the women's 200 back, finishing in 2:14.57.
Berkeley's Ana Bogdanovski won the women's 100 free in 57.46, and Eastern Epxress' Vinny Marciano won the men's 100 free in 53.18.
The women's 1500 free opened the final evening of competition, and Badger's Nathalie Eid cruised to a win, finishing in 17:13.42. Then, after finishing second on numerous occasions, Bluefish's Will Barao picked up his first win of the meet in the final individual event, the men's mile. He posted a time of 16:07.82.
Long Island's CJ Arena competed in the men's 200 fly final, got out of the pool and immediately walked behind lane five for the mile without even removing his goggles. He ended up posting a gutty swim and finishing second in 16:07.82.
In the women's 400 free relay, North Baltimore led by more than a bodylength with 100 meters to go, but an amazing anchor from Berkeley got the home team in ahead, 3:55.50 to 3:55.78. NBAC then dominated the men's 400 free relay with a final time of 3:32.20.
The Bluefish "B" relay, a foursome of all 11-12 boys, made a run at a National Age Group record but finished just short. The team of Tyler Lutz, James Misto, Erik Watka and Landon Him finished in 3:58.63, just over a half second off the National Age Group mark of 3:58.04 set by the Cincinnati Marlins in 2014.
Full live results can be found here, and race videos will be posted here. For full event coverage, visit the event landing page.