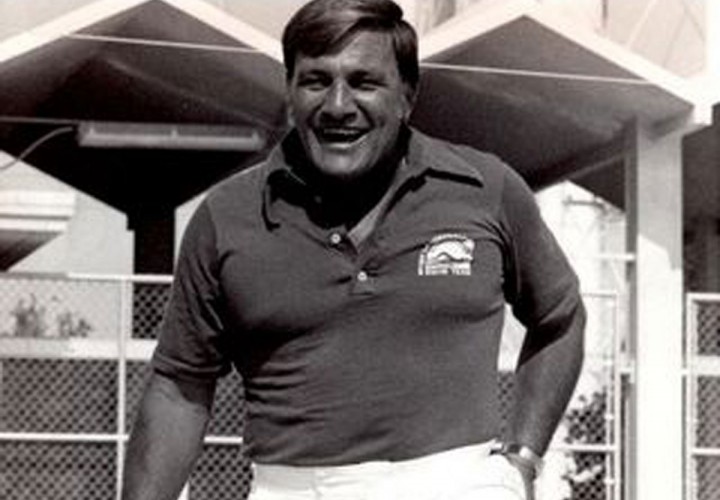 FORT LAUDERDALE –Jack Nelson, who was a major force in coaching the American women to gold over the East Germans in the 400 free relay at the 1976 Olympics, passed away this morning from complications from Alzheimer's disease at 82 years old.
Though Nelson had a storied coaching career across four decades, his legacy is most lasting in that epic swim from Kim Peyton, Wendy Bogliogli, Jill Sterkel and Shirley Babashoff at the 1976 Games. The 400 free relay was the final event of the meet for the women, and the United States had come up empty in gold medals, losing nearly every race to the East Germans.
Nelson, the head women's Olympic coach, gave the four women an inspirational pep talk before the race, sizing each one up with their East German counterparts. In an interview with Swimming World Magazine Publisher Brent Rutemiller in 2007, Nelson spoke at length about getting the ladies ready for the race.
"One thing that stands out in my mind is that we had a chance to win that 4×100 freestyle relay provided every one of our girls would do all their best times. And so almost to the day of the full week before the last event which was at the end of the week, I don't remember exactly what day it was, but it was for the freestyle relay and we qualified, our girls qualified second and the Canadian girls qualified third. And we spent – the coaches and I – we spent time with the girls saying "Look, we can win this relay but it has to be done this way. Kim Peyton, you're the American record holder, every time you get on the block you go faster than you've ever gone, so we're going to lead you off the first 100 free as fast as you can go. Wendy [Boglioli], you're going to go second and you're going to try to catch [The Next Person] because Ender we knew that she was going to go first and we wanted Kim to go with Ender and do the best she could to put us in position to win totally.

"Once again she [Peyton] broke the American record for the 100 free but she was one full length [back] on the touch from Ender. And we didn't tell them they had to beat them, we told them they had to be within a body length and then Wendy's job was to catch up. Wendy's job was to catch up that one body length [from] Kim [whose swim broke] an American record had done. So Wendy takes off and drops two seconds in the fastest 100 of her life. She was like instead of a 57 swimmer she was a 55 swimmer in that relay, okay? Jill's job then was to get Shirley the lead.

"There was just no way that [Shirley Babashoff] was going to lose that relay, there was just no way that we were going to lose it because she was getting sick and tired of those people burning her. What was so outstanding was they won with their minds, they didn't worry about the East Germans at this point, they were worried about America winning and they did and people went bonkers. And the thing about it is they were truly, truly great Americans during that relay and they had no fear, no fear at that point."
Though at first glance one would think him too short and stocky to be an elite swimmer, Nelson had a splendid career as an athlete. He made the 1956 Olympic team and was fourth in the 200 butterfly at those Games. According to the International Swimming Hall of Fame, he is the only man to earn a spot in an Olympic final and go on to be named head Olympic coach.
Nelson would have a long list of athletes he would personally guide to success while coaching for nearly 40 years through the motto "Access to success is through the mind." Among the swimmers he put on the Olympic team who would win gold medals were Shirley Stobbs (1960), Dave Edgar (1972) and Joel Thomas (1992). He led several to world record performances, including Laurie Lehner, Ann Marshall and Andy Coan. One of his prodigies, Seth Van Neerden, broke the American record in the 100 breaststroke in 1994.
Among the accolades Nelson received later in life were a place in the International Swimming Hall of Fame in 1994 and the American Swim Coaches Association's Hall of Fame in 2009.
Below is a family-produced video detailing more of Nelson's life: