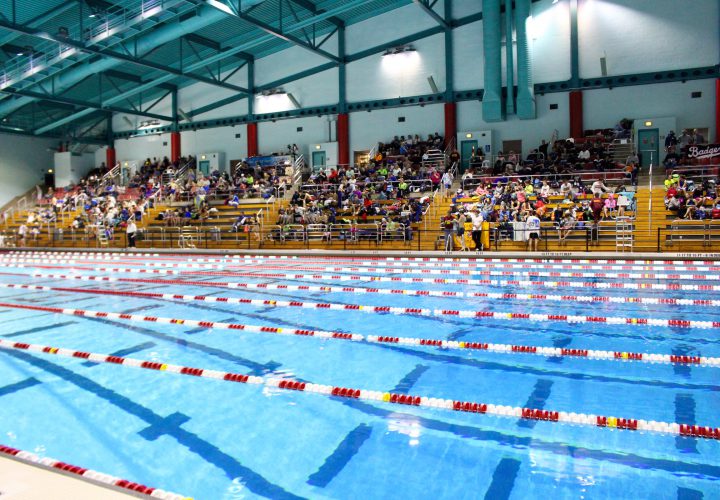 Photo Courtesy: Taylor Brien
By Jason Tillotson.
This past week played host to several insanely fast collegiate invitationals. The collegiate season is always jam packed with fast swimming around this time and with so many meets taking place at once, it can be hard to keep up with all the exciting action.
Here you'll find team scores, some highlights and links to results for some of the smaller invitationals, that may have not hit the national spotlight over the weekend, but still had some speedy swims.
TYR Invitational (Northwestern)
Overall scores:
Women
Northwestern University 1190
Michigan State University 705
Ohio University 563
Grand Canyon University 480
Fresno State University 399
Illinois at Chicago 357
Truman State University 252
Saint Louis 232
Illinois State University 11
Men
Northwestern University 890
Michigan State University 867
Grand Canyon University 721
Saint Louis 532
Illinois at Chicago 404
Truman State University 372
The Northwestern hosted, TYR Invite saw several Division I mid-major programs put up big numbers as the host team took both the men's and women's team titles.
Some of the meet's top swims included a 1:57.82 from Northwestern's IM star, Calypso Sheridan. Sheridan's time broke the pool record and earned her an NCAA 'B' cut.
Grand Canyon Senior Mazen El Kamash posted a 19.80 in the 50 free to win the event and put himself in the running to be invited to Division I NCAA's. El Kamash's teammate Mark Nikolaev posted the nation's fastest 100 backstroke with his 45.22.
Grand Canyon continued their successful weekend by earning an NCAA 'A' cut in their men's 200 medley relay with a 1:24.46.
Mizzou Invitational
Overall scores:
Men
Missouri, 1,411
Drury 683.5
Wyoming 671.5
Oklahoma Baptist 419
South Dakota State 352
Cincinnati 67
Women
Missouri, 1,391.5
Nebraska, 774.5
Wyoming, 486
Drury, 378
Illinois, 339
UC Davis, 276
Oklahoma Baptist, 107
South Dakota State, 100
Iowa State, 45
Cincinnati, 40
Nebraska-Omaha, 2
The Mizzou Tigers did a successful job at defending their home pool from DII powerhouses like Drury and UC Davis as both the men's and women's squads earned team titles over the weekend.
Mizzou senior Kira Zubar managed to dip under the 4:40 mark in the 500 by posting a 4:38.80. Fellow lady Tiger, Sharli Brady, swam a 4:04.37 for the win in the 400 IM.
On the men's side, Tiger freshman Mikel Schreuders posted a swift 1:33.24 in the 200 freestyle while his teammate Jacob Wielinski dipped under the 15:00 mark in the 1,650 freestyle with a time of 14:59.10.
Houston Invitational
Overall scores:
Women
Houston, University of 1542.5
Rice University 1344
Tulane University Swimming 879.5
Vanderbilt University 603
Colorado State University 543
New Mexico, University of 500
U.S. Air Force Academy 475
Northern Colorado, University 444
Idaho, University of 367
The Houston Invite played host to exclusively women's teams this weekend.
The 500 freestyle saw a 4:42.77 out of New Mexico's Adriana Palomino, which gave her an NCAA 'B' cut in the event. The Houston duo of senior Ksenia Yuskova and Zarena Brown earned a 1-2 finish and NCAA 'B' cuts in the 200 freestyle with times of 1:44.88 and 1:44.89, respectively.
Frank Elm Invitational (Rutgers)
Overall scores:
U.S. Naval Academy 1648
Rutgers University Swimming 1447.5
Columbia University 1229.5
Northeastern University 1160.5
James Madison University 763
Liberty University 677
Wagner College 553
Central Connecticut State Univ 406
Long Island University Post 360.5
University of Virginia 292
Liu Brooklyn Blackbirds 282
University of Massachussetts 142
West Virginia University 139
University of Connecticut 39
This massive invite played host to fourteen different teams from an array of conferences, which provided for many exciting races.
Northeastern University's Megan Clark was the only one to dip under the 50-second barrier this weekend with a 49.51, which earned her a new meet record.
Lauren Barber out of the U.S. Naval Academy won both breaststroke events in 1:01.96 and 2:14.18, respectively.