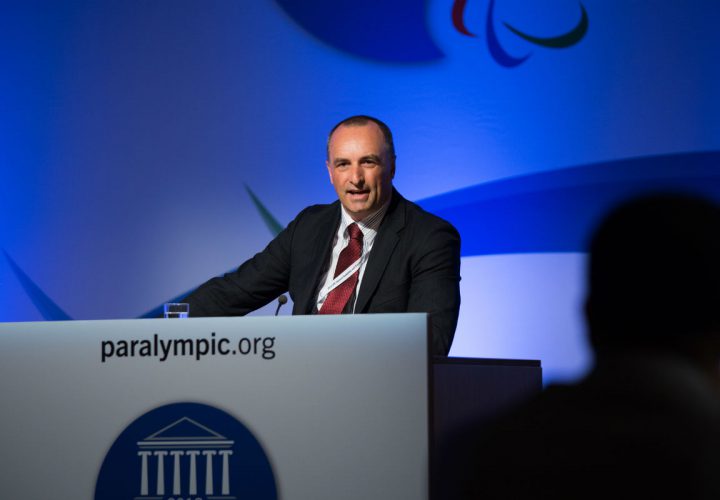 Newly elected Vice President Duane Kale (NZL) at the 18th IPC General Assembly - Photo Courtesy: Paralympic New Zealand
The International Paralympic Committee (IPC) recently elected new members to the Committee, including a new President and Vice President, at the 19th General Assembly. The Assembly was held in Abu Dhabi, UAE and saw Andrew Parson of Brazil elected as the third IPC President.
Parsons commented to the IPC and associated press, that,
"I am absolutely delighted and I don't know what to say. I would like to thank the IPC membership for their trust. Throughout my campaign I think I have explained what I plan to do as IPC President and the membership understood and gave me their support."

Now it is time to roll up the sleeves and work really hard with the membership and the new Governing Board.
Parsons succeeds Sir Philip Craven, who was the President of the IPC for the last 16 years. The newly elected President paid tribute to his predecessor, adding,
"Sir Philip is a legend, a mentor, an example, and an absolute colossus, it's impossible to describe him with just words. I have very big shoes to fill but I think I learned a lot from him and I will try to pay tribute to him by following in his footsteps."
The Presidential election occurs by secret ballot. There were a total of 162 members present and eligible to vote and Parsons secured 84 votes, just over the absolute majority of 82 needed to win. Similarly, the voting for Vice President occurred with a total of 160 members lending their voices. New Zealand Paralympic champion Duane Kale nabbed a close race with a total of 81 votes.
Kale said to the associated press,
"I am incredibly proud and honoured to have been elected by the members to be the Vice President, although it still seems quite surreal at the moment. Being from a region [Oceania] that holds few votes relative to all the other regions makes the achievement more significant as we have had to draw the support of members from all around the world. This further endorses the way in which New Zealanders are viewed by other nations."
He continued by stating,
"There will be very high expectations on Andrew and I to continue the legacy created by Sir Philip. We have been given a great platform by those that came before us and it is our job to now ensure that the impact of Para sport and the social change it creates continues to reach into the developing nations. The Tokyo 2020 Paralympic Games will be a significant event and catalyst for reaching deeper into the Asian region. To sum up my hopes for the future – I hope that I will leave the IPC in a better place than which I received it. And this is a considerable goal considering what Sir Philip Craven has achieved during his term as President."
Following the Presidential and Vice Presidential elections were six rounds of voting for the Governing Board. The following individuals were elected:
Debra Alexander (ITU)
Mohammed Alhemeli (UAE)
Muffy Davis (USA)
Rita van Driel (NED)
Sun Il Kim (KOR)
Luca Pancalli (ITA)
Leonel da  Rocha Pinto (African Paralympic Committee)
Tim Reddish (GBR)
Juan Pablo Salazar (COL)
Yasushi Yamawaki (JPN)
To learn more about the 18th IPC General Assembly and the elections that took place, click here.