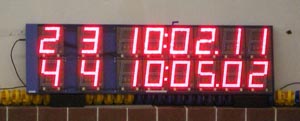 BEAVERTON, Oregon, September 1. SWIM Display, Inc. announces the availability of its two-line electronic swimming scoreboard displays. The displays are compatible with the electronic timing consoles predominantly used, and can be used to replace or augment displays in both existing and new installations, at considerably lower cost. The units are regularly priced at U.S. $2,250 per two-line scoreboard display, but are currently on sale for U.S. $1912.50.
The displays are large, bright and built for the pool environment, yet also light, portable, and easy to install, enabling them to be shared between pools or clubs.
They have the unique feature that each line on the display can be configured to show up to three modules, or displays, being output by the system timing console. For example, a single two-line display can show the times for lanes one through three on the top line, and the times for lanes four through six on the bottom line. This allows incremental improvements to a facility's display capabilities, even when there are insufficient funds to dedicate a display line to each lane. All display modules output by the system timing console, (including the "everything" display, module 'F', and pace clock) are available. Sample configurations are available on the website at http://swimdisplay.com/configurations.aspx.
Other features unique to the Swim Display, Inc. scoreboard displays include an 'E' and an 'H' when displaying event and heat information, and the display of tenths of seconds during races. Many swimmers feel this makes races more exciting!
Swim Display, Inc. is focused exclusively on the competitive swimming market, and specializes in the manufacture of electronic scoreboard displays for competitive swimming. Further information is available at http://swimdisplay.com, or by calling (866) 450-7229.