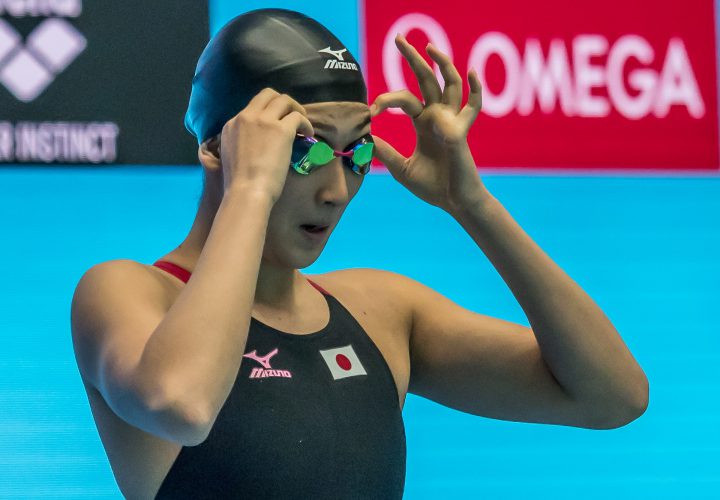 Photo Courtesy: Peter H. Bick
Day two of the 2018 Japan Open continued in Tokyo today as swimmers competed for a chance to qualify for their country's roster for this summer's Pan Pacific Championships. While there weren't any national records to follow up on Ikee's new mark in the 50 butterfly from yesterday, there was still plenty of fast swimming.
Day Two Finals
Women's 200 Free
Men's 200 Free
Women's 50 Breast
Men's 50 Breast
Women's 100 Back
Men's 100 Back
Women's 400 IM
Men's 1500 Free
In the women's 200 free, national record holder Rikako Ikee was a little ways off that in this final but still managed to hold on for gold in a very tight field. All three women on the podium finished in 1:57's, with second place Chihiro Igarashi (1:57.48) and third place Rio Shirai (1:57.68) just behind Ikee. Notably, fourth place Tomomi Aoki also finished just under 1:58 (1:57.85), giving Japan a nice group for their 800 free relay.
The men's 200 free was a showdown between Katsuhiro Matsumoto and 400 IM Olympic Champion Kosuke Hagino. Hagino didn't swim this event at last month's Japan Swim, and he was edged out here by Matsumoto 1:47.62 to 1:48.02.
In the women's 400 IM Yui Ohashi, who owns the fastest time in the world this year with her 4:30.82 from last month's Japan Swim, won again here tonight, taking the event in 4:35.03 over Miho Takahashi and Sakiko Shimizu who had a close battle for silver and bronze (4:38.57 to 4:38.58).
With Junya Koga out because of his recent doping violation and no Ryosuke Irie in the field, the men's 100 back was wide open. Junya Hasegawa ended up with the win in 54.44, just .04 ahead of Masato Sakai. In third was visiting Australian Peter Mills. In the women's event Emi Moronuki was the only one in the field under a 1:00, winning in 59.77.
Other event winners included Reona Aoki in the women's 50 breast (31.41), visiting Chinese swimmer Yan Zibei in the 50 breast (27.38), and Syogo Takeda in the men's 1500 free (15:06.27). Both Aoki and Zibei were champions in the 100 breast yesterday.