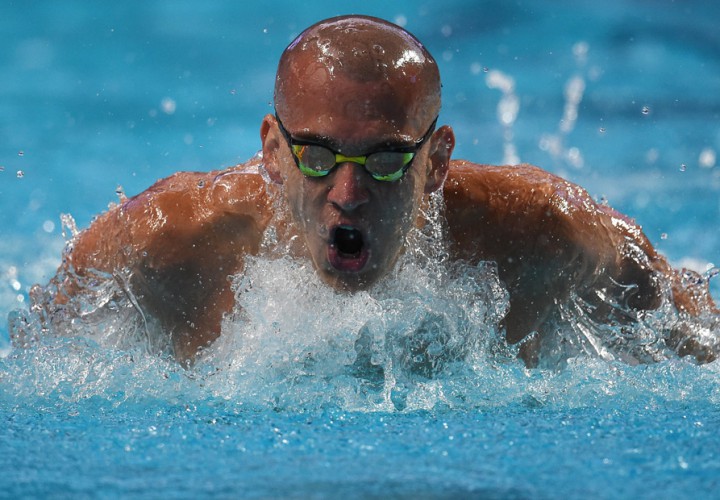 Photo Courtesy: R-Sport / MIA Rossiya Segodnya

Editorial Coverage Sponsored By FINIS
Tamas Kenderesi of Hungary stopped the clock in 1:54.73 to take the top spot in prelims. Laszlo Cseh of Hungary leads the world rankings this year in 1:52.91. This morning he finished just behind his teammate in 1:55.14.
South Africa's Chad Le Clos won the opening circle seeded heat in 1:55.57. That time held up for the third spot. Grant Irvine of Australia will return to semifinals in fourth after posting a 1:55.64.
The United States' Michael Phelps did what he needed to do to earn a semifinal swim, touching in 1:55.73 for fifth.
Japanese teammates Masato Sakai and Daiya Seto swam 1:55.76 and 1:55.79, respectively for semifinals swims in sixth and eighth place. Denmark's Viktor Bromer snuck between the duo with a 1:55.77 for seventh.
Leonardo De Deus responded to the excited home crowd with a ninth seeded 1:55.98. Singapore's Zheng Wen Quah touched in 1:56.01 for tenth.
Russia's Evgeny Koptelov (1:56.13), Brazil's Kaio Marcio (1:56.45) and Sweden's Simon Sjodin (1:56.46) take the 11th through 13th spots.
Belgium's Louis Croenen (1:56.48), Colombia's Jonathan David Gomez Noriega (1:56.65), and China's Zhuhao Li (1:56.72) also earn semifinal swims.