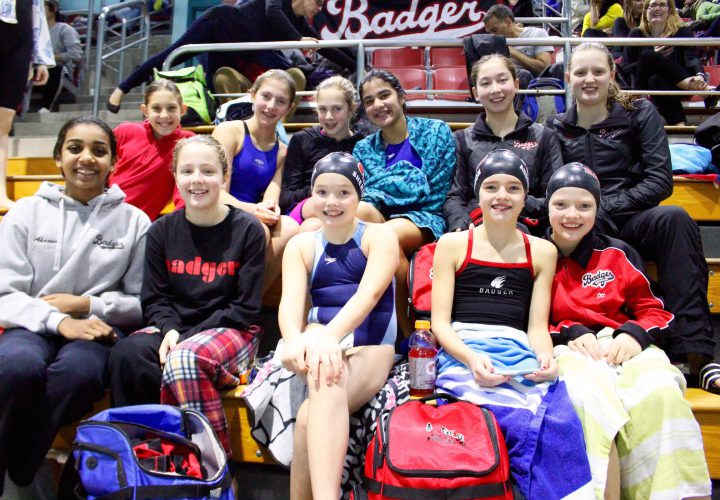 Photo Courtesy: Taylor Brien
By Norah Hunt, Swimming World College Intern. 
When it comes to club swimming, one of the main objectives for any coach is to build the program by increasing membership. This objective, while seemingly simple, can actually become quite complicated when one tries to put it into practice. For one, it can be challenging sometimes to get kids in the water, when coaches have to compete with all the other extracurriculars that the community offers. Furthermore, if there are multiple clubs in the area, it can also become difficult to compete with that team for members. Regardless, there are certain steps a program can take to both advertise and expose the team to the community.
Here are some ideas on how to increase membership for your club team:
Start with summer league and high school swimming.
It would not be an underestimate to claim that the majority of club swimmers start out in one of these two areas. This makes sense; summer league swimming is a low stress, fun way to spend a season, while high school swimming is advertised in the child's school. It is important for club coaches to stay pretty involved in these two realms if they are interested in building their programs, because they will be exposed to swimmers that have already committed to the sport in some way.
Make sure to talk to the summer league and high school coaches and ask them to send interested swimmers their way. It would also help to put up posters and flyers in the facility, help out with meet setup and cleanup, and talk to families. In short, make a positive presence on the summer league or high school swim team, and hopefully some athletes will be encouraged enough to take on a bigger commitment to the sport.
Invest time in the team's website.
The website is a crucial part of developing a program; it is often the first thing a potential swimmer will look at when they consider joining a club team. Because of this, it is important for the website to be clear and easy to navigate, and to have a fresh look to it. Regular updates and postings are helpful, and it would also be beneficial to have some photographs or a place to buy apparel. Basically, make the website look as unified and streamlined as possible. Make sure the practice and meet schedule is for the current season, and try to post results as frequently as need be. Make sure there is a specific "new swimmer" section, as well as a posting of the mission statement somewhere on the site.
Utilize social media.
Regardless of how a coach feels about social media, chances are the swimmers love it and have made it a large part of their life. Because of this, it is so, so important for teams to utilize this platform. Instagram, Facebook, and Twitter are the three primary ways to advertise the team, and are a super fast way for a potential athlete to get an overall view of how the team dynamic works. Frequent postings of practices, meets, social activities, volunteer work, and accomplishments will all go a long way towards building a social media presence.
However, it might also be helpful to think of some creative and out-of-the-box ways to increase awareness. For example,  having a regular segment on social media, such as "Senior Saturday" or "Fast Friday", will introduce the community to the swimmers, and the different types of workouts they do. It also might be helpful to have a team blog, where contributors can write and reflect upon different parts of the season.
It also will be beneficial to talk to swimmers about social media presence and the awareness they should have whenever they post anything online. As members of the team, they are representing the whole team online, and anything even remotely inappropriate will affect the team image. Make sure to emphasize the importance of unity with the swimmers, and discuss branding goals with them.
Showcase results.
Perhaps more than anything, this is a huge component of building a team. It is fantastic if the team has a great social media presence and has an impeccable website, but the best way to build exposure and a reputation as a respectable program is to produce results, and showcase them. Write frequent meet recaps, and post them on all social outlets. Send them into the newspapers. Tell swimmers to take pride in their accomplishments, and encourage their friends to come to the pool.
It can sometimes be daunting to think about growing a program, but the best way to increase membership is to build involvement and exposure in the community. If the team represents a positive, fun, productive environment, then the swimmers will come!
All commentaries are the opinion of the author and do not necessarily reflect the views of Swimming World Magazine nor its staff.