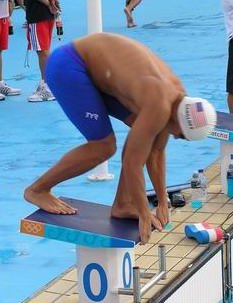 AUBURN, Ala., August 8. The Sports Media Relations Office at Auburn Univerisity recently interviewed one of its own about this question. Mark Gangloff qualified for the U.S. team by placing second to Brendan Hansen in the 100 breaststroke. It seems like a pretty good response to the call SwimInfo put out last week for Olympic Memories. We hope you enjoy it.
1. What was your first thought when you looked at the scoreboard and saw that you had made the Olympic team?
"Everyone has been yelling at me about not celebrating after I made the team I didn't show a whole lot of emotion after the race because the experience was just a big sigh of relief. I knew that I could do it and to actually have accomplished my goals just felt rewarding."
2. What does it mean to you to represent both Auburn and the United States?
"Auburn and the United States have rich histories at the Olympics. To represent the greatest school in the world along with the greatest country in the world has a lot of pressures but it also gives you a lot of pride knowing that you have so many people supporting you."
3. How long have you dreamed about becoming an Olympian?
"I remember when I was about twelve or thirteen years old mike barrowman (former world record holder in the 200 breaststroke, 1992 gold medalist in the 200 breaststroke) came to my club team and gave a clinic and during one of his talks he said to all of us that "one of you will be an olympian." That speech sort of lit the fire for me to believe that I was possible to do it but it started becoming a reality when the 2000 Olympic trials came around. I got 7th place at the trials but I knew that I was better than 7th place so after that it became a true reality."
4. Outside of world record holder Brenden Hansen, who do you feel are your biggest competitors in the 100 breast?
"Other than Brendan I think that there are two British swimmers that have been swimming well for the last year they are Darren Mew and James Gibson. Also the former world record holder in both the 100 and 200 breaststrokes is Kosuke Kitajima and he will also be one of the guys to beat."
5. How has swimming at Auburn for the past four years prepared you for the Olympics?
"During my four years at auburn I feel that I have been put in some high pressure situations at some of the biggest meets in the world and to have done that and know that I have that experience behind me gives me confidence that I am ready to swim against the best in the world. I have done it before and I am ready for it know."
6. Is any of your family going to be able to make the trip over to Athens with you?
"Actually, my whole family is going to make it to the Games. It is going to be my two sisters and both my parents and maybe some of my aunts and uncles."
7. What are your plans for when you are in Athens and not swimming?
"Right now I'm just trying to focus on bringing back medals for myself but after the competition I probably will go sight seeing in Athens and also go to see some of the other sporting events. This will be a great opportunity to see some historical sites and also some of the best athletes in the world. it doesn't get much better than that."
8. Who was the first person you called after your race was completed?
"The first person that I talked to on the phone was (former Auburn
swimmer) Pat Calhoun. Pat went to the Olympics in 2000 in the 100 breaststroke and was a training partner of mine for a long time. He just said to me that he was happy that I made the team and that I could have this experience."
9. What have you been doing between your time and California and leaving for USA Team Training Camp?
"A lot of interviews. I have never experienced so much press. Also I have been just trying to relax and get ready to swim fast."
10. Has it sunk in yet?
"It has not really sunk in yet but once I get to Athens and start experiencing the atmosphere I think that it will start to hit me. But I have been told from past Olympians that I will not know what I have done until many years have passed. so we will see."