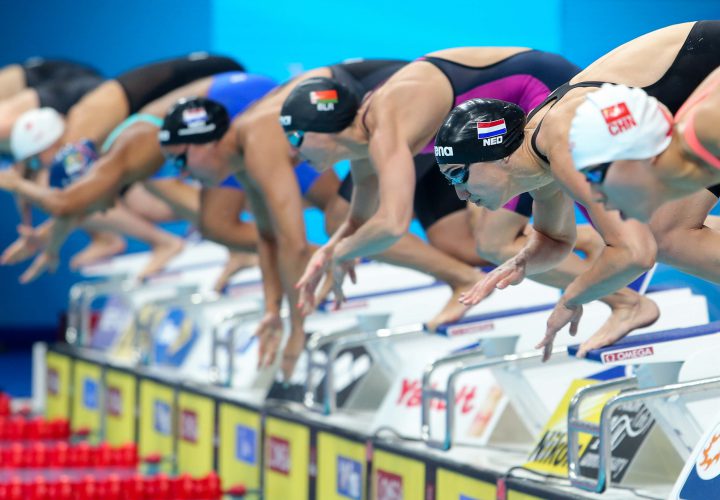 Editorial Coverage provided by

Heat sheets have been released for day seven finals of the 2017 FINA World Championships and no scratches have occurred. Five individual winners will be crowned champion and one relay will take home god in the mixed 400 free relay.
Schedule of Events:
Women's 50 Fly FINAL
Men's 50 Free FINAL
Women's 200 Back FINAL
Women's 50 Breast Semi-Final
Men's 100 Fly FINAL
Women's 50 Free Semi-Final
Men's 50 Back Semi-Final
Women's 800 Free FINAL
Mixed 400 Free Relay FINAL
CLICK HERE FOR DAY 7 FINALS HEAT SHEETS
The evening will start off fast with finals of the women's 50 fly and men's 50 free. World Record holder Sarah Sjostrom sits as the top seed and favorite for gold in the 50 fly, while Caeleb Dressel leads the pack in the men's 50 free.
The 200 back final will feature the newly crowned 100 back champion Kylie Masse and Australia backstroke great Emily Seebohm, with the USA's Kathleen Baker qualifying close behind.
Lilly King and Yulia Efimova will continue their breaststroke showdown as the top two seeds in semi-finals of the women's 50, while Sjostrom returns to the pool as the top seed in semi-finals of the 50 free.
Dressel will have a quick turn-around from the 50 free final as the top seed in the men's 100 fly final. In semi-finals he posted a textile best time of 50.07, giving the crowd a chance at watching a sub-50 second swim.
Katie Ledecky and Leah Smith enter the 800 free finals with the top two seeds, seeking 1-2 for the USA, before the night ends with the mixed 400 free relays.