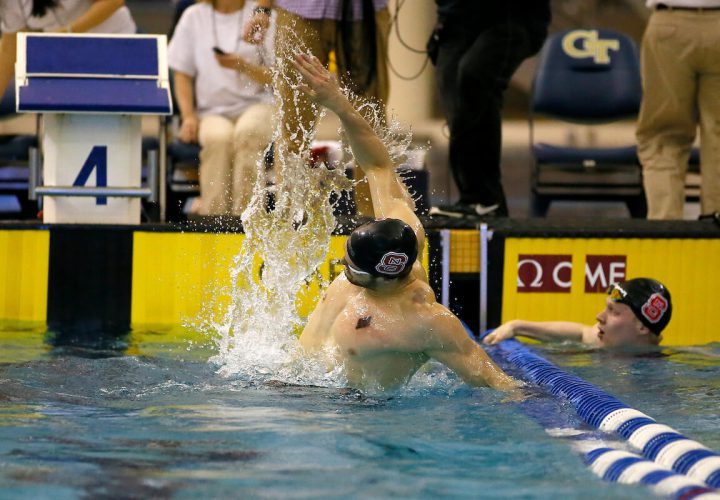 Photo Courtesy: Todd Kirkland, theACC.com
NCAA DI editorial coverage is proudly sponsored by Adidas. Visit adidasswimming.com for more information on our sponsor. For all the latest coverage, check out our event coverage page.
CLICK HERE FOR LIVE RESULTS
After an exciting weekend of racing proclaimed the Stanford Cardinal as the victors of the women's championships, it is now the men's turn to show Indianapolis what they've been training all season for.
The 2017 NCAA D1 Men's Championships kick off with the 800 free relay and it's slated to be an exciting race! NC State's Wolfpack enters as the top seed with a 6:09.82, followed by second and third place seeds from Indiana (6:11.98) and Cal (6:12.07).
Last year's champion, Texas, sits at sixth going into the timed finals but return each of member of last year's NCAA, American, and U.S. Open record-setting team (Jack Conger, Townley Haas, Clark Smith, and Joseph Schooling) to the meet. While we don't yet know who will represent the Longhorns in the pool tonight, there's a high chance Texas will move up in the rankings.
Florida currently sits at fourth with the lead-off leg being provided by junior Caeleb Dressel, who has posted a season best of 1:33.42 for the 2016-17 season.