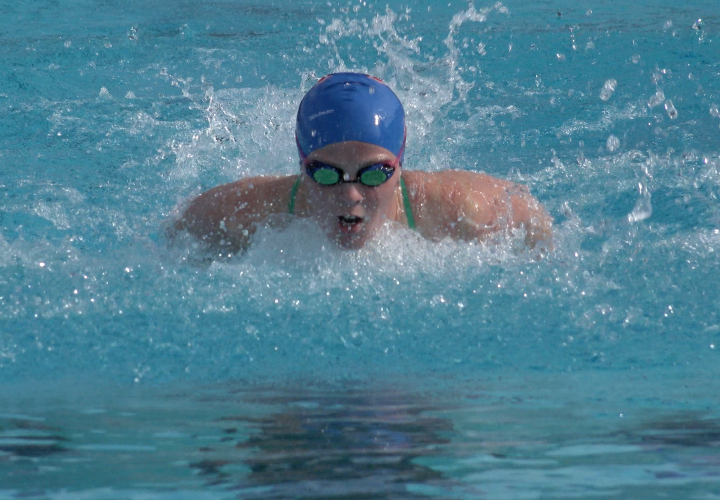 Photo Courtesy: Nill Anderson
The Harvard Crimson have extended their lead over defending Ivy League Champions Yale to 63 points. With one day of competition left, Harvard is in first place with 1,053 points just ahead of Yale with 990. Princeton (893) and Penn (626.5) have solidified their rankings and are followed by Brown (503), Columbia (472), Cornell (413.5) and Dartmouth (321).
An incredible back-to-back set of wins for Harvard sophomore Miki Dahlke highlighted the night, as well as a meet record in the 100 backstroke from Yale's Heidi Vanderwel. Competition resumes tomorrow with the 200 Backstroke, 100 Freestyle, 200 Breaststroke, 200 Butterfly, 1,650 Freestyle, 3-Meter Diving and the 400 Freestyle Relay. Heat sheets for the morning's prelims can be found here.
1000 Freestyle
Yale started off the evening by scoring numerous valuable points in the 1,000. The Bulldogs dominated the field as Cailley Silbert was victorious in 9:46.16 followed by Kendall Brent in 9:51.12. Freshman teammate Nathalie Eid also raced to a fourth-place finish, dropping 13 seconds off her season best while senior Danielle Liu dipped under 10:00 (9:59.81) for seventh. Silbert led the race from start to finish and won the event for the third year in a row.
Penn sophomore Grace Ferry broke up the Yale madness by claiming the third spot in 9:55.83. Harvard's Matti Harrison (9:56.57) was fifth while teammate Regan Kology finished eighth in 10:00.75.
Additionally, Cornell's Micaela Luders became the first swimmer in school history to break the 10-minute barrier with her sixth-place swim of 9:58.63. Luders dropped nearly eight seconds off her lifetime best to snag the record.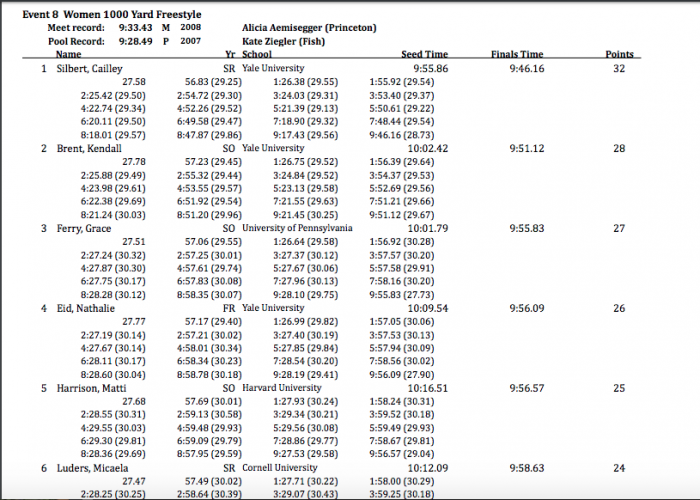 400 IM
Princeton freshman Regan Barney dropped six seconds off her season best 400 IM to take the win for the Tigers. Her backstroke and freestyle splits of 1:03.02 and 58.39 gave her the edge over Harvard's Geordie Enoch (4:14.75) and Bulldogs Bebe Thompson (4:15.15) and Destiny Nelson (4:15.69). The four had a tight battle throughout the race but neither Harvard nor Yale could stop Barney in this event.
Teammate Joanna Curry took fifth in 4:16.86 while Harvard pair Michelle Owens (4:17.45) and Claire Pinson (4:20.21) were sixth and seventh. Penn's Madison Visco came in eighth with a 4:21.65. Yale's Cate Sawkins claimed the B final in 4:20.81.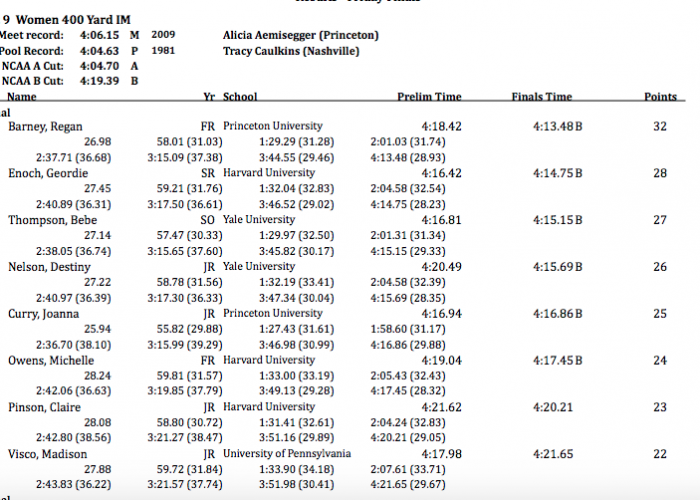 100 Butterfly
Harvard's Miki Dahlke produced a quick 100 fly coming in at 51.89. The swim crushed the previous Harvard school mark of 52.80 set last year by Brittany Usinger. The swim was just off the meet record held by Alex Forrester. Dahlke was out just ahead of the field but was the only swimmer to come home under 28 by splitting a 27.67 on her final fifty.
Princeton accounted for fifty percent of the 100 butterfly final, as Isabel Reis (53.08), Elsa Welshofer (53.63), Elaine Zhou (54.06) and Claire McIlmail (54.51) placed third, sixth, seventh and eighth. Yale's Heidi Venderwel was fourth in 53.40 while Usinger took fifth in 53.55.
Yale won another B final from the efforts of Lili Margitai (53.79) while Dartmouth freshman Cathleen Li set a program record with her twelfth place finish in 54.54. The swim broke the school record of 54.66 set by Kendall Farnham in 2014.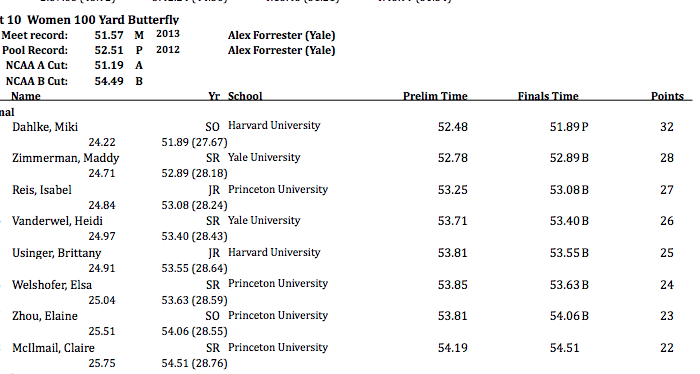 200 Freestyle
Not only did Dahlke win back-to-back events at these Championships by claiming the 200 free in 1:45.38, she also earned back-to-back Ivy Championships in this event after winning the race as a freshman in 2017. The swim was just off her meet record, but was enough to hold off charging teammate Kennidy Quist who finished second with a 1:45.75. Teammate Sonia Wang also earned an NCAA 'B' cut with her fourth place finish in 1:47.47.
Penn senior Virginia Burns was also in the mix at 1:45.76 – she led the race through the 150 but split a 27.45 on the last fifty to fall to third. Yale's Claire O'Mara was fifth in 1:48.07 followed by Princeton's McIlmail (1:48.10), Brown's Tatiana Prendella (1:48.35) and Tiger Madelyn Veith (1:48.94).
Columbia freshman Jessica He posted a quick 1:47.75 to earn her 'B' cut and win the B final.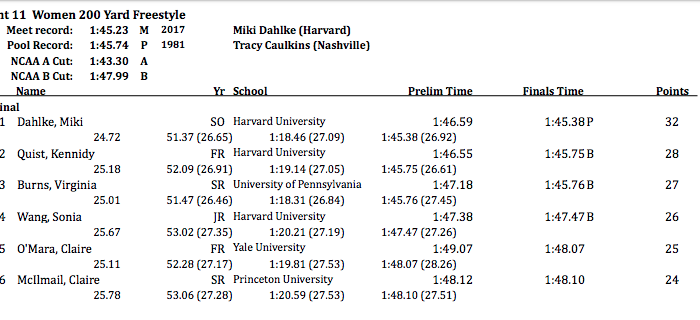 100 Breaststroke
Yale sophomore Cha O'Leary ran away with the 100 breaststroke title after winning the event last year as a freshman as well. The swim bested Yale's school record of 1:00.66 set in 2010. She was challenged by three freshmen led by Dartmouth's Mackenzie Stumpf in 1:01.56. Her prelim swim of 1:01.50 annihilated the school's record of 1:03.67. Princeton's Jenny Ma was third in 1:01.90 while Harvard's Ingrid Wall was fourth in 1:02.09.
Teammates Megan Popp (1:02.54) and Jaycee Yegher (1:02.78) placed seventh and eighth. Columbia's Helen Wojdylo (1:02.39) and Princeton's Elaine Zhou (1:02.53) took fifth and sixth.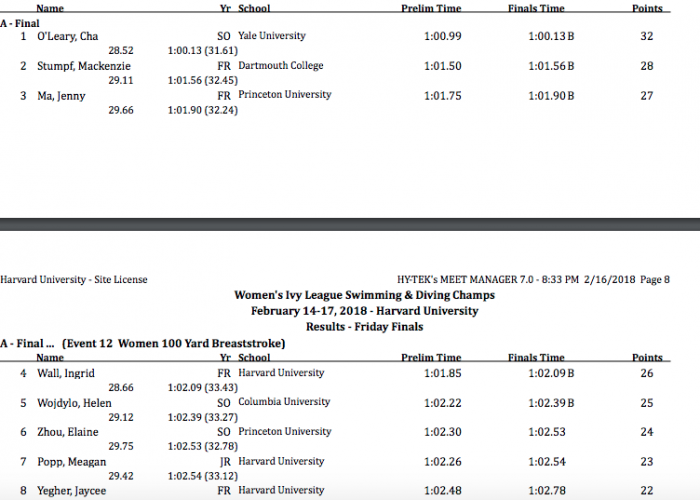 100 Backstroke
Vanderwel was able to defend her 100 backstroke title by holding off Penn standout freshman Quinn Scannell. Vanderwel set the meet, pool and school record in this event with her 52.45. Scannell was second in 53.57 setting a new program record by over six tenths of a second.
Yale's Bella Hindley raced to the third position in 53.58 and was followed by Harvard's Kristina Li (54.15) and Tiger duo Stephanie Nelson (54.92) and Lindsay Temple (54.97). Cornell's Helen Hsu (55.31) and Harvard's Mei Lynn Colby (55.81) rounded out the heat.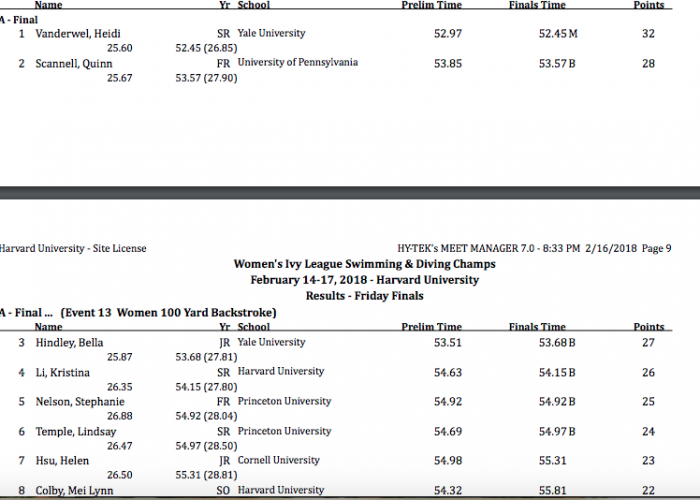 4 x 100 Medley Relay
The Yale quartet of Vanderwel, O'Leary, Maddy Zimmerman and Hindley dominated the 4 x 100 medley relay coming in at 3:34.22. The team's back, breast and free splits were the fastest of the field while Zimmerman's 52.66 was second only to Dahlke. The swim bested the team's school and meet record set at last year's Ivy Championships.
Harvard was second in 3:39.39 while Princeton took third in 3:40.51. Both the teams from Cornell (3:43.47) and Dartmouth (3:43.69) set school records in this event. Both squads return all four swimmers next season.