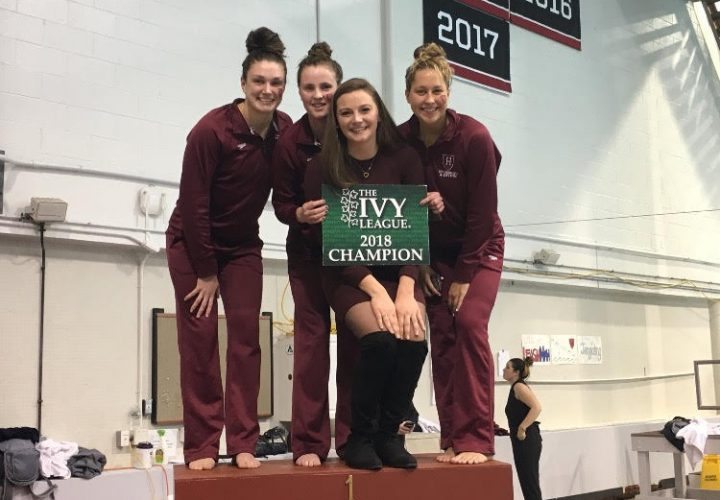 Photo Courtesy: Twitter, @HarvardSwim
While many teams posted victories on the final night of the 2018 Ivy League Championships, it was Harvard that took home the team title after four days of competition with a total of 1616 points. Sophomore Miki Dahlke earned the high point award after winning three individual events including an incredible double on the third night of competition.
Yale earned team runner up honors with 1490.5 points while Princeton was third with 1301. The top three were followed by University of Pennsylvania (921.5), Columbia (720), Brown University (712), Cornell University (606) and Dartmouth College (475).
The Crimson won back their title from 2016 after losing to Yale in 2017. It marks their thirteenth Women's Ivy League Championship.
1,650 Freestyle
Yale Senior Cailley Silbert doubled up on wins at these Championships completing a four-year sweep of the 1,650. The Bulldogs won the race in 16:20.01, challenged by teammate Kendall Brent who swam a 16:22.12. Both times were NCAA 'B' Cuts. Harvard's Michelle Owens was also in the mix early on, but ultimately finished third in 16:36.80. The swim was a ten second season drop for the freshman.
Cornell senior Micaela Luders put the cap on her career with a fourth place finish and breaking a 25-year-old program record in this event. Her swim of 16:39.83 crushed the previous mark of 16:43.98 set in 1993. It was Luders' first time under the 17-minute barrier.
Showing Yale's distance dominance, their third swimmer in the top eight was Danielle Liu in fifth with a 16:42.14. She was followed by Penn's Virginia Burns (16:42.99) and Erin Kiely (16:43.49) and Harvard's Regan Kology (16:45.03).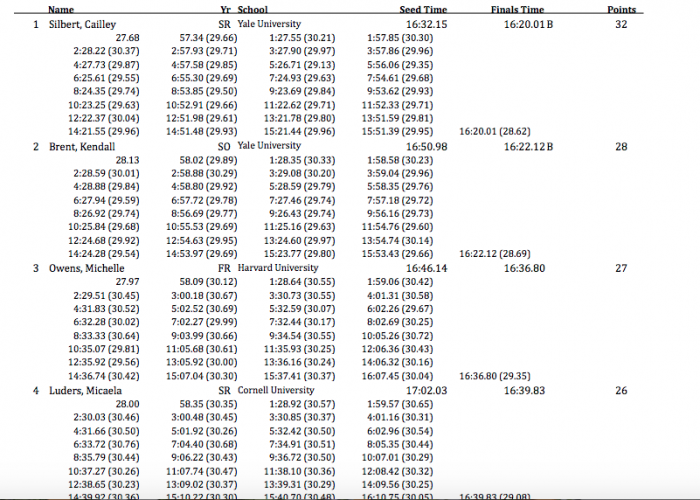 200 Backstroke
Penn freshman Quinn Scannell earned her first Ivy title in the 200 backstroke and in great form. She set new meet, pool and program records in route to lowering her 'B' cut and overcoming current meet record holder Lindsay Temple of Princeton. The senior finished second in 1:54.95 while Scannell held her off in 1:54.64. Out in a quick 55.0, Scannell had enough to hold off a charging Temple who out-split her on the final 100. Scannell will be the one to watch in this event over the next three years.
Yale's Heidi Vanderwel took third in 1:56.11 and led the remaining swimmers all under the 'B' cut time as well. Teammates Destiny Nelson (1:57.76) and Cate Sawkins (1:58.58) were fifth and eighth. Harvard's Kristina Li was fourth in 1:57.23 while Brown's Sarah Welch broke her own school record in 1:58.04 for sixth and Penn's Ryan Alexander took seventh in 1:58.56.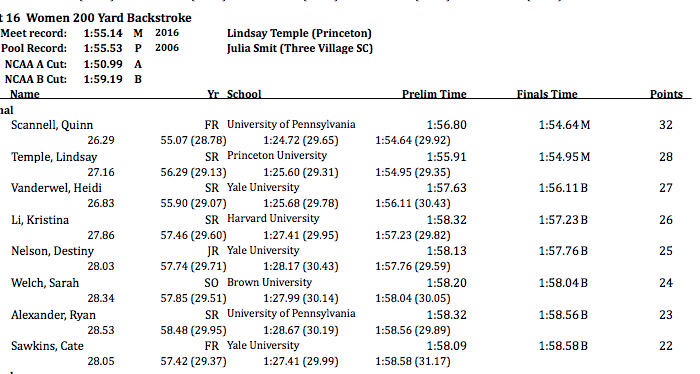 100 Freestyle
Dahlke continued her impressive meet by tying the meet record also held by Yale's Bella Hindley. Hindley went 48.64 in last year's event, while Dahlke matched the time in these 2018 Championships. Hindley finished second in 49.05, but both women return next season. Hindley will be a senior, so they will get one more chance to battle for the record. The swim was, however, good enough to break the Harvard program record by .04 seconds.
Princeton's Madelyn Veith took a close third in 49.16, while Columbia's Mary Ashby swam a quick 49.88 for fourth. Brown's Maddie Salesky (49.94) and Harvard's Kennidy Quist (49.99) also dipped under the 50-second barrier. Harvard's Ingrid wall (50.15) and Brown's Taylor Seaman (51.62) rounded out the heat.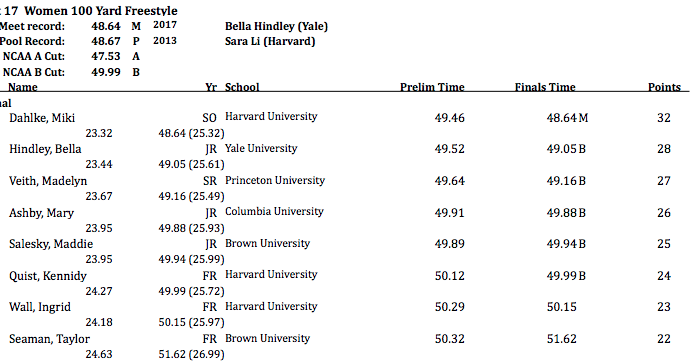 200 Breaststroke
Yale sophomore Cha O'Leary remains undefeated in breaststroke events at these Championships after winning the 200 in 2:11.26. O'Leary dominated the race from start to finish and was just off her winning time from the previous year of 2:10.95.  Dartmouth's Mackenzie Stumpf had a breakout swim to earn second-place and eclipse a 21-year-old school record in 2:12.61. The previous mark stood at 2:16.92.
Harvard claimed the next three spots in Jaycee Yegher (2:13.05), Geordie Enoch (2:13.77) and Meagan Popp (2:14.22). Princeton's Jenny Ma took seventh with a 2:14.71 and Yale's Paulina Kaminski was eighth in 2:14.91. Popp and Yegher were actually in the second and third positions at the halfway mark, but faded in the last two fifties as Stumpf recorded quick 34.0 and 34.33 back-half splits.
Also of note, Dartmouth freshman Maggie Deppe-Walker claimed the B final in 2:16.22 – also under the previous school record.
200 Butterfly
Princeton ended the night on top by claiming both first and second in the 200 butterfly and later winning the 4 x 100 freestyle relay. Junior Joanna Curry (1:57.95) and sophomore Elaine Zhou (1:58.47) brought the team to life with their performances in the fly final. Fifth at the 150 mark, Zhou clocked a 31.00 final fifty, the fastest of the field, to earn her runner-up position; Curry took control of the race from the beginning.
Yale's Maddy Zimmerman (1:58.99), Harvard's Brittany Usinger (1:59.06), Yale's Bebe Thompson (1:59.50) and Princeton's Isabel Reis (1:59.63) were the other swimmers who all had a chance for second-place through the 150. Penn's Nancy Hu (2:00.39) and Cornell's Maegan Rudolpf (2:01.02) placed seventh and eighth.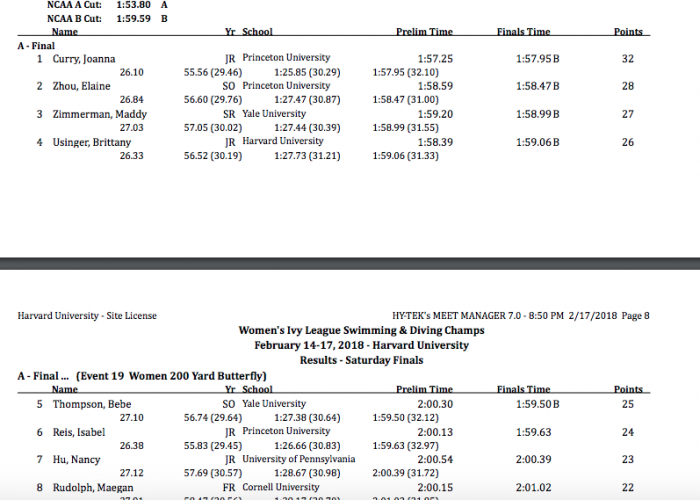 3-Meter Diving
Likewise, Yale divers Nikki Watters and McKenna Tennant completed one-two action of their own in 3-meter diving. The freshman-senior duo scored 358.15 and 319.60 points, respectively to secure 60 points for the Bulldogs.
Harvard's bold strategy to compete six divers paid off for them once again on 3-meter, as the Crimson claimed the next four spots. Alisha Mah, Hannah Allchurch, Jing Leung and Katie Russ took third through sixth. Princeton rounded out the top eight finishers with Sine Scirbbick and Natasha MacManus.
Additionally, Harvard's Mikaela Thompson and Georgi Milne took ninth and tenth place, giving the Crimson an extra 37 points.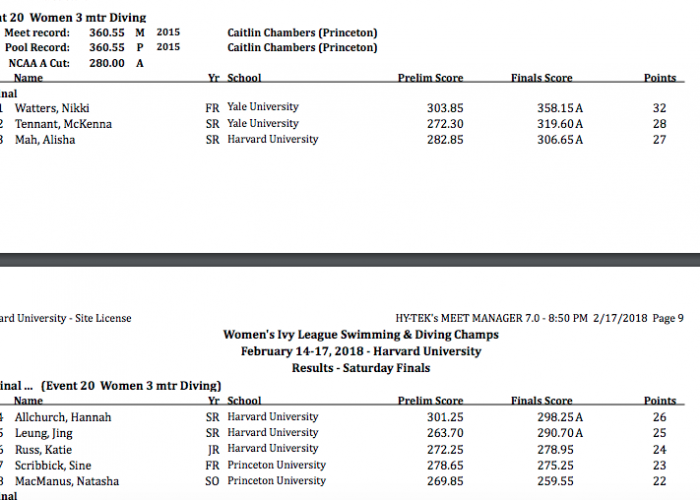 4 x 100 Freestyle Relay
Princeton continued their success of the night in the 4 x 100 freestyle relay. The team of Reis, Claire McIlmail, Alisabeth Marsteller and Veith combined for a 3:18.33, a swim just fast enough to hold off Harvard who raced a 3:18.89. Veith's 48.90 split, one of two swimmers under 49, was enough to keep the Tigers on top in the end.
Yale finished third in a close 3:18.89 – Hindley clocked a 48.55 anchor split, but it was not enough to catch Princeton or Harvard. Columbia's team of Ashby, Jessica He, Susie Zhu and Kate O'Rourke placed fifth and broke a program record set in 2012 that featured U.S. Olympian Katie Meili. They broke the mark by about one full second and all but O'Rourke return next season.