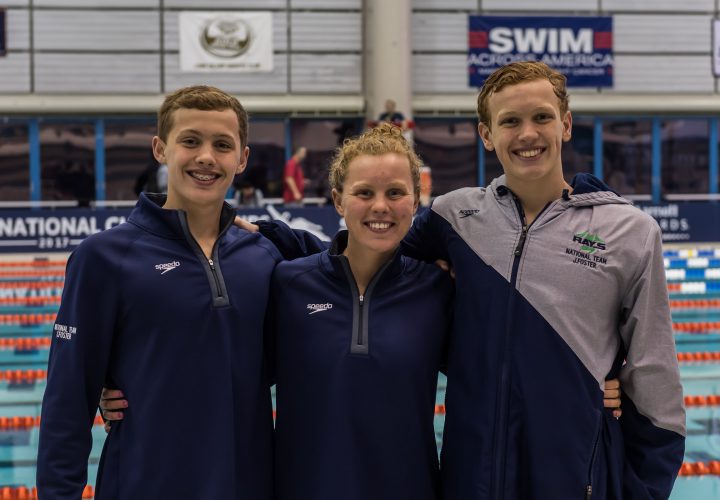 Photo Courtesy: Peter H. Bick
By David Rieder.
Just over an hour after 15-year-old Carson Foster dominated the men's 200 back final at Speedo Junior Nationals—his second victory in two days—16-year-old Jake Foster pulled away from his competition to win the men's 400 IM.
Yes, Carson and Jake, both competing for the Mason Manta Rays, are brothers. And they aren't the only members of the Foster family on deck in East Meadow, N.Y., this week—older sister Hannah Foster is also swimming at Juniors, and she had the best seat in the house as her brothers claimed their victories Wednesday night.
"I get just as nervous watching them, and it's awesome being on deck," Hannah said. "I get to be right there. I watch with my coach. I'm there every day with Jake and Carson at practice, so I know how hard they work. It's so exciting for me."
Hannah watched as Carson stamped himself as one of the top high-school-age 200 backstrokers in the country. He swam under 2:00 for the first time in the prelims, recording a time of 1:59.13. That ranked Carson as the ninth-fastest American this year and the sixth-fastest U.S. male ever in the 15-16 age group.
Those faster? Aaron Peirsol, Ryan Murphy, Michael Taylor, Austin Katz and Jacob Pebley. Three of those five, of course, are Olympians, and two have won gold in the 200 back. (And Carson still has one more year in the age group to move up in those rankings.)
Carson, who won the 200 fly on night one in 1:58.47, finished seven tenths ahead of the field in the 200 back final in 1:59.40.
"It's crazy. Just coming to the meet—last year was my first time at Summer Junior Nationals, so just getting into finals was a big thing last year," Carson said. "Coming here this year and winning events is way more than I can ask for."
As for Jake, his victory came at the end of the session in the 400 IM. He dropped under 4:20 for the first time as he opened up a big lead on the breaststroke and freestyle legs. His time of 4:19.40 ranks him at No. 11 in the country for 2017.
"Going under 4:20 was a big goal of mine coming into the meet, so I was really excited that I was able to do it," Jake said. "I was grateful that I had Carson as a training partner leading up to this meet. In the IMs, we both push each other. I feel like a lot of the credit goes to Carson because he helps me get to where I am."
Jake and Carson will push each other head-to-head Saturday in the 200 IM, which they enter as the top two seeds: Carson at 2:03.53, Jake at 2:03.98.
"I'm more of a front-half guy, and he's the back-half, so it kind of switches throughout the race, and that makes the race really fun," Carson said. "It's kind of stressful swimming against him because you know he's going to come back after the backstroke and catch you on the breaststroke. It's not fun being on the other end of that, but it's a good race."
"It's pretty competitive, but it's also a lot of fun being able to race your brother and possibly go 1-2 with him," Jake added.
The two admitted they can get a little bit too competitive at times during practices and meets, but they insisted that they leave that part of their life at the pool when they go home.
"We're always going to be a family, and swimming is going to end someday, but we're always going to have each other," Carson said.
Hannah, Jake and Carson relish getting to compete together at big meets, but at Carson's next one, it will be just him. He's a member of the U.S. team competing later this month at the World Junior Championships in Indianapolis, where he could challenge for a medal in the 200 back.
Hannah and Jake will be there—eventually.
"We're going to miss the first half because me and Hannah will be getting our wisdom teeth out, but Carson's event is on the last day, so we'll definitely be there for that," Jake said.

"Last year Carson was struggling racing people his own age, and now he's excelling and racing people from other countries that are older than him. He's going to be one of the youngest people there, so it will be really cool to watch."
While the Fosters are at Junior Nationals or any other meet where they get to compete together, they will take full advantage of having each other around for motivation and perspective. Even if one has a bad race, there's a good chance there's a sibling to still be pumped for.
"Our dad always tries to remind us, 'Life isn't always fair, so appreciate other people's success,'" Hannah said. "And there's always another swim, so if you have a bad swim, just move on and be happy for Jake or Carson."
Watch Jake, Hannah and Carson Foster speak with Swimming World at Junior Nationals: