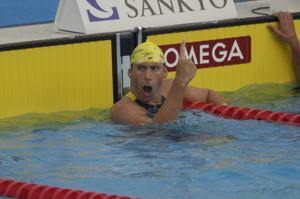 SYDNEY, Australia, May 17. FRESH off an impressive return to competition following shoulder surgery, Grant Hackett has dropped a warning on his challengers in the 1,500-meter freestyle: The Aussie doesn't plan on messing around. Hackett, who posted the fastest time in the world last weekend in the 400 freestyle, was referring to American Larsen Jensen and Great Britain's David Davies.
At the Athens Olympics, Hackett was pushed to the wire before earning his second consecutive gold medal in the 1,500 free. Jensen finished second with Davies right behind. That finish was duplicated during the World Championships in Montreal last summer. Now, Hackett is focused on the 2008 Olympic Games and claiming a trifecta in the metric mile.
"I always expected them to improve but not to 14:45. I think anything is possible for Beijing 2008," Hackett said. "I probably underestimated those guys – and I will never do that again."
Hackett owns the world record in the 1,500 free at 14:34.56 but is likely to put that event aside after the Beijing Games. It's his intent to put his energy primarily into the 400 free, an event that has been dominated by countryman Ian Thorpe. Hackett took silver in the 400 free at the Athens Games by finishing just behind Thorpe.
"Maybe after Beijing if I feel I haven't got my best out of the 400 I might put the 1,500 behind me and really focus on it," he said. "I really enjoy that event, it's one I think I can really bring down a lot."