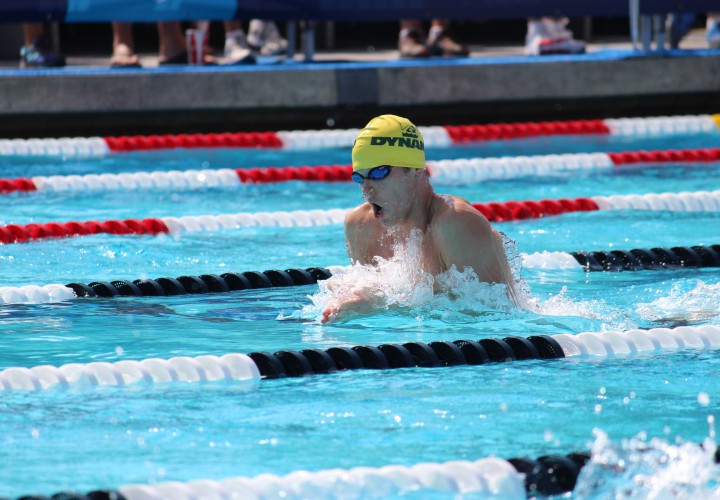 Photo Courtesy: Griffin Scott
Editorial content for the 2015 Arena Pro Swim Series Santa Clara is sponsored by Arena. For full Swimming World coverage, check out our coverage page.
Dynamo's Gunnar Bentz turned on the afterburners down the stretch to capture the men's 400-meter IM at the Arena Pro Swim Series Santa Clara.
Bentz hit the wall in 4:17.73 for the win, while Stanford's Max Williamson placed second in 4:18.22.
SwimMAC's Tyler Clary closed out the top three with a time of 4:20.54.
Wisconsin's Michael Weiss (4:23.55), Yale's Kei Hyogo (4:23.76), Stanford's Curtis Ogren (4:23.96), Alex Lebed (4:24.74), Club Wolverine's Ian Rainey (4:24.91) and California's Adam Hinshaw (4:25.42) placed fourth through ninth.
Etobicoke's Tristan Cote touched out Tucson Ford's Michael Meyer, 4:24.14 to 4:24.19, for the B final win. BlueFish's Connor Green was also in the mix with a third-place 4:24.35.
SCHEDULED EVENTS
Women's 200 free
Men's 200 free
Women's 100 breast
Men's 100 breast
Women's 50 back
Men's 50 back
Women's 100 fly
Men's 100 fly
Women's 400 IM
Men's 400 IM