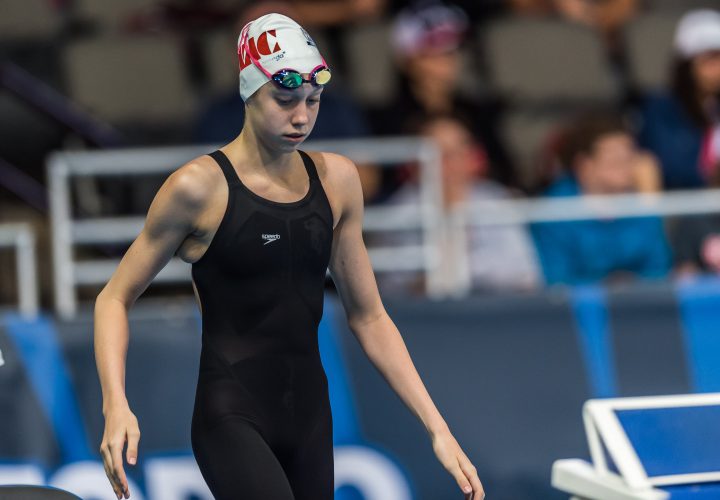 Photo Courtesy: Peter H. Bick
14-year-old Gretchen Walsh has been the talk of the town at the Speedo Junior Nationals East in Knoxville. Walsh turned a lot of heads when she split a 21 low last night in the 200 medley relay on Wednesday night. She backed that up with a 22.00 on Thursday night to almost become the first 14-year-old under 22 seconds in the 50 free. She broke her own NAG record that she set this morning that was a 22.26. She now sits clearly in first ahead of Katherine Douglass (22.32).
Douglass ended up finishing second in the final with a 22.18 ahead of Walsh's older sister Alex Walsh (22.28). Douglass moved to seventh all-time in the 15-16 age group with that swim to move ahead of national junior teamer Grace Ariola. Alex Walsh is now 16th in the same age group all-time rankings.
Grace Countie (22.50), Gabriela Albiero (22.74), Talia Bates (22.76), Cora Dupre (22.78) and Olwyn Bartis (22.97) also swam in the championship final.
 
 Event 9  Women 50 Yard Freestyle
=========================================================================
  SC Jrs Meet: J 21.49  12/12/14  Abbigail Weitzeil, Canyons Aquatic
    Name            Age Team              Prelims     Finals HyPts Points
=========================================================================
                            === A - Final ===                            
 
  1 Gretchen Walsh   14 Nashville Aquati    22.26      22.00   971   20  
  2 Katherine Dougl  16 Chelsea Piers Aq    22.48      22.18   952   17  
  3 Alexandra Walsh  16 Nashville Aquati    22.35      22.28   941   16  
  4 Grace Countie    18 Marlins of Ralei    22.52      22.50   919   15  
  5 Gabriela Albier  15 Cardinal Aquatic    22.80      22.74   894   14  
  6 Talia Bates      16 Gator Swim Club-    22.84      22.76   892   13  
  7 Cora Dupre       16 Mason Manta Rays    22.51      22.78   890   12  
  8 Olwyn Bartis     16 SwimMAC Carolina    22.84      22.97   870   11