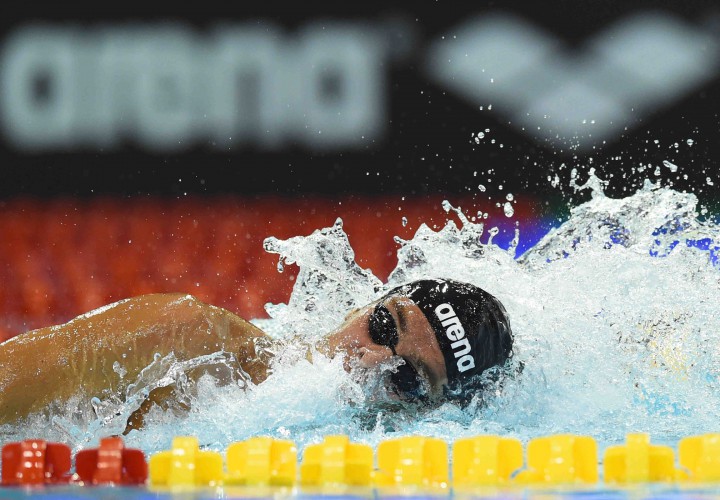 Photo Courtesy: Gian Mattia Dalberto/Lapresse

Editorial Coverage Sponsored By FINIS
Gregorio Paltrinieri of Italy, the owner of the fastest time in the world this year at 14:34.04 and the reigning World Champion in the evnet, was also the fastest in this morning's 1500 freestyle prelims. He touched in 14:44.51. The United States' Connor Jaeger could not quite stay with Paltrinieri in as the two swam side-by-side in the final heat, but he qualified second overall with plenty to spare in 14:45.74.
"I didn't win the heat, but that was a good race for me—morning, whatever you want to call it," Jaeger said. "I walk away happy with that but know I need to be better than that tomorrow."
Jordan Wilimovsky, the first US swimmer to qualify for pool and open water Olympic swimming, won a tight race in the first of the two circle-seeed heats, edging out Australia's Mack Horton, Italy's Gabriele Detti and France's Damien Joly in a furious sprint to the finish the last 25.
Wilimovsky qualified third in 14:48.23, followed by Horton (14:48.47), Detti (14:48.68) and Joly (14:48.90)
Seven men in the heat had been within a second of each other for much of the first half of that heat with Canada's Ryan Cochrane in front. Cochrane, the silver medalist in the event four years ago and bronze medalist from the 2008 Games, would end up fifth in the heat in 14:53.44, but it would prove enough to make the final, as he qualified seventh.
Henrik Christiansen of Norway is eighth in 14:55.50.
World record holder Sun Yang of China fell well behind the field, finishing 16th overall with a 15:01.97. Sun, in the heat with six of the eight finals qualifiers, ended up touching seventh there. Reports on social media had indicated that Sun had become sick since winning gold in the 200 free Monday night. (He also picked up a silver in the 400 free behind Horton.)
Full results are available here.