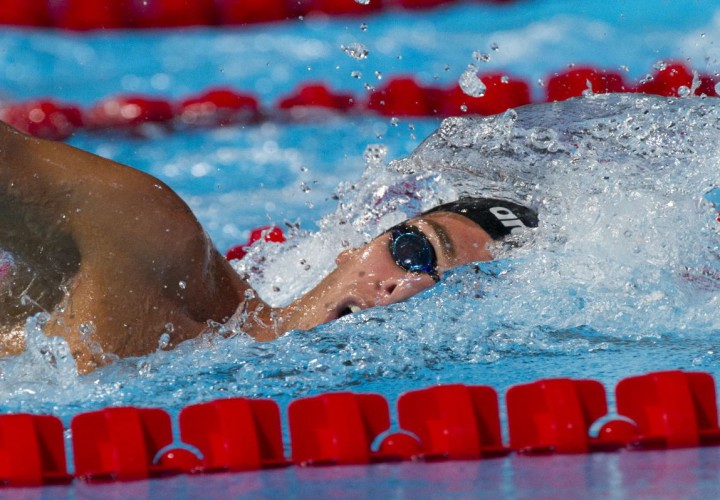 Photo by Joao Marc Bosch
BERLIN, Germany, August 20. FIVE finals highlighted the event schedule for day three at the European Championships in Berlin, but Gregorio Paltrinieri absolutely stole the show from the beginning, setting a European record in the men's 1500 free. Two other meet records fell on the night, in the women's 100 breast final and in the women's 100 free final.
Scheduled Events
Men's 1500 free final
Men's 200 breast semis
Women's 200 IM semis
Men's 200 free final
Women's 100 breast final
Men's 200 fly semis
Women's 100 free final
Men's 200 IM final
Women's 100 back semis
Men's 50 back semis
FINALS
Men's 1500 Free
Italy's Gregorio Paltrinieri took a half-second lead in this event after just 50 meters, and he never relinquished that lead. He quickly put the other seven men in the final in his rearview mirror as he moved well ahead of Yuri Prilukov's continental record pace. Facing the 14:43.11 that Prilukov set in finishing fourth at the 2008 Olympics, Paltrinieri crushed that mark, touching in 14:39.93. He moved to fifth all-time in the event, behind world record-holder Sun Yang, distance legend Grant Hackett, Canada's Ryan Cochrane, and Tunisia's Ousamma Mellouli. The time eclipsed Ryan Cochrane's 14:44.03 from the Commonwealth Games last month as the best time in the world. Coming in, Paltrinieri had been ranked second in the world at 14:44.50.
Paltrinieri's splits

26.69 (1)
55.54 (1)
1:24.44 (1)
1:53.76 (1)
2:22.88 (1)
2:52.38 (1)
3:21.72 (1)
3:51.31 (1)
26.69
28.85
28.9
29.32
29.12
29.5
29.34
29.59
4:20.60 (1)
4:50.22 (1)
5:19.52 (1)
5:49.32 (1)
6:18.63 (1)
6:48.40 (1)
7:17.75 (1)
7:47.44 (1)
29.29
29.62
29.3
29.8
29.31
29.77
29.35
29.69
8:16.89 (1)
8:46.66 (1)
9:16.05 (1)
9:45.95 (1)
10:15.18 (1)
10:45.04 (1)
11:14.39 (1)
11:44.16 (1)
29.45
29.77
29.39
29.9
29.23
29.86
29.35
29.77
12:13.51 (1)
12:43.23 (1)
13:12.63 (1)
13:42.33 (1)
14:11.36 (1)
14:39.93
29.35
29.72
29.4
29.7
29.03
28.57
In a competitive race for second place, Italy's Gabriele Detti swam in that spot for the majority of the race until the Faroe Island's Pal Joensen crept up and swam past Detti over the last 500 meters. Joensen touched in 14:50.59, about two seconds ahead of Detti's 14:52.53. Those times rank fourth and sixth in the world, respectively, while Great Britain's Stephen Milne ended up with the seventh-best time in the world, as he used a strong finish to claim fourth in 14:53.83. Britain's Jay Lelliott grabbed fifth in 14:58.74, good for 14th in the world, while Hungary's Gergely Gyurta (15:03.26), Slovakia's Richard Nagy (15:11.97), and Spain's Antonio Arroyo Perez (15:16.21) rounded out the final.
Men's 200 Free
Battling the world record-holder and the home crowd, Serbia's Velimir Stjepanovic took the race out hard and held on for a tight victory. Stjepanovic led at all turns, but he had to deal with a charge from Germany's Paul Biedermann on the final lap. While at one point Biedermann looked like he had moved in front, Stjepanovic battled back, and he took the touch, 1:45.78 to 1:45.80. The times rank fifth and sixth in the world, respectively.
Stjepanovic's splits

24.53 (1)
51.08 (1)
1:18.45 (1)
1:45.78
26.55
27.37
27.33
Olympic and World Champion Yannick Agnel provided some outside smoke out of lane one, but he continued an extremely disappointing meet when he touched third in 1:46.65. That trails the 1:45.63 he clocked this spring at French Nationals to rank fourth in the world. This time, he came in just ahead of fourth-place Hungarian Dominik Kozma (1:46.78). Belgium's Pieter Timmers (1:47.01), the Netherlands' Sebastiaan Verschuren (1:47.16), Russia's Artem Lobuzov (1:47.27), and Italian legend Filippo Magnini (1:47.42) all swam in the final heat.
Women's 100 Breast
Denmark's Rikke Moeller Pedersen took a slight lead over the first half of the final, but the 200 specialist flexed her muscles on the backhalf, pulling away from the field to cruise to a win. Pederson touched in 1:06.23, lowering Yuliya Efimova's meet record time of 1:06.32 from four years ago. The time came just short of her third-ranked 1:06.19 from earlier this year.
Pedersen's splits
Sweden's Jennie Johansson took out the race with Pedersen, and she held on to finish with the silver medal in 1:07.04. Italy's Arianna Castiglioni, meanwhile, used a swift 35.26 closing split – second fastest behind Pederson – to claim silver in 1:07.36. Johansen improved her 11th-ranked time in the world, while Castiglioni claimed the 15th spot. Spain's Jessica Vall Montero touched out the Netherlands' Moniek Nijhuis for second, 1:07.51 to 1:07.64, while Russia's Vitalina Simonova (1:07.99), the Czech Republic's Petra Chocova (1:08.11), and Russia's Maria Astashkina (1:08.19) all swam in the final heat.
Women's 100 Free
This final looked like a classic four-way battle between Denmark's Pernelle Blume, the Netherlands' Femke Heemskerk, and Swedes Michelle Coleman and Sarah Sjostrom. All flipped at the halfway mark within a span of 0.22, but Sjostrom exploded on the back half, as her split of 26.95 beat out everyone else in the field by almost a full second. She touched in 52.67, erasing Britta Steffen's meet record of 53.30 set back in 2006, at the time a world record. Time time clips Cate Campbell's 52.68 from Australian Nationals in April as the world's best.
Sjostrom's splits
Heemskerk ended up well behind in second, touching in 53.64, while Coleman held on for the bronze in 53.75. Heemskerk's swim ranks her eighth in the world, while Coleman failed to improve on her ninth-ranked 53.66. Blume touched fourth in 54.15, well off her 53.69 that ties for tenth in the world. Russia's Veronika Popova (54.34), Spain's Fatima Gallardo Carpeto (54.93), France's Charlotte Bonnet (54.96), and Belarus' Nina Rangelova (55.46) also swam for medals tonight.
Men's 200 IM
Hungary's Laszlo Cseh had his sights set on an incredible fifth-straight title in the 200 IM, but he faced quite a battle to the finish. Cseh led by a half bodylength at the halfway mark, but he fell back on the breaststroke leg. With 15 meters to go, Germany's Marcus Deibler, Cseh, Germany's Philip Henitz, and Great Britain's Roberto Pavoni were locked in a dead heat when Deibler looked like he might have the strength left to thrill the crowd. Suddenly, Deibler fell straight back as Cseh put on a huge final surge to take the win. Cseh did not swim his best time of the year, having clocked a 13th-ranked 1:58.00 in the semi-finals, but 1:58.10 got the job done.
Cseh's splits

25.31 (1)
54.39 (1)
1:29.10 (2)
1:58.10
29.08
34.71
29.00
In a bang-bang finish in which just 0.19 split the top four finishers, Heintz finished second in 1:58.17, followed by Pavoni in 1:58.22 and Deibler in 1:58.29. All have swum faster this year except for Pavoni, who improved to 16th in the world. Spain's Eduardo Solache Gomez had the best seat in the house for the incredible finish as he touched fifth in 1:59.11, finishing ahead of Federico Turrini (2:00.44), Poland's Marcin Cieslak (2:00.65), and Portugal's Alexis Manacas Santos (2:01.41).
SEMIFINALS
Men's 200 Breast
As expected, the British highlighted the qualifiers for the final of the men's 200 breast. Swimming in the first of two semi-final heats, Ross Murdoch out-dueled countryman Andrew Willis en route to the top qualifying time for Thursday's final. Murdoch touched in 2:08.65, well off his top-ranked time in the world of 2:07.30. Willis, meanwhile, improved to eighth in the world rankings.
Murdoch's splits

29.32 (2)
1:02.62 (1)
1:35.60 (1)
2:08.65
33.32
32.96
33.05
Swimming in semi-final number two, Germany's Marco Koch clocked a 2:08.83, short of his fifth-ranked 2:08.43 from the Monaco stop of the Mare Nostrum tour but good for the second seed for the final. Willis qualified third, and those three will be the odds-on favorites for the medals as no one else cleared 2:10. Russia's Ilya Khomenko (2:10.00), Lithuania's Giedrius Titenis (2:10.05), Italy's Luca Pizzini (2:10.90), Russia's Kirill Prigoda (2:11.26), and Luxembourg's Laurent Carroll (2:11.89) finished among the top eight.
Notably, Finland's Matti Mattsson finished tenth in 2:12.93. Mattson won the bronze medal in the event at last summer's World Championships.
Women's 200 IM
Hungary's Katinka Hosszu continued her ambitious plate of events in Berlin with the 200 IM, and she will be the top seed by almost three seconds as she goes for the sweep of the IM events. Hosszu won the second semi-final in 2:08.41, while Spain's Mireia Belmonte Garcia qualified in second but all the way back at 2:11.13. Hosszu moved up to second in the world in the event, behind Siobhan-Marie O'Connor (2:08.21) but ahead of Alicia Coutts (2:08.89). Belmonte, meanwhile, moved up one spot in the world rankings to 14th.
Hosszu's splits

27.83 (1)
1:00.46 (1)
1:38.01 (1)
2:08.41
32.63
37.55
30.40
Belmonte should be the easy favorite for the silver medal, as the next qualifier was Great Britain's Aimee Willmott at 2:12.39, followed by Hungary's Evelyn Verraszto (2:12.60).  Austria's Lisa Zaiser (2:13.14), the Netherlands' Wendy van den Zanden (2:13.25), Czech Republic's Barbara Zavadova (2:13.39), and Sweden's Stina Gardell (2:13.68) will have the outside lanes in the final.
Men's 200 fly
Denmark's Viktor Bromer appeared on few people's radars headed into the meet, but he has quickly established himself as the favorite in the men's 200 fly with big swims to lead both prelims and semi-finals. He passed former World Champion Pawel Korzeniowski on the final 50 of semi-final two to set the pace in 1:55.55. The time came in just behind his seventh-ranked 1:55.43 from prelims. Korzeniowski came in almost a second back for the number two seed overall, touching in 1:56.43. The Pole owns the sixth-ranked time in the world at 1:55.30.
Bromer's splits

26.49 (6)
56.32 (4)
1:56.12 (2)
1:55.55
29.83
29.80
29.43
Hungary's Bence Bizco earned the third seed at 1:56.44, while Belgium's Louis Croenen qualified fourth in 1:56.46 after winning the first semi-final. Russia's Evgeny Koptelov (1:56.74), Italy's Matteo Pelizzari (1:56.78), Greece's Stefanos Dimitriadis (1:57.03), and Spain's Carlos Peralta Gallego (1:57.23) all qualified among the top eight.
Women's 100 Back
Denmark's Mie Nielsen blistered the field in the first semi-final, blasting a 59.51 to earn lane four for the final. While she came up just shy of the 59.36 she swam in June, she finished more than a half second ahead of anyone else. Great Britain's Georgia Davies could be in the best position to challenge her, as the fourth-best time in the world, with a 59.58 from the Commonwealth Games last month. Davies touched out Hungary's Katinka Hosszu – another sub-1:00 swimmer in 2014 – for the win in the second semi, 1:00.18 to 1:00.19.
Nielsen's splits
Ukraine's Darya Zevina finished second to Neilsen in the first semi-final in 1:00.42 to earn the fourth seed for the final, while the next three all came out of the second heat – the Czech Republic's Simona Baumrtova (1:00.53), Italy's Carlotta Zofkova (1:00.60), and Ukraine's Daria Ustinova (1:00.95). Of those four, Ustinova has the best chance to make an impact among the medals, as she has a seventh-ranked 59.78 to her credit this year. Meanwhile, Italy's Arianna Barbieri beat out Great Britain's Elizabeth Simmonds for the final transfer spot into the final, 1:01.03 to 1:01.35.
Men's 50 Back
Russia's Vlad Morozov dominated the sprint dorsal event, as he spun his way to a 24.61, almost four tenths of a second ahead of anyone else in the field. The time falls just short of his best this year, a second-ranked 24.52. He will be the heavy favorite in the event final, though, as Israel's Guy Barnea came in second at 24.99 and Great Britain's Chris Walker-Hebborn third in 25.05.
The Netherlands' Jesse Puts (25.07), Germany's Nicolas Graesser (25.11), Norway's Lavrans Veieroe Solli (25.14), and France's Jeremy Stravius (25.21) finished fourth through seventh, respectively, while Belarus' Pavel Sankovich edged Russia's Nikita Ulyanov, 25.23 to 25.24, for the final qualifying position.
Twitter Coverage
For up to the minute coverage, follow us on Twitter @SwimmingWorld: