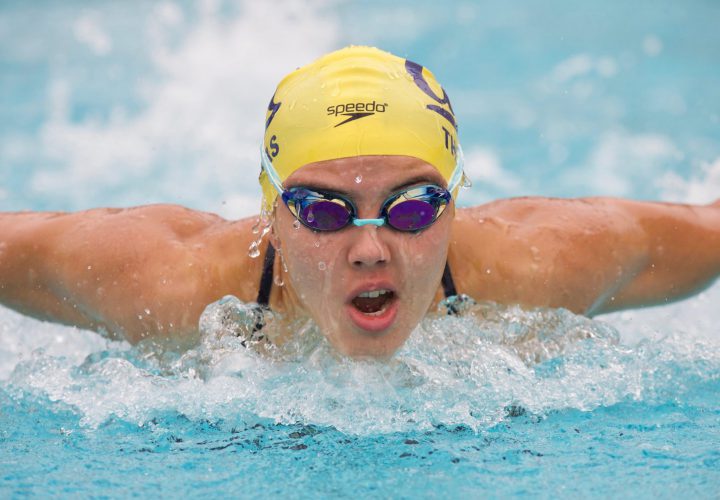 Cal's Noemie Thomas.
Photo Courtesy: Cal Athletics
By Dan D'Addona.
For nearly a decade, Noemie Thomas was as graceful on the dance floor as she was in the water.
But as she grew up and her goals became more clear, there was not enough time to give herself fully to both activities.
Thomas chose swimming, giving up competitive ballet dancing after 10 years, and focused on her goals in the water.
It was the right move.
Thomas continued to move closer to her goals in the water, culminating with a spot on the 2016 Olympic team for Canada.
"I was probably 7 when I started dreaming about the Olympics. I was at our pool and the 2004 Athens Olympics was on. I think Michael Phelps was swimming one of his races. I remember being really inspired in that moment, watching the swimmers on the blocks. I started thinking to myself that I really wanted to do that, I kind of reached a point where I had to make a decision between pursuing swimming or ballet full time to achieve the goals I wanted to, and I ultimately chose swimming. It worked out well."
A butterfly specialist, Thomas definitely sees some similarities between dance and swimming.
"I definitely think that ballet helped with swimming because of all the jumping," Thomas said. "I have the highest vertical jump on the whole team, and considering my height (5-4) and my events, having that kind of vertical is really good. That has helped me in the long run. Being able to use a lot of power in my legs to keep myself moving (made butterfly fit). Part of it was finding a rhythm, too. Ballet you need a lot of rhythm and internal ability to keep that rhythm going. I had that ability to keep that going."
Now, Thomas is in her final season at Cal. She has been an All-American individually every year and has been on two national championship relays.
"My freshman year, I was on the national title in the 4×50 medley relay. It was my first. For me looking back, I was kind of like a deer in the headlights, not understanding what it really means to win a national title, and how much work really went into it. But over the years, you realize to not only win but keep winning is really difficult. It is hard to achieve and is something I should be really grateful for. It was an important and fun moment. Relays are a special feature in college swimming."
Competing in the Olympics was pretty special, too. Thomas represented Canada and swim the 100-meter butterfly, finishing 18th in Rio.
"It was awesome," she said. "Having it be a goal of mine for more than 10 years, then be realized, I appreciated the whole experience. Being able to represent my country was amazing, also having my family there supporting me was an experience I will never forget."
Last year, Thomas finished fifth in the 100-yard butterfly, watching her teammate Farida Osman win the NCAA title.
"Watching Farida win the 100 fly was very inspiring for me," Thomas said. "She was in a similar position to me now, where she was a senior and it was her last NCAA meet to perform at her best for the team. Now, I can take her success and experience and kind of reshape it into my own experience and also draw inspiration from her performance. I am really excited to see what I can do. My goal personally is to also win the NCAA title in the 100 fly so I think being able to stay in the moment and take all of my experiences to put it together into one race in March is going to be really exciting for me."
It starts with all of the Cal-Stanford rivalry moments: The dual meet, the Pac-12 Championships and ultimately the NCAA championships.
"Those meets are my favorite parts of the season. The schools are just across the bay from each other and I think is a good opportunity to just race. Everyone wants to win, but having that rivalry keeps us on our toes, and allows us to not worry about times and just race the person with the red cap beside you and try to get your hand on the wall first," Thomas said. "It is a really good primer for the championship meets."
The balance of staying in the moment, but also using the plethora of moments of experience leading up to the race is the balance Thomas is hoping to achieve.
"A lot of it is relying on the training and preparation in advance. The biggest thing I have learned is there are so many important moments that leadup to a big meet that play a big part in performing. It s just a matter of taking all of those special moments from practice or weight training or spin class, that will play a part. I have the ability to take all of those experiences and put them together into a race. That is really important to me and gives me the most confidence."
Confidence, coupled with performances to back up that confidence, will make Thomas a dangerous swimmer heading into NCAAs.
"I feel like I have never been in a better spot athletically. All of my dual meet times have been the best they have the past four years. I have been hitting season bests for most of the year. The fact that I was able to perform as consistently as I have has been a really good sign for me," Thomas said. "A lot of it is the experience I have had the past four years. I am really excited."