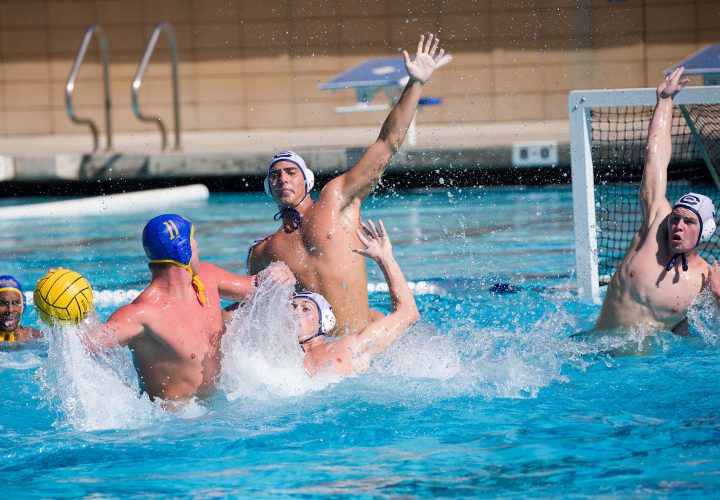 Cal defense bottles up UCLA's Alex Roelse. Photo Courtesy Catharyn Hayne Photography
By Michael Randazzo, Swimming World Contributor
In a highly anticipated men's water polo re-match between long-standing rivals, on Saturday morning #3 California avenged an early season upset loss to #2 UCLA with a 12-9 win at Spieker Aquatics Center in Westwood.
Cal's Odysseas Masmanidis led the Golden Bear attack with a hat trick, while Luca Cupido—who came into the match on an offensive tear, with 11 goals in two previous games—Nikos Delagrammatikas and Conor Neumann each notched a pair of goals for head coach Kirk Everist's team, now 16-1 on the season and 1-0 in Mountain Pacific Sports Federation (MPSF) play.
Matt Farmer scored three times for the Bruins, but their phenomenal freshman, Nicolas Saveljic—who led the team with 31 goals coming into the match—was held to a lone tally. Senior Max Irving, #2 on the team with 28 goals, was kept off the scoring sheet entirely by a tenacious Bear defense.
With the loss, UCLA drops to 15-2 (0-1 MPSF) and will surely fall behind Cal in both the national rankings and the race to secure a berth in the 2017 NCAA Men's Water Polo Tournament.
The contest between bitter MPSF rivals was a highly-anticipated event—and gained even greater significance with the Bruins' surprising 9-8 overtime win over the Bears last month. Adam Wright's young team, which lost nine players from last year's powerhouse squad that until an overtime loss to Cal in the semifinals of the 2016 NCAA tournament was on track for a third-straight NCAA championship, surprised the nation's best team as well as then-#2 USC on its way to the 2017 Mountain Pacific Invitational title.
The Golden Bears, motivated to demonstrate that their early-season selection as the nation's best was no fluke, broke out to a quick 2-0 lead on the strength of goals by Delagrammatikas and junior Johnny Hooper. The goal by Hooper was particularly telling, as he snuck behind of the Bruin defense and easily beat UCLA goalie Alex Wolf.
The Cal counter attack was a particular focus for Coach Wright, who at halftime lamented his team's lack of success against a Bear strength.
UCLA rallied for three straight scores from Warren Snyder, Farmer's first and David Stiling to grab a 3-2 lead, but lefty Safak Simsek beat Wolf with seconds left in the period to knot the score at 3-all.
A see-saw second quarter saw Cupido score the first of his pair, which was quickly answered by Saveljic's lone goal. Masmanidis then scored his first of the day at the 6:47 mark of the period, but Farmer answered with yet-another score from the 2-meter position. Back-to-back goals from Neumann and Masmanidis put the Golden Bears ahead by two, but Farmer again scored from in front of the cage to cut the Cal lead to 7-6 at intermission.
"We've got a fast team, an aggressive defense and guys who can get behind the defense," Coach Everist commented between periods. "That's one of the ways that we can manufacture goals."
Did they ever.
After both teams came up empty early in the third period, UCLA maintained possession in Cal's end for more than a minute but could not come up with the equalizer. The Bear perimeter defense prevented the Bruins from dumping the ball inside, while goalie Kevin Le Vine (8 saves) turned away shots by Irving and Chase Travisano.
Immediately following the Bears' defensive stand, Neumann blasted the ball past Wolf to give his team a two-goal lead, and when Cupido hammered home a weak-side shot halfway through the period, the Bruins were down 9-6 and could never catch up. They cut the lead to two on a number of occasions over the final period of play, but Masmanidis, who won an NCAA title with Cal in 2016, and Delagrammatikas, who like Masmanidis was a member of the Greek team that took gold in FINA Junior World Championship this summer, both delivered fourth quarter goals to scuttle Bruin comeback attempts.
Immediately following the match, Masmanidis cited his team's defensive effort as the reason for Cal's biggest win so far this season.
"The first spot of this whole win was the defense, not the offense," the junior center said in response to questions from Pac-12 Network's Greg Mescall. "We were able to restrict [UCLA] from playing their game. The offense comes naturally."
Speaking of the drive to repeat, difficult in any sport but particularly challenging given the relative parity this year between the nation's top water polo programs, Masmanidis said: "It's a huge thing for us—it's what we dream of from the beginning of the year."
"We're at an age where we can't get enough," he added. "We need to do it again."