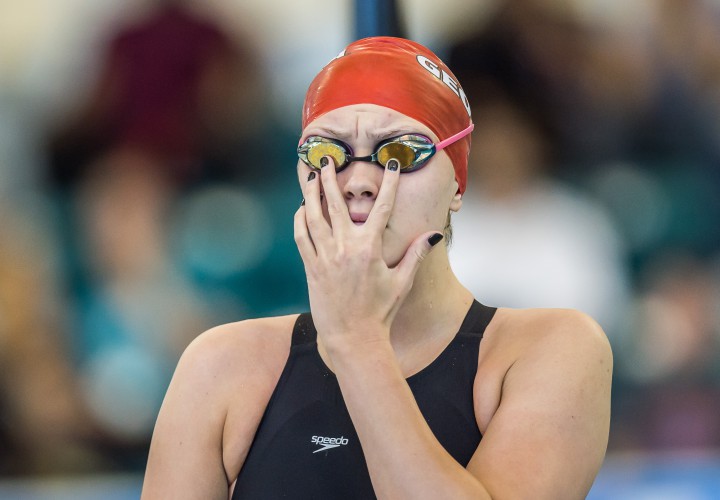 Photo Courtesy: Peter H. Bick
By David Rieder.
The Georgia Bulldogs train at home during the intensive Christmas season, eschewing any of the tropical destinations many of the country's top teams frequent.
Sometimes, they swim far from their best at the SEC championships. In 2016, the Georgia women were bidding for a seventh-consecutive conference title but ended up finishing third behind Texas A&M and Tennessee.
And then, at the end of the season, they tend to come through big—just like they did in Atlanta in March. The Georgia women were dealing with depleted depth, particularly with top sprinter Chantal van Landeghem taking an Olympic redshirt year, and Stanford and Cal seemed poised to battle for the NCAA title.
Head coach Jack Bauerle's squad proceeded to massively outperform their seeds, as so often happens in March, and Georgia captured a third national title in four years—and earned the right to hang a seventh banner inside Gabrielsen Natatorium.
Of course, the Bulldogs have yet to capture much in the way of headlines this year. Van Landeghem is back for her senior seasons, as is U.S. Olympian Olivia Smoliga, but Georgia has not been taking down NCAA records and looking like a potential juggernaut—that would be the Stanford women. The Bulldogs aren't even leading the team race at their own Fall Invitational, trailing Cal 638 to 565 heading into the last finals session.
But in December, those point totals and whatever anyone else is doing simply don't matter that much for Bauerle and his team.
"I don't pay attention to what anyone's done. I haven't seen one result from anybody," Bauerle said. "A couple of my coaches come up and say, 'Did you see what so-and-so-did?' I just don't even want to know. I just figured I'll find out what everybody goes by the end of the year. I don't worry about stuff I can't control."
Fortunately for Bauerle, that which he does control has been working out well so far this season. While his women's team will miss graduated seniors and Olympians Brittany MacLean and Hali Flickinger all across the event spectrum, the sprint corps have been reinvigorated with both van Landeghem and Smoliga, last year's NCAA champion in both the 50 and 100 free, on board.
This past March, Flickinger and Meaghan Raab, hardly sprint freestylers, were both forced to fill key roles on relays as the Bulldogs scrapped for points wherever they could find them. But now, Georgia has two of the top four 50 freestylers in the country with Smoliga (first, 21.58) and van Landeghem (fourth, 21.76), and at this weekend's Georgia Fall Invite, both the 200 free and 200 medley relays recorded times quicker than any Bulldogs squad did a season ago.
Perhaps now, then, Raab can get back to focusing on her best event. She just still doesn't know what that is.
"I'm not really sure at this point," she admitted. "I think I would say 200 free just because I've been doing it for like eight years now."
The versatile junior figures to make a big push for points in the 200 IM as well—she tied for 10th in that event at Olympic Trials last summer while also remaining one of the key cogs in an 800 free relay that Bauerle admits is "very near to my heart."
Bauerle mentioned freshman Veronica Burchill as one possible gap-filler there after Burchill's Saturday night session at the Georgia Invite, where she finished third in the 100 fly in 51.79 and then posted a 1:44.63 split on Georgia's 800 free relay "B" squad.
His distance group, under associate head coach Harvey Humphries, always produces some NCAA points, and this weekend, junior Stephanie Peters and freshman Meryn McCann both swam in the 4:38-range in the 500 free. Junior Megan Kingsley posted some of the top times in the country in the butterfly events earlier in the season, and Emily Cameron has developed into one of the most consistent IMers in the country.
Even if the points have not yet shown up in the team race, the results and times from the Invite say that the Bulldogs are on track. So what's next? More hard work.
"Just knowing that Christmas training is going to be the hardest block of training, I think the biggest obstacle is just mentally getting through it because we're going to have several doubles in a row, no breaks in Christmas training, swimming on Sunday," Smoliga said.
But then will come January, and clearly in view will be the team's end goal, the NCAA championships in Indianapolis.
Georgia has the talent, to be sure, but with women's college swimming appearing as deep and quick as ever, a top-three or top-five finish, let alone a championship will require something much more—something like the intangible elements that helped the Bulldogs storm through last year's NCAA championship. Indeed, Bauerle has seen this year's team coming together under the leadership of Smoliga, van Landeghem, Cameron and Rachel Zilinskas.
"I think [the team dynamic] definitely improved from the beginning of the year," Smoliga said. You have to know your ground at the beginning of the season in terms of getting new girls in and getting them accustomed to the training schedule and the dynamic of the team. The dynamic definitely isn't where it was last year at NCAAs, but we'll get there."
And the Bulldog women know what sacrifices they might have to make in order to claim their typical top-three (or better) finish at NCAAs this year—even if those sacrifices come at the SEC championships.
"I think it was a little rough for us last year because we expected to do a lot better than we did," Raab said. "But I think it really set us up well for the NCAA meet because we definitely wanted to do a little better than we did, and we had that driving us.
"The way they view us as underdogs, we've accepted that fact, and we're going to take it for what it's worth, and we're going to show them all wrong—eventually."
All commentaries are the opinion of the author and do not necessarily reflect the views of Swimming World Magazine nor its staff.