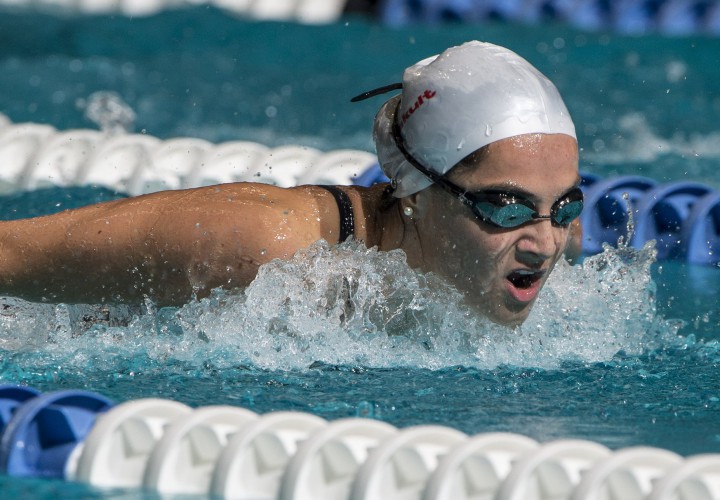 Photo by Peter H. Bick
COLLEGE STATION, Texas, August 3. TEXAS A&M bolstered its 2014 women's swimming and diving signing class with the addition of 5-star recruit Béryl Gastaldello of France and Texas all-state selection Sarah Vinezeano, Aggie head coach Steve Bultman announced.
Gastaldello, from Miramas, France, will compete at the European Championships next month, and ranks as the top international recruit in the Class of 2014 according to CollegeSwimming.com.
"Getting Beryl this summer really put the class over the top," Bultman said. "It was definitely a nice 'get' at the last minute. We are very excited to have Beryl join us. She has three very good strokes which will give us a lot of options on where to swim her.
A gifted sprinter, Gastaldello has long course meter best times of 25.49 and 55.63 in the 50 and 100 freestyle, 26.36 and 59.51 in the 50 and 100 butterfly and 28.73 and 1:02.37 in the 50 and 100 backstroke. Gastaldello trains with Cercle Des Nageurs de Marseille where she is coached by Mathieu Burban.
"I chose Texas A&M because I love the staff, the team's spirit and the facility," Gastaldello said.  "I'm so proud to be an Aggie."
Vinezeano, from Allen, Texas, was a seven-time Texas Class 5A regional champion and helped Allen High School to three district team titles and two regional crowns. She also competed for Metro Aquatics where she was coached by Brent Mitchell.
Vinezeano said she chose Texas A&M because of "the phenomenal team and coaching staff, amazing facilities and the remarkable Aggie Network."
The addition of Gastaldello and Vinezeano bring the Aggies' 2014 signing class to 11 members, joining Lisa Bratton (Richland, Wash.), diver Lauren Crown (Southlake, Texas), Bethany Galat (Mishawaka, Ind.), Esther Gonzalez (Edmonton, Alberta, Canada), Kristin Malone (Shorewood, Wisc.), Caitlynn Moon (DeKalb, Ill.), Laura Norman (Keller, Texas), Nancy Schuchhardt (Berlin, Germany), and Jessica Sloan (Magnolia, Texas).
The above article is a press release submitted to Swimming World. To reach our audience, contact us at newsmaster@swimmingworldmagazine.com.