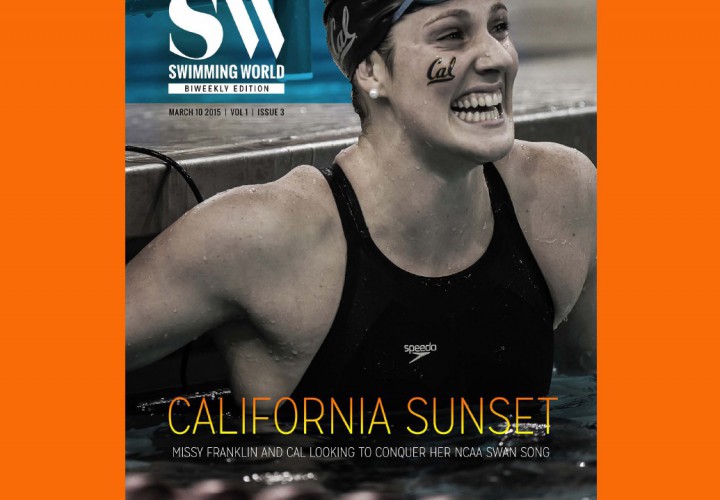 PHOENIX – Readers can download this issue of Swimming World Biweekly Magazine for FREE to catch up on all the internet stories they missed over the past two weeks. This comes hot off the postman's heels who delivered the March print issue of Swimming World Magazine to mailboxes around the world.
FEATURES
MICHAEL PHELPS NEWS ROUND-UP
By Jason Marsteller & Jeff Commings
Michael Phelps is making his comeback and he got engaged. Full stories starting on page four.
5 THINGS YOU MUST DO IF YOU WANT TO FAIL AT SWIMMING
By Wayne Goldsmith
There's a lot of swimming articles about how to be successful: bet you've never read one that will tell you 5 Things You Must Do I f You Want to Fail at Swimming.
SWIM TECHNIQUE MAGAZINE
Swim Technique Magazine is back. Check out page 8 for information.
PALO ALTO STANFORD AQUATICS RUNS AWAY WITH TEAM TITLES AT COLLEGE STATION SECTIONALS
By Emily Sampl
Bobby Bollier took home his fourth individual victory of the meet, while his team ran away with the combined, men's and women's team titles.
WHEN MONEY AND SPORT SHAKE HANDS…
Commentary By Brent T. Rutemiller
With the withdrawal of Mexico from hosting the 2017 FINA World Long Course Championships due to financial limitations, three things stood out in my mind that tied the present to the past and future.
SHOULBERG'S WORLDWIDE IMPRINT
By Matthew De George
The lasting impact of Germantown Academy coach Richard Shoulberg.
WOMEN'S PAC-12 RECAP
By James Sisca
The Pac-12 Championships concluded this past Wednesday, with Cal's Golden Bears defending their title from last year to grab their fourth overall conference championship.
CAMERON VAN DER BURGH BREAKS INTO TOP 15 IN 100 BREAST
By Jason Marsteller
The final day of competition at the South African Grand Prix in Durban featured a world-class time by breaststroke star Cameron van der Burgh.
MEN'S PAC-12 RECAP
By Jeff Commings
It was a claw-and-scratch battle that wasn't decided until the final event, but the men of the University of Southern California swimming and diving claimed the Pac-12 swimming and diving team trophy, the first for the Trojans since 1979.
FINA CONFIRMS OPEN WATER RACE WHERE FRAN CRIPPEN DIED; TRIPLES PRIZE POOL
By Jason Marsteller
FINA has stripped the "to be confirmed" tag from the Abu Dhabi, UAE open water event that is part of its FINA 10K Marathon Swimming World Cup schedule.
FIXING SWIMMER'S POSTURE
By Dr. G. John Mullen
Long periods of poor posture out of the water will force any swimmer into poor posturing in the pool, especially during fatigue.
PENN'S CHRIS SWANSON BREAKS OLDEST RECORD IN IVY LEAGUE BOOKS
By Jason Marsteller
Penn's Chris Swanson lowered the oldest Ivy League record, while Princeton continued to march its way to the Ivy League Men's Championships title.
 PARTING SHOT
Remembering French Olympian Camille Moffat
View March 11, Swimming World Biweekly Here
Swimming World announced back in 2014 that it was going to offer 12 monthly print issues of Swimming World Magazine and 24 online bi-weekly issues in 2015. The second edition is now available for viewing. If you missed the first issue, no worries… Click Here
Every two weeks Swimming World will be bringing you all the top stories that flew by on the internet while you were making laps in the pool or driving to work. No need to plug in 24/7. Swimming World Magazine will bring you all the news you missed through its Swimming World Biweekly Magazine.
You can still get your copy of the March 2015 PRINT Issue of Swimming World Magazine now! The January print issue is almost sold out!
Not a subscriber? Swimming World Magazine Subscription gives you unlimited access to all online content on SwimmingWorld.com and access to all of the back issues of Swimming World Magazine dating back to 1960! Purchase your Total Access Subscription TODAY!