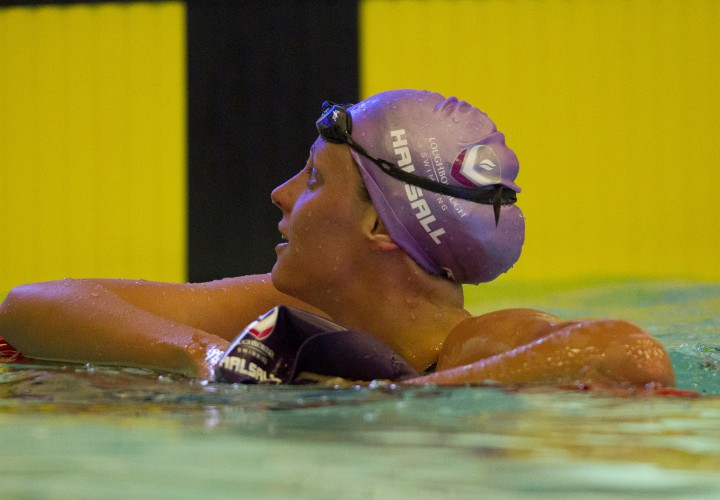 Photo Courtesy: Rob Hardie
Great Britain's Fran Halsall put up the top time in semis with a second-ranked time in the women's 50-meter fly at the 2016 European Championships.
Halsall ripped off a top time of 25.35 to lead qualifying, bettering her previously second-ranked season best of 25.60 from the Golden Tour.
Sweden's Sarah Sjostrom, the world leader with a 25.15 from the Swedish Open this year as well as world record holder with a 24.43 in 2014, cruised into second with a 25.42.
The Netherlands' Ranomi Kromowidjojo (25.63), Denmark's Jeanette Ottesen (25.70), Sweden's Therese Alshammar (25.98), The Netherlands' Maaike De Waard (26.05), Poland's Anna Dowgiert (26.10) and France's Melanie Henique (26.14) also made the final.
Semifinal 1 of 2
1 5 HALSALL Francesca GBR 12 APR 1990 0.72 25.35 895 Q
2 4 OTTESEN Jeanette DEN 30 DEC 1987 0.69 25.70 0.35 858 Q
3 3 DE WAARD Maaike NED 11 OCT 1996 0.73 26.05 0.70 824 q
4 2 DOWGIERT Anna POL 15 JUL 1990 0.68 26.10 0.75 820 q
5 6 HENIQUE Melanie FRA 22 DEC 1992 0.70 26.14 0.79 816 q
6 7 BECKMANN Emilie DEN 04 FEB 1997 0.84 26.40 1.05 792
7 1 SVECENA Lucie CZE 21 AUG 1997 0.71 26.49 1.14 784
8 8 NTOUNTOUNAKI Anna GRE 09 SEP 1995 0.77 26.75 1.40 761
Semifinal 2 of 2
1 4 SJOESTROEM Sarah SWE 17 AUG 1993 0.73 25.42 887 Q
2 5 KROMOWIDJOJO Ranomi NED 20 AUG 1990 0.75 25.63 0.21 866 Q
3 3 ALSHAMMAR Therese SWE 26 AUG 1977 0.72 25.98 0.56 831 q
4 1 DI PIETRO Silvia ITA 06 APR 1993 0.66 26.31 0.89 800 R
5 6 GOVEJSEK Nastja SLO 15 JUL 1997 0.73 26.35 0.93 796 R
6 2 BUYS Kimberly BEL 23 APR 1989 0.74 26.36 0.94 796
7 7 GEMO Elena ITA 17 MAR 1987 0.87 26.44 1.02 788
8 8 HANSEN Bryndis ISL 09 MAY 1993 0.74 26.71 1.29 765