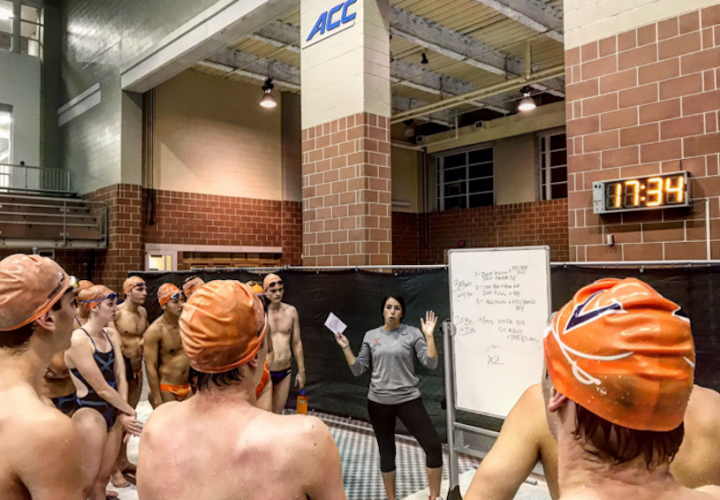 Photo Courtesy: Virginia Swimming and Diving Twitter (@uvaswimdive)
Agon is the proud sponsor of all high school coverage (recruiting, results, state championships, etc.) on SwimmingWorld.com. For more information about Agon, visit their website AgonSwim.com.
To report a college commitment, email HS@swimmingworld.com. Join Swimming World's Watch List
NEW COMMITS: The University of Virginia is continuing to stack up on verbal commitments for Todd Desorbo's first recruiting class in Charlottesville. The Cavaliers have received verbal commitments from Justin Grender, Oliver Rus, Nico Ferrara, and diver Jake Greenberg. This foursome alone nearly cover the event spectrum, including a diver, a breaststroker, a sprint freestyler, and a backstroker/distance freestyler. They'll join Pennsylvania backstroker Connor Killion on the men's side of the Class of 2022.
Justin Grender
Grender is a senior at Ohio's Saint Xavier High School. He swims for the Cincinnati Marlins.
His best times include:
50 Back 22.55
100 Back 48.82
200 Back 1:46.06
200 Free 1:37.36
500 Free 4:24.45
1000 Free 9:05.72
Grender had a big high school state meet last winter at the Ohio D1 Championships, taking on significant relay roles. He swam the backstroke leg (22.74) of the winning, state record setting 200 medley relay before finishing second (45.06) in the 100 freestyle. St. Xavier then took another dominant victory and state record in the 200 freestyle relay, where Grender split a 20.02 on the third leg. He wrapped up the meet anchoring (44.12) the first place, state record setting, 400 freestyle relay.
Oliver Rus
Rus swims for the Darien Community YMCA Piranhas. He is a senior at Fairfield College Prep and a NISCA All-American. At long course YMCA Nationals this summer Rus finished second in the 50 (29.00) and 100 breaststrokes (1:04.65).
His top times are:
100 Breast 55.09
200 Breast 2:04.52
50 Free 20.89
100 Free 45.53
Nico Ferrara
Ferrara is a senior at Pine Crest School and swims for Pine Crest Swim Team in Fort Lauderdale, Florida.
He's primarily a sprinter whose best times include:
50 Free 20.97
100 Free 46.08
50 Fly 23.69
100 Fly 52.85
At last fall's Florida 1A High School state championships Ferrara was third in the 50 free (20.97) and fifth in the 100 free (46.09). He led off (21.56) the team's fifth place 200 free relay and anchored the third place 400 free relay.
Jake Greenberg
Greenberg is from Lagua Niguel, California where he dives under Bondarenko Ivan for the Mission Viejo Nadadores. At USA Diving Nationals this summer he was a one meter finalist in the 16-18 boys division. He was also a semifinalist in 3m and on platform.
Greenberg has been diving for eight years and is a senior at Dana Hills High School.
UVA has two male divers on the roster this year. Greenberg will get to train with Tristan Gess for three years and will overlap with Bryce Shelton for two years.