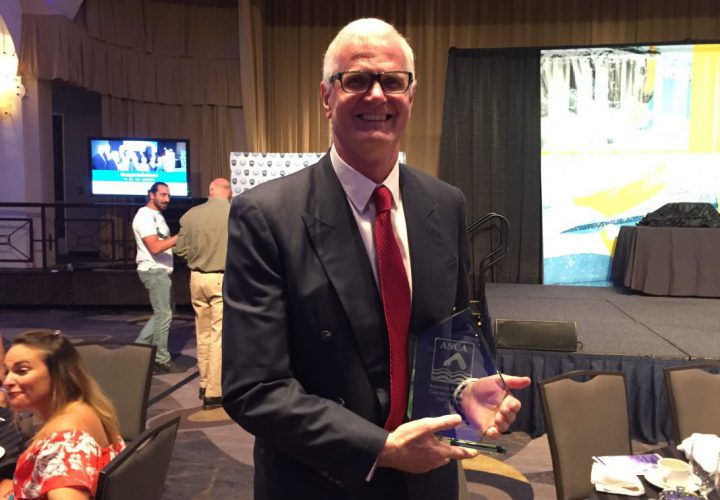 Jonty Skinner -- Photo Courtesy: Brent Rutemiller
The American Swim Coaches Association announced its Hall of Fame inductees Thursday evening in a banquet in Washington, D.C. The inductees included Charlie Hodgson, Bob Mattson, Jonty Skinner and Jill Sterkel.
Hodgson coached for the University of Miami and the Nashville Aquatic Club, and world record-holders he coached included Matt Gribble and David Wilkie, and he also coached American Olympians Michele Richardson and Jesse Vassallo.
Hodgson also founded and programmed the now-commonly-used Hy Tek swim meet software.
Mattson founded the Wilmington Aquatic Club and Wilmington Swim School, and he coached Olympians Dave Johnson, Jenni Bartz and Steve Gregg, along with world record-holder Seth Van Neerden and American record-holder Jenni Franks.
Skinner, considered one of the greatest scientific minds in swimming history, was the head coach of the USA National Resident Team in Colorado Springs, Colo., from 2994 to 2000, and he was also Director of National Team Technical Support for eight years.
Before he was in Colorado, Skinner was the head coach of the University of Alabama in the early 1990s, and he currently serves as Associate Head Coach under head coach Dennis Pursley, who introduced Skinner Thursday evening.
Skinner has coaches Olympians Troy Dalbey, Jon Olsen and gold medalist Amy Van Dyken, and he was a world record-holder in the men's 100 free. He never competed in an Olympic Games, however, since he hailed from South Africa, then banned from the Olympics for political reasons.
Sterkel was a three-time Olympian, a gold medalist and world record-holder before going on to be head coach at the University of Texas from 1992 to 2007. She coached 1996 U.S. Olympian Whitney Hedgepeth and 2000 Olympian Erin Phenix.
Rob Norman of the TAC Titans in Cary, N.C., was named the Fitter and Faster Age Group Coach of the Year.
The other nine finalists for the award included Clovis' Mark Bennett, Nation's Capital's Sue Chen, King Aquatics' Tommy Cunningham, Westchester Swim Club's Carle Fierro, Irvine Novaquatics' Rod Hansen, Tidal Waves' Nancy Hooper, Brea Aquatics' Jim Johnson, Aquajets' Kate Lundsten and The Fish's Matt Pelletier.