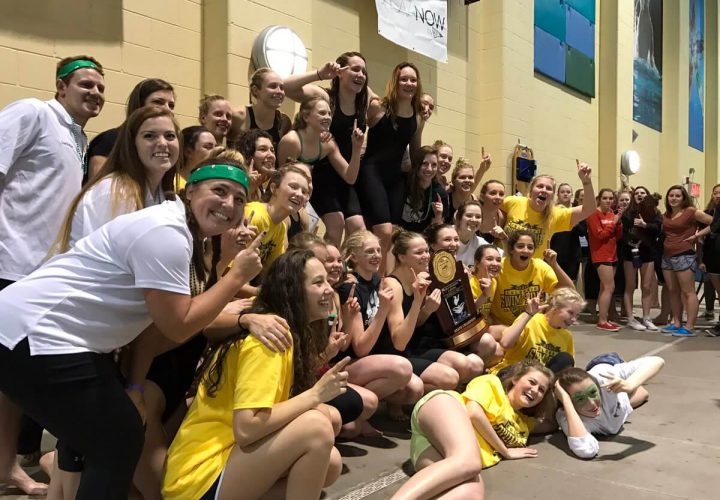 Agon is the proud sponsor of all high school coverage (recruiting, results, state championships, etc.) on SwimmingWorld.com. For more information about Agon, visit their website AgonSwim.com.
By Emily Messina, Swimming World College Intern
At the Colorado high school girls 5A state championships Fossil Ridge started finals night off with a bang in the 200 Medley Relay besting the state record set in 2010 (1:41.88). The team of Bayley Stewart, Zoe Bartel, Coleen Gillilan, and Kylee Alons finished in a 1:39.40. Fairview finished in a 1:44.63 good enough for second, while Mountain Vista swam in for third (1:46.63).
The team took the other two relays as well. They were victorious in the 200 freestyle relay when Gillilan, Bailey Kovac, Andrea Niemann, and Madeleine Mason finished in a 1:34.60. Regis Jesuit (1:35.04) and Arapahoe (1:36.22) followed Fossil Ridge to the wall.
In addition, Bartel, Mason, Stewart, and Alons grabbed first in the 400 freestyle relay. Arapahoe took second posting a 3:26.06, while Regis Jesuit swam in for third (3:27.77).
Fossil Ridge continued its dominance in the 200 IM where they took the top three spots. Bartel was the only swimmer to break the 2-minute mark, finishing in a 1:59.48. Kovac (2:02.97) and Stewart (2:03.66) finished in second and third, respectively.
Bartel picked up another win when she won the 100 breaststroke and set a new state record in a 1:00.22 (previous record set of 1:01.90 in 2015). Teammate Caraline Baker followed her in a 1:02.94 for second place.
The duo of Stewart and Kovac swiped the top two spots in the 100 backstroke. Stewart claimed first with a 53.94, while Kovac finished in second with a 54.72.
The team also grabbed another first when Alons stopped the clock at 22.64 in the 50 free. She was the only female under 23 seconds. Gillilan swam in for third (23.28), while Meredith Rees of Lewis-Palmer finished in second (23.25).
Alons won her second event of the night when she topped the field in the 100 free going under 50 seconds in a 49.83. Teammate Cameron Kovac took third in the 200 free posting a 1:51.39.
Gillilian stepped up big time when she finished the 100 butterfly in 53.15 breaking the previous record of a 53.22 set back in 2015. She had tied this record during the prelims session of the meet. Mountain Vista's Natalie Arky took second (55.57) and Fairview's Kim Lanaghen (56.11) finished in third.
Arky also took third in the 100 backstroke with a 55.09.
Fairview's Brittney Beetcher topped the 200 free field in a 1:50.46. She was followed by Delaney Smith in a 1:51.35. Smith swam the 100 breaststroke as well finishing in third place (1:04.20).
Beetcher flew under the 5-minute mark in the 500 free touching in a 4:57.58. Teammate Amelie Lessing finished in a 5:03.90. ThunderRidge's Patricia Van Law rounded out the top three with a 5:06.21.
Freshman Jada Surrell-Norwood of Regis Jesuit swam in for second in the 100 free with a 50.13. Arapahoe's Laurel Eiber took third in a 50.77.
On the diving front, senior Lexie Barber of Douglas County was victorious scoring 493.25 points. Teammate Samantha Tamborski scored 446.65 points, good enough for third. Arapahoe's Franny Cable finished in second with 474.45 points.
The 5A State Championship title for 2017 goes to Fossil Ridge with 390 points. They were followed the defending champions, Fairview, with 334 points. Arapahoe took third place with 221 points.
Full results can be found here.