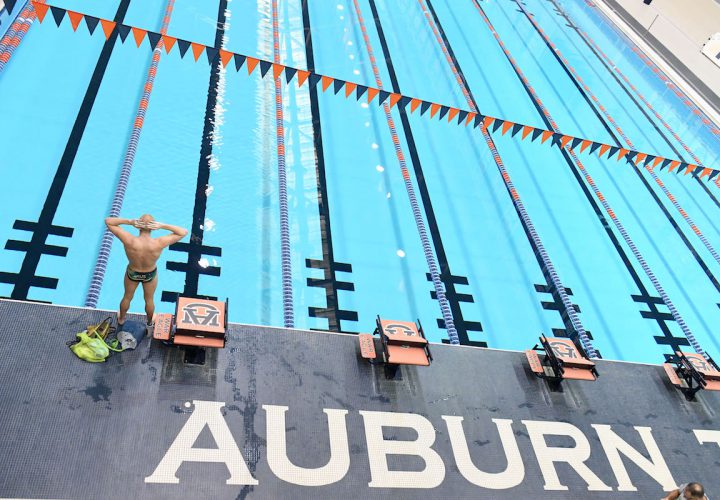 Photo Courtesy: Delly Carr / Swimming Australia Ltd.
AUBURN, Ala. – Gideon Louw, who was a key member of Auburn's last national championship winning swimming and diving team, is returning to the Plains as an assistant coach on head coach Gary Taylor's staff, Taylor announced on Thursday.
Louw has spent the past four seasons at Minnesota, the last two as associate head coach, focusing on recruiting and the sprint freestyle group.
"I want to thank Gary for the opportunity to come back to the Plains," Louw said. "I'm looking forward to working with this very motivated staff to get Auburn back to where it deserves to be."
"Gideon has been a member of the Auburn Family and we are really excited to have him back on the Plains," Taylor said. "He has extensive experience working with sprinters at Florida State and Minnesota. He has done a tremendous job developing athletes and has coached an Olympic gold medalist and a Big Ten record holder. He understands the Auburn philosophy, the culture and what it means to work hard and develop champions. He is going to be a tremendous addition and I think he and Duncan (Sherrard) moving forward will rebuild the speed and power program at Auburn."
Louw has been on deck for a resurgence at Minnesota as the Gopher men moved up from a 25th-place finish at NCAAs his first season (2015) to 15th this past year. This past season sprinter Bowen Becker was the Big 10 Champion in the 50 free and finished third at NCAAs in the event. Bowen, the Big 10 record holder in the 50 free (18.69), also took 14th in the 100 free and was on the 200 medley relay that earned All-America honorable mention at NCAAs.
"I'd like to thank head coach, Kelly Kremer, and the Minnesota staff for the great opportunity and experience that I have had at Minnesota," Louw said. "Working with them has been a privilege and I have learned a great deal the past four years."
Louw helped engineer a turnaround for the Gopher men's relays in 2016. After sending no relays to the NCAA Championships in 2015, they sent four in 2016 and then five in 2017 and 2018, with the 200 medley relay scoring in both 2016 and 2018 and the 400 free relay team scoring in 2017.
Outside of collegiate coaching, Louw also works with Olympic hopefuls. Minnesota alumnus David Plummer, who trained with Louw leading up to the 2016 Olympics, won a bronze medal in the 100m backstroke and a gold medal with the United States' 400m medley relay.
Louw went to Minnesota after serving two seasons as a graduate assistant at Florida State where he provided planning and implementation of workouts and provided analysis and instruction of swimming techniques, among other duties. While at FSU, Louw helped the Seminole men to a 14th-place finish at the 2014 NCAA Championships.
A 2008 and 2012 Olympian for his native South Africa, Louw remains one of the top sprinters in Auburn swimming and diving history, still holding top-10 times in both the 50 free (18.99/8th) and 100 free (41.95/8th) and part of the school record in both the 200 and 400 free relays.
At the 2012 London Olympics, Louw finished fifth as a member of the 400m free relay and ninth in the 50m free. During the 2008 Games, he finished 12th in the 50 free.
As a student-athlete at Auburn, Louw played an integral role in helping Auburn claim its eighth NCAA Men's Swimming and Diving Championship as a junior in 2009. That season he was a three-time NCAA Champion as a member of the 200 free relay and 200 and 400 medley relay teams, with the 200 medley relay team setting the NCAA record (1:14.08). As a senior in 2010, he placed third in the 100 free and fifth in the 50 free individually and second in the 200 free relay and both medley relays.
"It is a big honor to come back to Auburn," Louw said. "I feel like I am picking up where I left off. As a former athlete at Auburn I am excited for the opportunity to, once again, put in hard work to help realize the success that the Auburn Swimming and Diving program deserves."
Louw began his collegiate career at Indian River State College in Ft. Pierce, Fla., where he was a seven-time NJCAA champion in 2008, winning the 50 free, 100 free, 200 free, 200 free relay, 400 free relay, 800 free relay and 400 medley relay. For his efforts he was named NJCAA Swimmer of the Year.
Louw was inducted into the NJCAA Hall of Fame in 2014 and into the Indian River State College Hall of Fame in 2013. He earned a degree in exercise science from Auburn in 2011 and earned a master's degree in exercise physiology from Florida State in 2014.
Louw is married to Shanda Louw, also a former Division I swimmer.
"Auburn has been a central anchor in my life," Louw said. "My wife Shanda and I got engaged on Pat Dye Field at Jordan-Hare Stadium, and this exciting announcement comes along on our fourth wedding anniversary, making today even more special."
The above press release was posted by Swimming World in conjunction with Auburn Athletics. For press releases and advertising inquiries please contact Advertising@SwimmingWorld.com.