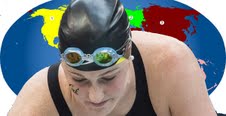 By Emily Sampl
BOULDER, Colorado, May 22. ANOTHER busy weekend of swimming awaits, with some of the top names in the sport scheduled to compete at the Mel Zajac Jr. International Canada Cup meet and Speedo Grand Challenge in Irvine. Here are the top five headline meets taking place over the next few days.
1. Canada Cup gets underway tonight
The first night of finals at the Mel Zajac Jr. International meet, part of the Canada Cup series, gets underway tonight at the University of British Columbia in Vancouver. Some big names are competing at the meet, including a large contingent from the University of California that includes Missy Franklin, Rachel Bootsma, Elizabeth Pelton, Caitlin Leverenz and others. A number of top Canadians will be there as well, including Hilary Caldwell, Brittany MacLean, Katerine Savard, Tera Van Beilen, Martha McCabe, Ryan Cochrane and Jeremy Bagshaw. Traditionally, a lot of fast times have been posted at this meet and this year should be no different, especially with so many top swimmers competing.
2. Oceania Championships continue
Swimmers from Australia and New Zealand are currently taking part in the Oceania Championships in Auckland, New Zealand, which continues through tomorrow night. A couple of swimmers have already made their mark at the championships; Aussie Ami Matsuo won the women's 100 free in 55.18 and 200 free in 2:00.19, while fellow countryman Kyle Chalmers picked up wins in the men's 50 fly (24.35) and 100 free (50.71). The meet should be a sign of things to come for the up-and-coming swimmers in those two countries.
3. Swimmers compete for cash at Speedo Grand Challenge, Speedo Arizona Invitational
Irvine Novaquatics and the William Woollett Aquatic Center will play host to hundreds of the best swimmers from across California and the U.S. tomorrow through Sunday at the Speedo Grand Challenge. Trojan Swim Club's elite group, which includes the likes of Jessica Hardy, Mike Alexandrov, Haley Anderson and others, will compete, as well as some top collegiate and post-collegiate swimmers including Maya DiRado, Felicia Lee and Bobby Bollier. A lot of high school standouts will be at the meet as well, including recent national high school record-breaker Abbey Weitzeil. Non-amateur swimmers can earn cash prizes for placing in the top three of their events in a fun and unique format. The Speedo Arizona Invitational will also offer cash prizes in four Super Finals – the 50 free, 100 back, 100 breast and 200 IM. South African Olympians Darian Townsend and Roland Schoeman will be battling for money in several events in Mesa, Ariz.
4. High school championship week continues
Last weekend, a handful of national high school records fell at each of the four section meets contested in California –Santa Margarita's Katie McLaughlin lowered the national high school record in the 100 fly (51.78), Saugus' Abbey Weitzeil took down both the 50 free (21.98) and 100 free (47.91) records, St. Francis' Curtis Ogren topped the 200 IM record (1:44.90), Sacred Heart's Ally Howe erased the 100 back record (51.84), Connor Hoppe of Golden Valley lowered the 100 breast record (53.06) and Granada became the fastest boys 400 free relay (2:59.00). California's high school championships continue this weekend with section meets in Los Angeles and San Diego; will the record-breaking spree continue?
5. Grand Prix Slovakia begins tomorrow
One of the major meets in Slovakia this summer, the Grand Prix Slovakia begins tomorrow, with more than 500 swimmers from a dozen different countries scheduled to compete. South African Olympic gold medalist Cameron van der Burgh will swim, in addition to World Championship silver medalist Marco Koch of Germany. South African Giulio Zorzi and Hungarian Krisztian Takacs will also race in the meet.