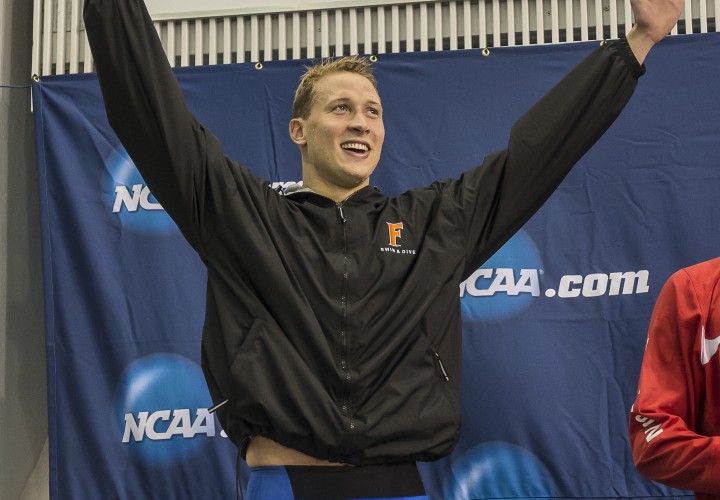 NCAA Championship editorial coverage is proudly sponsored by Competitor Swim. Visit CompetitorSwim.com for more information on our sponsor. For all the latest coverage, check out our event coverage page. Also, make sure to check out our Facebook photo gallery for the latest images from the meet in Austin.
AUSTIN, Texas, March 28. FLORIDA's Marcin Cieslak picked up his second NCAA title in as many days with a victory in the 100-yard fly at the NCAA Division I Men's Championships.
Cieslak, who already won the 200 IM last night, powered his way to the win in the 100 fly with a 44.87. That made him just the ninth swimmer ever to break 45 seconds in the event's history as he moved to seventh overall.
Florida State's Pavel Sankovich raced to second in 45.00 to move to 10th all time in the event, while Ohio State's Tim Phillips grabbed third-place honors in 45.10. Arizona's Giles Smith wound up fourth in 45.43, while Georgia's Doug Reynolds placed eighth in 46.31.
Texas meanwhile, had a huge point-scoring event as Tripp Cooper (45.46), Jack Conger (45.61) and Will Glass (45.98) went 5-6-7 for the Longhorns in the A final.
Cieslak claimed just the fourth 100 fly title in Gator history. Anthony Nesty, Florida's associate head coach, was the only other winner with three straight from 1990-92.
Arizona's Andrew Porter picked up the consolation heat win in 45.50, while California's Marcin Tarczynski finished second in the B final with a 45.89. North Carolina's Sam Lewis joined them under 46 seconds with a 45.99.
California's Seth Stubblefield (46.35), Texas' Matt Ellis (46.43), California's Tony Cox (46.43), Michigan's Pete Brumm (46.67) and NC State's Barrett Miesfeld (47.01) rounded out the B final.
Splits
1 Cieslak, Marcin SR Florida 45.52 44.87 20
r:+0.67 9.68 21.17 (11.49)
32.82 (11.65) 44.87 (12.05)
2 Sankovich, Pavel SR Florida State 45.51 45.00 17
r:+0.70 9.55 21.11 (11.56)
32.88 (11.77) 45.00 (12.12)
3 Phillips, Tim SR Ohio State 45.18 45.10 16
r:+0.69 9.40 20.94 (11.54)
32.60 (11.66) 45.10 (12.50)
Team Standings
1. Texas 236.5
2. Florida 224
3. California 221.5
4. Michigan 150
5. Georgia 146
6. Arizona 93.5
7. Auburn 86
8. Florida State 85
9. Alabama 64.5
10. USC 57