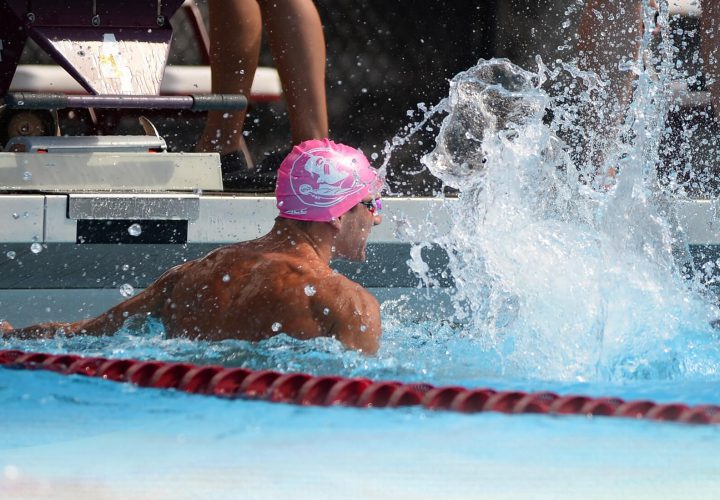 Photo Courtesy: Florida State Athletics
The (No. 23/20) Florida State swimming and diving teams are ready for a top 25 showdown on Saturday at 10 a.m. against Big Ten powerhouse (No. 17/21) Minnesota at the Morcom Aquatics Center.
"Saturday is going to be an awesome way to start the dual season," FSU head coach Neal Studd said. "Minnesota always has a great team and coaching staff. They're consistently at the top of the Big Ten and one of the top programs in the nation with a lot of history. We're going to have our hands full, but I think we've got a lot going for us too. We're excited for the challenge. It's parent's weekend and our student-athletes are going to compete hard and we're also racing for 'Paint it Pink,' which is another important cause to us. It's going to be a great meet."
The teams will compete in the 16-event format, racing 100s and 200s of each stroke, the 1000, 500 and 50 free in addition to the 200 IM. The team will start the contest with the 200 medley relay and finish with the 200 free relay. Both 1-meter and 3-meter diving will run simultaneously to swimming.
Live timing will be available on sportstiming.com and via meet mobile.
The third 'Paint it Pink' of 2017-18 will make its stop at the pool on Saturday. The Noles will support breast cancer awareness by wearing pink swim caps and pink shirts. Additionally, t-shirts will be available for a $10 donation and the proceeds benefit the Sharon Ewing Walker Breast Health Center at Tallahassee Memorial Hospital.
The Seminoles will also welcome their families for parent's weekend.
The above press release courtesy of Florida State swimming and diving