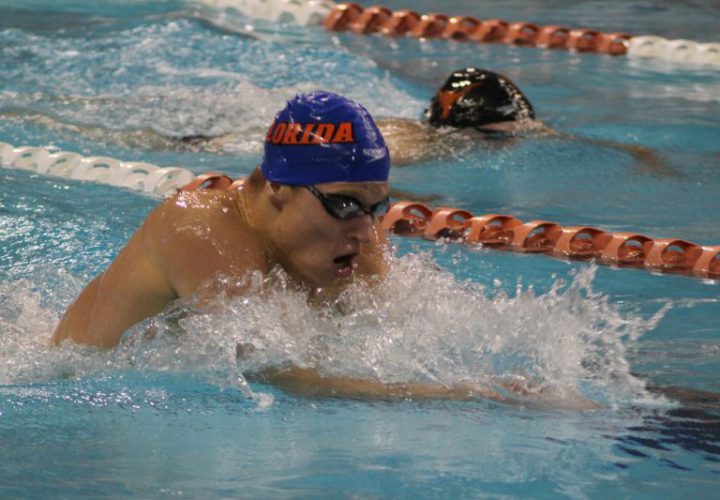 Photo Courtesy: Andy Ringgold/Aringo
The University of Florida men and Indiana University women each won a team title this weekend at the 2017 Purdue Invitational.
The final night of competition saw UF's Jan Switkowski earn major points for the Gators while Indiana's Lilly King earned a win in her signature 200 breaststroke.
The final scores were:
Men:
University of Florida 1009
Indiana University 847
Virginia Tech 530
Purdue University 361
Missouri State University 327
Southern Illinois University 141
U.S. Naval Academy 122
University of North Carolina 109
Women:
Indiana University 896.5
University of Florida 663.5
Virginia Tech 601
Purdue University 538
Florida International Univ. 331
Missouri State University 208
Southern Illinois University 130
University of North Carolina 84
The 1,650 freestyle for both men and women got the meet underway tonight with Purdue's Kaersten Meitz winning the women's race in a 15:54.41, a time just shy of the NCAA 'A' cut of 15:53.50. Second place went to Cassy Jernberg out of IU with a time of 16:04.57 while Florida's Kahra Williams took third in 16:13.39.
The UF men completed a sweep of the mile race with seniors Ben Lawless and Blake Mangganiello each dipping under the 15:00 mark. Lawless touched first in 14:57.04 with Manganiello touching right behind in 14:57.55. Andrew Brady went 15:04.94 to take third place.
The women's 200 backstroke was up next this evening with Florida's Sydney Sell taking the win in a time of 1:53.43. Second place was about a second behind with IU's Kennedy Goss turning in a 1:54.44. Third place went to Rachel Matsumura in 1:54.84.
The men's race saw Florida's Switkowski take the win with an NCAA 'B' cut time of 1:42.70. IU's Mohamed Samy was just a few hundredths behind in 1:42.84. Max Rooney from UF touched third in 1:43.17.
Freshman Hoosier Grace Haskett took the women's 100 free in a 48.72, making her the only swimmer to break 49 seconds. FIU's Letiz Bertelli was second in 49.54 while lady Gator Amelia Maughen touched third in 49.71.
The men took their turn at the sprint freestyle event where we saw Indiana's Blake Peroni break his own pool record in a time of 42.10 for the win. His teammate Bruno Blasovic swam a 43.36 to earn second place while UF's Khader Baqlah touched third in a time of 43.45.
Indiana's star breaststroker Lilly King took the win in the women's 200 breaststroke by posting a 2:10.99. King's teammate Laura Morely swam a 2:13.14 for second. FIU's Carita Luukkanen earned third with a 2:13.61.
Purdue's Martin Amaltdinov swam his way to a win in the men's 200 breaststroke with his time of 1:54.27. Missouri State's Artur Osvath took second in 1:55.06. Florida's Mark Szaranek ended up third in 1:55.75.
Into the water next went the 200 butterfliers where we saw Virginia Tech's Klaudia Nazieblo swim a 1:55.90 to take the win ahead of Purdue's Taite Kitchel who turned in a time of 1:56.42. Kitchel's teammate Emmy Rawson touched third with her 1:58.00.
Indiana's Vini Lanza posted a nation-leading time in the 200 butterfly with his 1:41.50. Lanza's time beats Joesph Schooling's old mark of 1:41.77 from the Texas Intrasquad meet. In second and third were a pair of Florida swimmers, Switkowski and Max Rooney who turned in times of 1:43.27 and 1:45.01, respectively.
In the final event of the evening, the 400 freestyle relay, the lady Hoosiers took the win with their assembly of a 3:16.60 to just dip under the NCAA 'B' cut of 3:16.93. Purdue took second place in 3:18.01 while Virginia Tech pieced together a 3:18.34 for third place overall.
The men's relays saw Florida (2:51.53) dominate the rest of the field by putting together a time seven seconds ahead of Purdue, who swam a 2:58.53, and earning themselves an NCAA 'A' cut, all without Caeleb Dressel. Missouri State was third in 3:00.61.
For full results, click here.