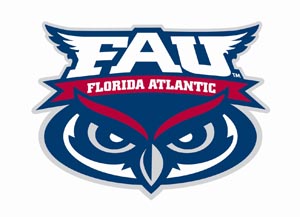 BOCA RATON, Florida, October 10. THE Florida Atlantic University men's and women's swimming and diving teams opened the season with wins over Villanova on Tuesday. The women captured every event, while the men took first in all but the 1000 free. Jonathon Pinto led all swimmers with three individual wins. The junior won the 100 back (54.59), 200 back (1:58.01) and the 200 IM (2:02.04) as the men defeated Villanova 146-116 and the FAU women won 162-136.
Freshman Brent Sunnucks won two events in his first collegiate meet. The St. Petersburg, FL native took the 100 and 200 fly with times of 54.01 and 1:57.66, respectively. Lauren Shue (Fort Myers, FL) took the first individual event, the 1000 free, with a time of 10:19.74. She returned to win the 500 free by touching the wall in 5:00.55.
Lindsey Alexander and Ellie Weberg hold FAU records in the 100 back and 100 and 200 breaststroke. The duo combined to win all of the back and breast events at the meet. Alexander took the 100 back (59.49) and 200 back (2:08.69), while Weberg won the 100 breast (1:03.71) and 200 breast (2:16.80).
Matt Brody picked up points for the Owls as he won the 100 and 200 free with times of 48.35 and 1:46.17.
Other winners were Geni Burts (200 free-1:53.32 and 200 IM 2:07.87), Shawna Griffith (200 fly-2:06.39), Jennifer Forcht (50 free-24.72 and 200 fly-58.02) and Bianca Murphy (100 free-52.95).
On the men's side Kyle DeCicco (100 breast-1:01.12), Eren Onurlu (50 free-21.75), Christian Baker (200 breast-2:15.09) and Graham Greytak (500 free-4:52.11) all earned wins.