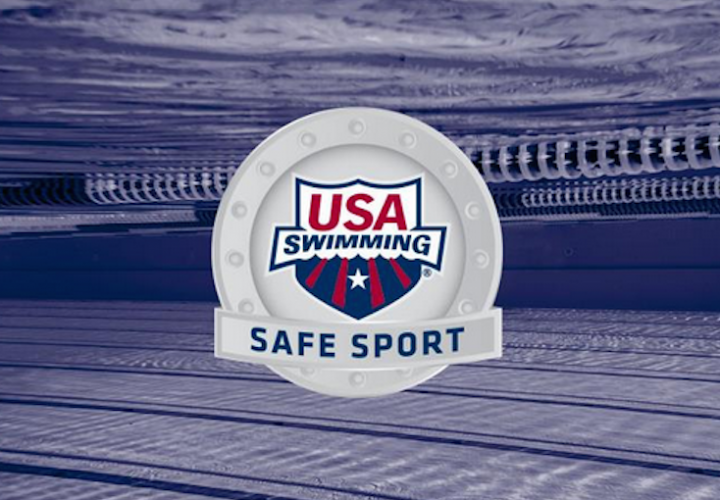 Photo Courtesy: USA Swimming Safe Sport
By McKenna Ehrmantraut, Swimming World College Intern. 
Sexual abuse of current and former athletes has made headlines throughout the swimming world recently. While the media has focused primarily on the horrific nature of the stories these brave individuals are sharing about their past ordeals, very little focus has been on how we can stop the abuse before it starts or recognize it if it's happening to someone we know.
Nearly one in ten children suffer from sexual abuse before age 18, yet most are terrified to tell anyone about it for fear that the abuser may threaten them or someone they love. They may be ashamed of what has happened to them, they may be too young to understand what is happening, or they may believe they somehow deserve to be treated this way by an authoritative figure in their lives. There are dozens of reasons children don't come forward about their abusers, but there are signs that everyone can learn to spot and prevent a child from being hurt.
One of the campaigns available to teach people about sexual abuse prevention is Flip The Switch. Flip The Switch is a program that two time Olympic gymnast, Aly Raisman, started to provide everyone in youth sports with free training to spot and prevent sexual abuse in children. They partner with Darkness Into Light, which is currently the nation's leading advocate in training for the prevention of child sexual abuse.
Raisman struggled with sexual abuse from her athletic doctor, and she is determined to stop all sexual abuse within the athletic community by teaching athletes, coaches, trainers, etc. to spot warning signs in children that could indicate sexual abuse. She believes if everyone in the community is able to spot these warning signs, we would be able to prevent any and all children from being hurt.
"To address this terrible problem, we all need to be willing to confront it head-on," Raisman told Sports Illustrated. "Sexual abuse is something that needs to be discussed openly — especially now — given the challenges our sport is facing, and all adults should become educated as to how to prevent it. Ignoring the issue in hopes that it goes away is unacceptable. Athlete safety must be the highest priority."
The program is a series of videos combined with written descriptions and a few short questions that focuses on the "five steps to protecting our children".
The five steps are as follows:
Learn the Facts
Minimize Opportunity
Talk About It
Recognize The Signs
React Responsibly
During the training, you see videos of past victims tell, in painstaking detail, how it felt to be sexually abused as a young child. We also hear from a few of their family members and professionals involved in education, youth sports, mentoring, the faith community, child advocacy and law enforcement.
One of the victims in the video was Olympian, Margaret Hoelzer. Hoelzer competed in Athens and Beijing, setting a world record during the 2008 Olympic Trials in the 200 backstroke. However, behind all of the fame and glory, she was still struggling to prove herself as worthy to everyone, including herself. She grew up thinking she wasn't good enough, so she strove for perfection in every aspect of her life; however, the horrors of being sexually abused by the father of one of her friends would continuously stay with her.
Many swim coaches across the nation are stepping up to help end sexual abuse within our sport by adding the Flip The Switch training program to their already intensive training via USA Swimming's Safe Sport. USA Swimming was one of the first sports programs to mandate a program for coaches to learn about spotting and preventing sexual abuse.
While continuing to develop and improve their program, USA Swimming is focusing on making sure that adults within the swimming community are becoming educated to help protect young swimmers. If you would like more information about how the USA Swimming coaches are trained, go to https://www.usaswimming.org/Home/safe-sport .
While the swimming community is striving to reach the goal of no child being sexually abused, it still remains a problem. That is why Raisman, along with Hoelzer and other athletes such as Michael Phelps, are raising awareness regarding sexual abuse through the Flip The Switch campaign.
If you want to learn more and be part of the solution to stopping sexual abuse within the swimming world, go to https://www.fliptheswitchcampaign.org . The program takes approximately two hours to complete and is free for all athletes, coaches, parents, etc. when you enter the coupon code FlipTheSwitch during checkout.