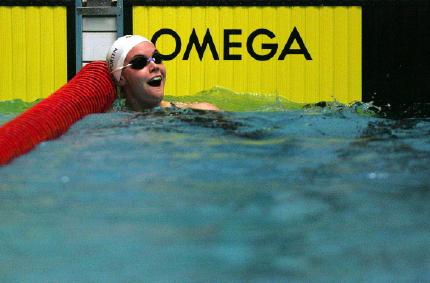 GOTHENBURG, Sweden, March 12. SWEDISH sprinter-supreme, Anna-Karin Kammerling lowered her own world record tonight in winning the women's 50-meter butterfly on the third day of competition at the Swedish Short Course Championships in Gothenburg. Kammerling recently won $50,000 for the outstanding women's performance on the 2004-05 FINA World Cup tour.
Kammerling blitzed the two-lap sprint in 25.33 seconds, three-hundredths under her own global standard. The win, however, did not come easily, as she was pushed all the way by Therese Alshammar, world record-holder in the 50-meter free. Alshammar touched second in a very fine 25.87.
Thus far, the meet has been a pleasant surprise for Swedish officials, with some very fast times posted and several records broken. Aside from Kammerling's world mark, the following records have been set here:
2:09.67 women's 200m backstroke Therese Svendsen Nat. rec. & Jr. rec.
3:38.37 men's 4x100m medley relay Linköpings ASS Nat. record
2:00.25 men's 200m indiv. medley Erik Samuelsson Nat. record
4:06.64 women's 4x100m medley rel. Väsby Simsällskap Nat. record
1:54.97 women's 200m freestyle Josefin Lillhage European record
1:58.81 women's 200m freestyle Petra Granlund Junior record