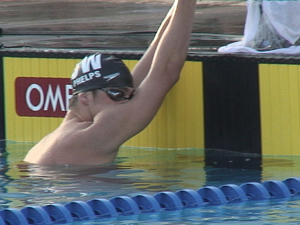 VICTORIA, British Columbia, August 17. THE world records in the 200-meter butterfly races didn't stand a chance on Thursday night, as the Pan Pacific Championships concluded their first day. American Michael Phelps and Australia's Jessicah Schipper posted new global standards for the grueling four-lap discipline.
Schipper got the record-breaking rolling when she blazed 2:05.40 in her championship final, a time that left her well ahead of Japan's Yuko Nakanishi (2:06.52). Schipper broke the former world mark of 2:05.61, set at last summer's World Championships in Montreal by Poland's Otylia Jedrzejczak. Schipper was second in Montreal in 2:05.64.
While swimming that time, Jedrzejczak appeared to touch the wall with only one hand instead of the required two, thus leaving her standard in a cloud of controversy. Now, the swim is off the record books. Schipper hit the wall at the 100-meter mark in 1:00.11 and kept her momentum rolling through the final two laps. Schipper is one of only a handful of top Aussies racing at Pan Pacs.
"I felt really comfortable over the first 100 meters," Schipper said. "I could feel the energy of the crowd urging me on and I knew if I stuck with my plan that I would come close to the record. When I touched the wall, I wasn't game to turn around but I knew it was quick because of the roar of the crowd."
As for Phelps, he cooked up a performance of 1:53.80 to knock 13 hundredths off his 2003 record of 1:53.93, set at the World Champs in Barcelona. It was Phelps' first world record since the 2004 Olympic Games, when he set a global mark in the 400 individual medley. In winning the 200 fly at the United States Nationals two weeks ago, Phelps looked capable of returning to record form.
In swimming the fastest 200 fly in history, Phelps had to come from behind to defeat Japan's Ryuichi Shibata, who finished in 1:55.82 after fading down the stretch. Phelps was in second place at the 100 and 150-meter marks, but delivered an amazing split of 29.15 for his final 50 meters.
"I wanted to make a little bit of a surge off the last wall and finish as hard as I could," Phelps said. "I've wanted to do a best time in this event for a while now. It's a good start to the meet."
Click Here to view women's 200 butterfly result PDF