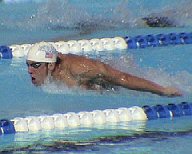 By Phillip Whitten
LONG BEACH, Calif., July 7. TEEN phenom Michael Phelps broke his own world record in the 400 meter IM, the first event of the 2004 US Olympic Trials in Long Beach.
Phelps, 19, swam the race in 4:08.41, while singing Eminem's "Until I Collapse" in his head. The time smashed his previous record of 4:09.09 from last summer's World Championships in Barcelona, Spain.
Phelps trailed his world record pace after the fly but moved ahead of the pace after the first lap of the backstroke. He remained ahead of world record pace for the rest of the race.
Splits:
Fly 55.66
Back 1:02.19
Breast 1:12.90
Free 57.66
After the race Phelps said "I wanted to go into the Olympics with the fastest time in the world and I've accomplished that goal. It's exciting to be the first member of the 2004 US Olympic team."
2000 Olympic silver medalist Erik Vendt held off a fast-closing Eric Shanteau to gain the second spot, 4:14.09 to 4:15.08.