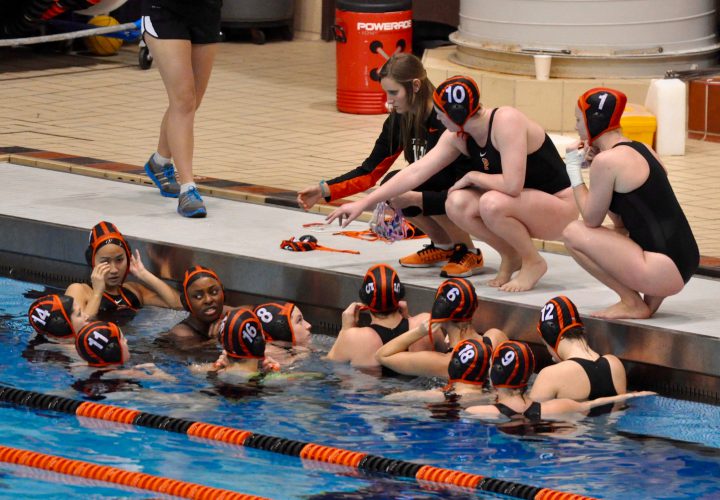 Rebecca Dorst with the Princeton Tigers. Photo Courtesy: Princeton Athletics
By Michael Randazzo, Swimming World Contributor
Editor's Note: this month Swimming World opens its coverage of the 2018 NCAA Women's Varsity Water Polo season. Look for interviews, conference predictions and the best coverage of the sport in America and beyond.
The news out of Princeton two weeks ago was stunning: Luis Nicolao, who over two decades had led Tiger men's and women's water polo teams to a combined 868 wins, was departing for Navy, his alma mater. This opened up two coaching vacancies at one of the East's best programs; fortunately Princeton has a depth of talent in its coaching ranks, including assistant women's coach Rebecca Dorst.
Now responsible for the day-to-day coaching of the Princeton women's team, which opens its season on February 2 against the host Sun Devils in the Arizona State Challenge, Dorst is no stranger to water polo success. As a four-year letter-winner at UCLA, where the Bruins posted a 105-23 overall record, she produced 92 goals, 23 assists and 87 steals. As a senior in 2014, the Menlo Park, CA native generated 36 goals and 33 steals, earned ACWPC honorable mention All-America honors, and helped the Bruins to a national runner-up finish.
The Dorst family has enjoyed remarkable success in the sport; father Chris backstopped Stanford to a national title in 1976 and played for the U.S. in the 1984 Olympics, while sister Emily won an NCAA title in 2014 with The Cardinal —accomplished by a 9-5 victory over her sister's UCLA squad — and again in 2015.
Swimming World caught up with Dorst last week by email about the sudden turn of events that made her a head coach, life at Princeton without all-world goalie Ashleigh Johnson, who graduated last May, and the impact of the legendary John Wooden on her life and coaching.
– In a day, you go from assistant to head coach at one of the East's best women's water polo programs. How do you process all this change and how ready are you for this new challenge?


I've been around water polo my whole life, so filling in as head coach has been a natural and easy transition. The girls are super motivated for season, so with their support and the many lessons learned from Luis over the years, I know we will be just fine!
– As it happens, you HAVE been a head coach before; Luis Nicolao was red carded in last year's CWPA Championship match and you had to coach the Tigers. How much will you and your players miss the irrepressible Nicolao?
Hahaha! Honestly, I think Luis will always have a lasting impact on this program. Since he won't be coaching women while at Navy, he's already claimed that he will be our teams biggest fan… but we have some of the most incredible parents, so I imagine they may fight him for that title!
He has a huge personality though, so I am confident the relationship between Luis Nicolao and Princeton will continue to thrive.
– Another equally devastating loss is that of Ashleigh Johnson, the Tigers' all-world goalie. What does the graduation of the best water polo player in Princeton history — and first player from the East to win a Cutino Award — mean and how do you replace her?
Every year we have to replace players, it's a part of college life. One thing Princeton has proven over the years is its ability to remain competitive. No doubt Ashleigh is a big loss, but the team has been working hard to make defense one of our biggest assets. I can't wait to see them in action.
– You are no stranger to success in water polo; as a member of the UCLA women's water polo team (2011 – 2014) you earned All-America honors while going to the 2014 NCAA title game. How will your success as a Bruin help as you lead your own team?
Believe it or not, this year we have just started reading from John Wooden's book. His mentality and definition of success have been a huge part of my life. I've been trying to implement Wooden's "pursuit of the journey" into our practices.
Playing at a school like UCLA taught me how to be a student of the game and I've tried to maintain a student-like mentality in the way I coach. I am always looking for ways I can better communicate, direct and encourage the young women around me. I do my best to address and take responsibility for my mistakes, but because my focus is always forward I move on when it's time to move on. UCLA and Wooden have taught me the importance of self-discipline and hard work… no one knows if you are giving 100% but yourself.
– The Tigers — picked 18th in the CWPA Preseason Women's Varsity Poll — have the talent to again be competitive in the East. What will it take for Princeton to earn an NCAA berth in 2018?
Hard work, patience and a strong trust in our team's defense. Our goal every year is to play the best polo we can in April and that is what we are working on now. While we are extremely excited to start competing, we also know it's a long season. There are a lot of small, but important things that I don't want us to overlook.
It may be more fun for the girls to start season scrimmaging every day, but we are doing our best to build up our conditioning, leg strength and body health so we have the freedom to learn the game more without setbacks at the end of season. Our goal is to be ready to play our best when our best is needed.