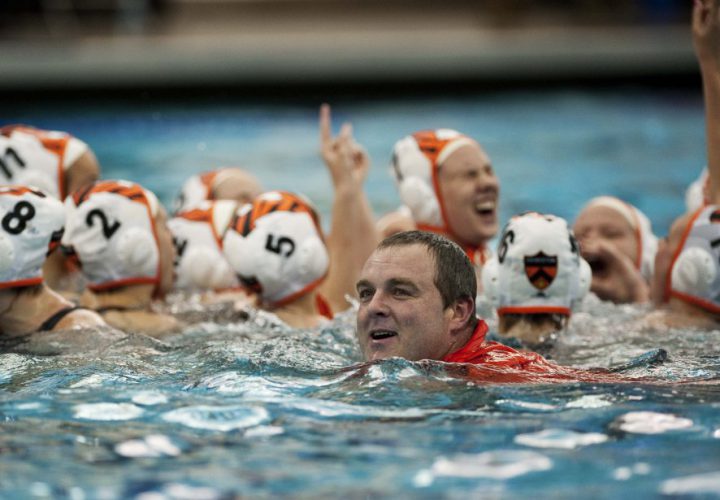 Luis Nicolao after winning the 2004 Eastern Championship. Photo Courtesy: Princeton Athletics
By Michael Randazzo, Swimming World Contributor
In a move that sends shockwaves through East Coast water polo, Luis Nicolao stepped down from coaching Princeton's men's and women's teams to return to his alma mater and take over the recently vacated head coaching position at the U.S. Naval Academy.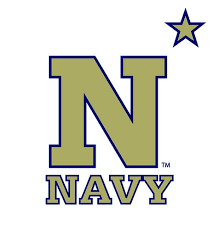 The move is a stunning change for one of the country's premiere water polo coaches, who complied more than 800 wins over two decades at Princeton.
"One part's bittersweet to leave a place you've been for 20 years, and Princeton's truly an amazing school with great kids," Nicolao said by phone today. "On the other hand, to go back to the Academy, to have a small part in developing future leaders of our country is truly exciting."
"Navy's a special place, and to be back involved with the Midshipmen, I'm really looking forward to it."
In a statement released earlier today, Naval Academy Director of Athletics Chet Gladchuk announced that Nicolao, a Navy water polo standout from 1988-91, would replace former head coach Mladen Stanicic.
"First my gratitude to a wonderful and accomplished professional, our former coach Mladen Stanicic," said Gladchuk, according to the Navy Athletics website. "His leadership over the past four years has set a strong foundation from which we now launch the next era of varsity water polo at Navy.
"That era begins with Luis Nicolao. Throughout his career, Luis has always excelled as a midshipman, educator, and unparalleled intercollegiate coach at the highest level. We welcome him home to Annapolis and are certain he will in short order make a significant impact on the program."
Hiring their former star player, who still holds program records for points (377) and goals scored (282), will almost certainly return the Midshipmen to prominence. Under head coach Mike Schofield (1985-2013), Navy won 630 games, nine Eastern Championships and advanced to the NCAA Men's Water Polo Tournament 13 times. Since Schofield left early in the 2013 season, Navy has languished, including a 10-16 record this past season, 1-9 in the Mid-Atlantic Water Polo Conference.
Nicolao is no stranger to success. During his playing career at Annapolis, the San Jose native won two Eastern Championships (1988, '90) and reached the NCAA Tournament three times (1988, '90, '91). He was named the Collegiate Water Polo Association's Eastern MVP in 1990 and 1991 and earned CWPA First-Team All-East accolades three straight seasons (1989, '90, '91). Serving as team captain his senior year (1991), Nicolao was awarded the Naval Academy Athletic Association's Sword for Men as the top graduating male athlete in 1992.
Immediately following graduation, he assisted Coach Schofield on the Navy water polo staff and was a member of the U.S. National Team that won the gold medal at the World University Games before serving in the Navy for five years.
By some measures, Nicolao's record at Princeton is among the most accomplished in the country.
During his Tigers tenure, Nicolao's men's and women's teams posted a combined 868-316 (.733) record, the best of any coach in the East. Princeton's men posted a 402-163 (.712) overall mark, while it's women amassed a 466-153 (.753) ledger. His men's teams made four NCAA Tournament appearances (2004, 2009, 2011, 2015) while his women's squads earned three NCAA berths (2012, 2013, 2015).
Nicolao, the 2004 Association of Collegiate Water Polo Coaches Men's National Coach of the Year, also has five Eastern Coach of the Year awards split between the men and the women (Men: 2004, '09, '11; Women: 2001, '07) and has garnered Southern Coach of the Year honors on seven occasions (Men: 2001, '03, '08; Women: 2001, '05, '06, '13).
In addition to positioning Princeton water polo as the best men's and women's program in the East, Nicolao was responsible for developing one of the greatest players ever to come from the Atlantic Coast: Ashleigh Johnson, who backstopped the U.S. Women's Senior National Team to gold at the 2016 Rio Olympics.
As an encore, Johnson returned to Princeton last year to finish her degree and complete a spectacular career that saw her capture the 2017 Peter J. Cutino Award, given annually to the country's outstanding female and male Collegiate water polo players. Johnson is the first player from the East to have been awarded one of the sport's most prestigious awards, and Nicolao has the distinction of nurturing her development as one of the greatest athletes in the illustrious history of Princeton Athletics.
"Louie's such a universally well-loved guy here," said Jerry Price, Senior Associate Director of Athletics/Athletic Communications at Princeton. "He bought in so much to the values of Princeton Athletics.
"It's a tough choice for him but obviously it's his alma mater and it's the Naval Academy," Price added. "I know in Louie's heart that Navy is the only place that he would have left Princeton for."
Carl Quigley, the former St. Francis College men's water polo coach who for years went up against Nicolao, first as a player and then as a coach, saw the hiring as ideal for both Navy and the one-time Midshipman.
"Louie's a perfect fit," Quigley said, "because he knows the culture at the USNA better than anyone else."
CORRECTION: A previous version of this article mistakenly mentioned that Mladen Stanicic would return to his previous role as an assistant coach for Navy Water Polo.